…………
>> Back To Current News Stories & Main COVID-19 Resource Page <<
…………
Friday, April 10, 2020
…………
• Yes, You Can Fix A Broken Phone During The Coronavirus Lockdown. See 3 Ways To Repair It (CNET)
• We Mapped How The Coronavirus Is Driving New Surveillance Programs Around The World (OneZero)
• Are Ventilators Killing COVID-19 Infected Patients? Doctors Speak Out (Health Impact News)
As health officials around the world push to get more ventilators to treat coronavirus patients, some doctors are moving away from using the breathing machines when they can. The reason: Some hospitals have reported unusually high death rates for coronavirus patients on ventilators, and some doctors worry that the machines could be harming certain patients.
• Gates' Globalist Vaccine Agenda: A Win-Win For Pharma And Mandatory Vaccination (Children's Defense Fund)
Global public health advocates around the world accuse Gates of steering WHO's agenda away from the projects that are proven to curb infectious diseases: clean water, hygiene, nutrition, and economic development. The Gates Foundation only spends about $650 million of its $5 billion dollar budget on these areas. They say he has diverted agency resources to serve his personal philosophy that good health only comes in a syringe. In addition to using his philanthropy to control WHO, UNICEF, GAVI, and PATH, Gates funds a private pharmaceutical company that manufactures vaccines, and additionally is donating $50 million to 12 pharmaceutical companies to speed up development of a coronavirus vaccine. In his recent media appearances, Gates appears confident that the Covid-19 crisis will now give him the opportunity to force his dictatorial vaccine programs on American children.
Related Link: Vaccination Resource Page
• Japan Allocates $2.2 Billion To Help Companies Move Production Out Of China (PetaPixel)
• Cities And States Brace For Economic 'Reckoning,' Eyeing Major Cuts And Fearing Federal Coronavirus Aid Isn't Enough (Washington Post)
The economic carnage unleashed by the novel coronavirus nationwide hasn't just shuttered businesses and left more than 17 million Americans seeking unemployment benefits — it has also threatened city and state governments with financial devastation, according to local leaders, who say their ability to maintain roads, schools and basic social services is at risk at a time when their residents need help most.
• Another Victim Of Covid-19: Social Security (MarketWatch)
As you know, this gargantuan system — which is devouring $1.15 trillion dollars this year — by far the biggest portion of the federal budget — is supported by payroll taxes. The basic construct: the system is funded by payroll taxes; workers and their employers each pay 6.2% of wages up to the taxable maximum of $137,700 (in 2020). If you're self-employed, you pay the full 12.4%. But some 16 million Americans — about a tenth of the entire U.S. labor force — have filed for first time unemployment benefits over the past three weeks. That's 16 million workers, along with their employers, who aren't paying into the system. And yet about 64 million Americans are entitled to an average monthly benefit this year of $1,503. If millions are no longer paying into the system, where all this money come from?
• U.S. Projects Summer Spike In Infections If Stay-At-Home Orders Are Lifted (NYT)
Without any mitigation, such as school closings, shelter-in-place orders, telework and socially distancing, the death toll from coronavirus could have reached 300,000. But if the administration lifts the 30-day stay-at-home orders, the death total is estimated to reach 200,000, even if schools remain closed until summer, 25 percent of the country continues to work from home and some social distancing continues. If nothing was done, infection rates would top out at 195 million Americans, and 965,000 people would require hospitalization in an intensive care unit, according to the projections' "best guess." But with a 30-day shelter in place and other measures, infections would still reach 160 million and 740,000 would need intensive care…
Across North America, Europe and elsewhere, factories are idled and workers are in lockdown. At some ports, goods are piling up, while elsewhere container ships sail empty. Dairy farmers are dumping their milk, while grocery store shelves have been picked bare. These disruptions in global trade could grow more noticeable in the months to come, as consumers hoard products and countries clamp down on exports of medical supplies and even food. Shoppers may see more shortages of unexpected products, including laptops, toilet paper and medicines. Some companies could find themselves lacking raw materials and components, a recipe for further financial trouble.
• Virus Throws Millions More Out Of Work, And Washington Struggles To Keep Pace (NYT)
When the federal government began rushing trillions of dollars of assistance to Americans crushed by the coronavirus pandemic, the hope was that some of the aid would allow businesses to keep workers on the payroll and cushion employees against job losses. But so far, a staggering number of Americans — more than 16 million — have lost their jobs amid the outbreak. Businesses continue to fail as retailers, restaurants, nail salons and other companies across the country run out of cash and close up shop as their customers are forced to stay at home. There is a growing agreement among many economists that the government's efforts were too small and came too late in the fast-moving pandemic to prevent businesses from abandoning their workers. Federal agencies, working in a prescribed partnership with Wall Street, have proved ill equipped to move money quickly to the places it is needed most.
• Fed Chair Powell Says U.S. Economy Deteriorating With Alarming Speed (Washington Post)
Federal Reserve Chair Jerome H. Powell said Thursday the U.S. economy is in an emergency and is deteriorating "with alarming speed." His remarks came shortly after the central bank unveiled over $2 trillion in new loans to keep the economy afloat as much of the nation goes into a lockdown to fight the spread of the deadly coronavirus…
The Fed's latest actions go even further than what the central bank did during the Great Recession. The Fed is directly buying debt from large corporations and states, a level of support it hasn't tried before. There's widespread worry that some companies and households will go bankrupt during the pandemic because they will not be able to borrow money in time, but the Fed has taken large and unprecedented steps to keep as much credit flowing as possible. Yet Powell and many top economic leaders are trying to answer two key questions: How deep, and how long, will the economic downturn be? Among Fed leaders, the growing consensus is the economic pain will be substantial, and the recovery will be slow.
• I've Read The Plans To Reopen The Economy. They're Scary. (VOX)
The AEI, CAP, and Harvard plans aren't identical, but they're similar. All of them feature a period of national lockdown — in which extreme social distancing is deployed to "flatten the curve" and health and testing capacity is surged to "raise the line." That's phase one. Phase two triggers after a set period (45 days for CAP, three months for Harvard) or, in the AEI plan, after 14 days of falling cases and a series of health supply markers. All of them then imagine a phase two, which relaxes — but does not end — social distancing while implementing testing and surveillance on a mass scale. This is where you must begin imagining the almost unimaginable.
The CAP and Harvard plans both foresee a digital pandemic surveillance state in which virtually every American downloads an app to their phone that geotracks their movements, so if they come into contact with anyone who later is found to have Covid-19, they can be alerted and a period of social quarantine can begin. Similarly, people would scan QR codes when boarding mass transit or entering other high-risk public areas. And GPS tracking could be used to enforce quarantine on those who test positive with the disease, as is being done in Taiwan.
• Container Shipping Lines Cancel Hundreds Of Sailings To Stem Losses As Covid-19 Pandemic Hits Global Trade (South China Morning Post)
Container shipping companies are cancelling sailings and merging routes to cut losses and stay afloat amid a drop in demand and a worsening outlook for global trade because of the Covid-19 pandemic. The number of "blanked" or cancelled sailings rose last week from 45 to 212, according to a report by shipping consultancy Sea-Intelligence on Monday. The report added that the largest capacity withdrawal was from the Asia-Europe routes, where 29 to 34 per cent of capacity has been removed.
"Taking blanked sailings as a proxy, we believe that there has been a 20 to 30 per cent decline in demand for container transport," said Andy Lane, director for Southeast Asia at Sea-Intelligence. Blanking sailings can help reduce operating costs and keeping freight rates from falling, but it will still hurt overall revenue. The World Trade Organisation said in its outlook on Wednesday that global trade is set to plunge between 13 and 32 per cent this year as the Covid-19 pandemic upends the world economy.
• Coronavirus Threat To Global Peace And Stability, UN Chief Warns (The Guardian)
The secretary general, Antonio Guterres, warned the UN security council that the pandemic had the potential to increase social unrest and violence, which would greatly undermine the world's ability to fight the disease. It was, he said, the UN's most grave test since it was founded 75 years ago and had already hindered efforts to resolve international, regional and national conflicts.
Guterres said the world was already seeing the "ruinous social and economic impacts. But the pandemic also poses a significant threat to the maintenance of international peace and security." He warned the pandemic could lead to opportunistic terror attacks, the erosion of trust in public institutions, economic instability, political tensions from postponing elections or referendums, and Covid-19 "triggering or exacerbating various human rights challenges".
• More Coronavirus Patients Testing Positive Again After Recovery (The Hill)
Coronavirus patients in South Korea are now testing positive for the virus a second time, health officials are warning, following similar reports in other countries. "While we are putting more weight on reactivation as the possible cause, we are conducting a comprehensive study on this," KCDC Director-General Jeong Eun-kyeong said, according to Bloomberg. "There have been many cases when a patient during treatment will test negative one day and positive another."
• Mafia Distributes Food To Italy's Struggling Residents (The Guardian)
"For over a month, shops, cafés, restaurants and pubs have been closed," Nicola Gratteri, antimafia investigator and head of the prosecutor's office in Catanzaro, told the Guardian. "Millions of people work in the grey economy, which means that they haven't received any income in more than a month and have no idea when they might return to work. The government is issuing so-called shopping vouchers to support people. If the state doesn't step in soon to help these families, the mafia will provide its services, imposing their control over people's lives."
"Mafia bosses consider their cities as their own fiefdom," Gratteri said. "The bosses know very well that in order to govern, they need to take care of the people in their territory. And they do it by exploiting the situation to their advantage. In the people's eyes, a boss who knocks on the door offering free food is a hero. And the boss knows that he can then count on the support of these families when necessary, when, for example, the mafia sponsors a politician for election who will further their criminal interests."
• A New Covid-19 Crisis: Domestic Abuse Rises Worldwide (NYT)
• Coronavirus Lockdown Is Taking A Toll On Mental Health, Especially Among Women (Forbes)
From the most recent KFF poll, women were 16% more likely to say that coronavirus-related worry or stress had had a negative impact on their mental health, compared to men (53% vs. 37%). Compare this to polls two weeks earlier, where the gender gap was just 9% (36% vs. 27%). For the parents of kids under 18, the numbers are even more dramatic. At the end of March, 57% of mothers vs. 32% of fathers said their mental health has gotten worse because of the pandemic. Two weeks earlier, there had been just a 5% difference between the genders (36% vs. 31%), suggesting that mothers may be bearing a disproportionately large part of the burden as time goes on.
• Sweden Challenges Trump — And Scientific Mainstream — By Refusing To Lock Down (CNN)
• Czech Nudists Told To Wear Face Masks By Police (CNN)
…………
Thursday, April 9, 2020
………..
• When Do The Stimulus Checks Get Deposited? Coronavirus Stimulus Package Money Will Start Rolling Out To Americans Next Week (MassLive)
• IMF Chief Says Pandemic Will Unleash Worst Recession Since Great Depression (Investing.com)
The pandemic sweeping the world will turn global economic growth "sharply negative" in 2020, triggering the worst fallout since the 1930s Great Depression, with only a partial recovery seen in 2021, the head of the International Monetary Fund said. IMF Managing Director Kristalina Georgieva painted a far bleaker picture of the social and economic impact of the new coronavirus than even a few weeks ago, noting governments had already undertaken fiscal stimulus measures of $8 trillion, but more would likely be needed. She said the crisis would hit emerging markets and developing countries hardest of all, which would then need hundreds of billions of dollars in foreign aid.
• Fauci Slashes U.S. Death Projection, Raising Hope for Reopening (Bloomberg)
One of President Donald Trump's top medical advisers slashed projections for U.S. coronavirus deaths on Thursday, saying that only about 60,000 people may die — almost half as many as the White House estimated a week ago. The falling projection, the result of aggressive social distancing behaviors Americans adopted to curb the spread of the virus, may accelerate Trump's effort to develop a plan to urge Americans to leave their homes and return to work next month.
• Hospitalizations In New York Are Almost Flat, But Deaths Are Still Climbing (NYT)
• More Than 16 Million People Have Filed For Unemployment Benefits In The Last 3 Weeks: Coronavirus By The Numbers (Forbes)
• How To Protect Against Coronavirus Now – From Vitamin C To Breathing Exercises (The Sun)
Related Links: The Wim Hof Method & Vitamin C & Vitamin D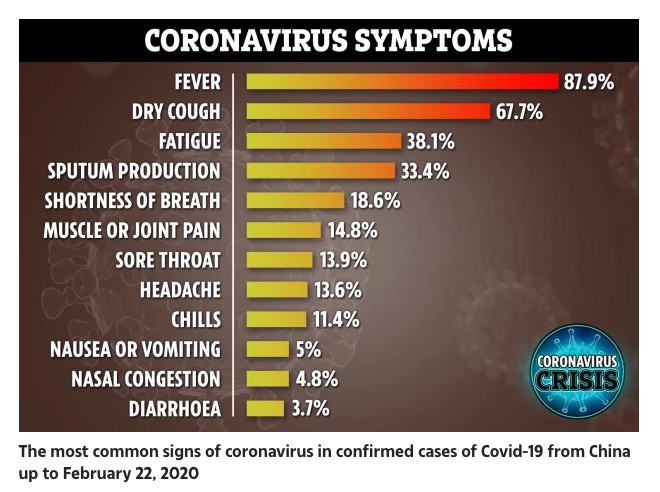 • Vitamins C And D Finally Adopted As Coronavirus Treatment (Organic Consumers Association)
Remember last year when Washington Post reporters were boldly declaring that vitamins C and D could not (and should not) be used against respiratory infections? The information I was sharing about their use was deemed so dangerous to public health that I was branded as a "fake news" site by self-appointed, pharma-owned arbiters of truth like NewsGuard. How times have changed. After having defamatory lies published about me, vitamins C and D are now (finally) being adopted in the conventional treatment of novel coronavirus, SARS-CoV-2.
Related Links: NHNE Pulse on Vitamin C & Vitamin D
• Love Your Neighbour: Islam, Judaism And Christianity Come Together Over COVID-19 (World Economic Forum)
• Chilling Video Reveals How Coronavirus Spreads From A Single Cough In A Supermarket (FoxNews)
• Chris Cuomo Says He's "Getting Healthier" Amid Coronavirus Battle (Hollywood Reporter)
• Wanted Urgently: People Who Know A Half Century-Old Computer Language So States Can Process Unemployment Claims (CNN)
Despite a dwindling number of COBOL programmers, a 2017 report by Reuters found that there are still 220 billion lines of COBOL in use today. 43% of banking systems are built on COBOL and 95% percent of ATM swipes rely on COBOL code. Even in the federal government, COBOL is being used in agencies such as the Department of Veterans Affairs, Department of Justice and Social Security Administration, according to a 2016 report by the Government Accountability Office. A 2018 report by the inspector general for the Social Security Administration found that the administration maintained more than "60 million lines of COBOL" with "millions more lines of other legacy programming languages." The inspector general urged the administration to modernize its systems.
• Microsoft Reports New Spike In Teams Usage As Work Habits Change Around The World (GeekWire)
• AMC Theatres "Bankruptcy Appears Likely," Analyst Says (Hollywood Reporter)
• Amazon Beats Netflix To Releasing The Quintessential Community Watching App (Inverse)
• I Had A Virtual Wedding In Quarantine — & Here's How It Went (Refinery29)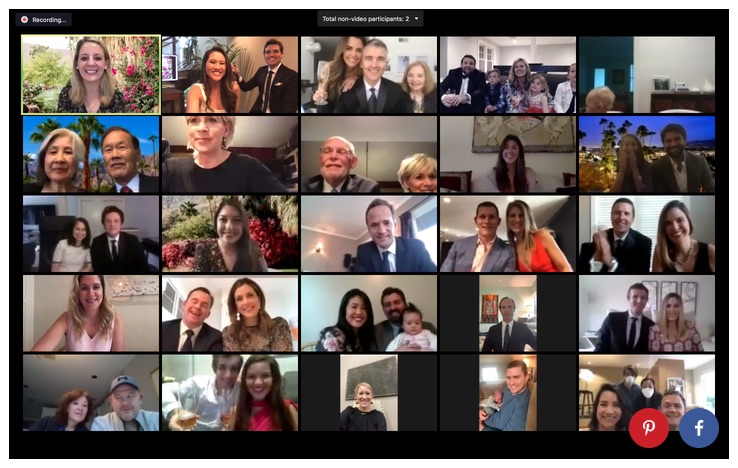 ………….
Wednesday, April 8, 2020
…………
• 750,000 People Volunteered To Help Britain's NHS (Washington Post)
When the British government asked people to help the National Health Service during the coronavirus crisis, it called for a "volunteer army." Within four days, 750,000 people had signed up — three times the original target and four times the size of the British armed forces.
• Government And Businesses Turn Attention To Eventual Reopening Of $22 Trillion U.S. Economy (Dow Jones News)
Dr. Fauci said a first condition is a steep drop in the number of cases. "You've got to make sure you are absolutely going in the right direction." Then, he said, "you gradually come back. You don't jump into it with both feet." The federal government has yet to put in place the kind of nationwide testing, tracing and surveillance system that public health experts say is needed to prevent another surge in coronavirus cases when social distancing eases. That includes identifying people who are asymptomatic and can also spread the coronavirus, health experts said… The federal government has yet to release a detailed recovery strategy, so state and local leaders are scrambling to create their own approaches. As a result, the recovery process could unfold in the same patchwork fashion as the shutdown.
• Kushner's Team Seeks National Coronavirus Surveillance System (Politico)
White House senior adviser Jared Kushner's task force has reached out to a range of health technology companies about creating a national coronavirus surveillance system to give the government a near real-time view of where patients are seeking treatment and for what, and whether hospitals can accommodate them, according to four people with knowledge of the discussions. The proposed national network could help determine which areas of the country can safely relax social-distancing rules and which should remain vigilant. But it would also represent a significant expansion of government use of individual patient data, forcing a new reckoning over privacy limits amid a national crisis. Health privacy laws already grant broad exceptions for national security purposes. But the prospect of compiling a national database of potentially sensitive health information has prompted concerns about its impact on civil liberties well after the coronavirus threat recedes, with some critics comparing it to the Patriot Act enacted after the 9/11 attack.
• Stimulus Money From Coronavirus Relief Bill Might Hit Bank Accounts As Early As This Week (PennLive)
• Coronavirus Financial Distress Causes Surge In Americans Putting Off Mortgage Payments (FoxNews)
• Hospitals Say The Feds Seized Their Supplies (LATimes)
President Trump has left it largely up to states and hospitals to secure whatever supplies they can during the coronavirus pandemic. Yet the federal government has been quietly seizing some orders of those supplies, leaving medical providers across the country in the dark about where the material is going and how they can get what they need. Hospital and clinic officials in seven states described the seizures in interviews over the past week. The Federal Emergency Management Agency is not publicly reporting the acquisitions, despite the outlay of millions of dollars of taxpayer money, nor has the administration detailed how it decides which supplies to seize and where to reroute them.
• Is Amazon Approaching Its Breaking Point In The Covid-19 Crisis? (Quartz)
• Four Famous Stores That May Not Survive Because Of Coronavirus (CNN)
They were once the giants of American retail, strong enough to survive wars, the Great Depression, the Great Recession and the rise of online shopping. But Sears, JCPenney, Neiman Marcus and J. Crew may not be able to survive the coronavirus crisis.
• Before And After Photos Show How Los Angeles Has Significantly Reduced Its Notorious Smog (Business Insider)
• America Is Drinking Its Way Through The Coronavirus Crisis – That Means More Health Woes Ahead (The Conversation)
• French Hospital Halts Trials Of Trump-Promoted COVID-19 Drug Due To Worries About Heart Failure (RawStory)
• Hydroxychloroquine: 4 Questions About The Controversial Drug Answered (Inverse)
Chloroquine and hydroxychloroquine are both powerful drugs, that come with powerful side effects. These can include nausea, abdominal pain, and skin rashes, Yazdany says. Taken in large doses, the drugs can lead to hospitalizations. This was the case in Nigeria, where health officials reported that three people had overdosed on chloroquine on March 23. Further severe side effects can occur, Yazdany says. These symptoms tend to focus on the heart, where the drug can cause ventricular arrhythmias, cardiac toxicity, or a condition called Q-T prolongation. Q-T prolongation is a disturbance in the way the heart "recharges" its electric impulses and can lead to irregular heartbeats.
…………
Tuesday, April 7, 2020
…………
• Even As Deaths Mount, Officials See Signs Pandemic's Toll May Not Match Worst Fears (Washington Post)
Nationwide, one computer model of the disease's future spread — relied upon by governors and the White House — shifted its estimate of Covid-19's U.S. death toll downward this week. Instead of roughly 94,000 deaths as estimated a week ago, the University of Washington model now predicts about 82,000 by late summer.
In another positive sign, several west coast states announced this week that they are sending ventilators to new york since their need is now less urgent. California Gov. Gavin Newsom (D) said he will send 500; Oregon is contributing 140; and Washington state — which was an early epicenter — is dispatching 400 ventilators.
• Adjusted Coronavirus Model Predicts Fewer People In Us Will Need Hospitals, But 82,000 Will Still Die By August (CNN)
An influential model tracking the coronavirus pandemic in the United States now predicts that fewer people will die and fewer hospital beds will be needed compared to its estimates from last week. As of Monday, the model predicted the virus will kill 81,766 people in the United States over the next four months, with just under 141,000 hospital beds being needed. That's about 12,000 fewer deaths — and 121,000 fewer hospital beds — than the model estimated on Thursday.
• Amazon To Suspend Delivery Service Competing With UPS, FedEx: WSJ (Business Insider)
Amazon is suspending the service because it needs people and capacity to handle a surge in its own customers' orders, the Journal reported, citing sources.
• Side Effects: Fuel Demand Crash Shuts U.S. Ethanol Plants, Meatpackers Lack Refrigerant (Investing)
• Dyson Creates 44 Free Engineering & Science Challenges for Kids Quarantined During COVID-19 (Open Culture)
• Jack Dorsey To Donate $1 Billion To Fund Covid-19 Relief And Other Charities (The Verge)
• These Pop-Up Hospital Rooms Are Designed To Help Increase The Capacity To Treat Coronavirus Patients (FastCompany)
• I Don't Have Coronavirus. It Might Kill Me Anyway. (Politico)
This virus has already killed tens of thousands of people and infected millions others. We all wake up to stories of overrun hospitals and bodies stacked in refrigerated trucks. The news is horrible. But officials need to know that that's not even the whole story of Covid-19. There are tens of thousands, if not hundreds of thousands, of trickle down cases like mine. When I hear about people who aren't getting pacemakers installed or getting care they need, I feel betrayed. My whole family is struggling mightily. I worry about dying before I should. I worry about what day-to-day life will look like for my wife. I want to play ball in the front yard with my grandsons and go to their sporting events. I want to resume as much of my life as I can after the surgery. But without masks and gloves and virus tests — basic things that our health care system should always have in good supply — those simple joys might disappear for people like me.
• Coronavirus Pandemic Exposes Urgent Need For Programmers Of A Very Old Computer Language (Mashable)
During these past two weeks, more than 362,000 New Jersey residents filed for unemployment due to the coronavirus pandemic. There was also a 1,600-percent increase in the state's unemployment claims during the first week of the outbreak as compared to the usual amount New Jersey receives. Its system is now being overloaded, with many requests still yet to go through. And that system is apparently built on COBOL.
• Avenger Planet: Is The Covid-19 Pandemic Mother Nature's Response To Human Transgression? (Salon)
This interplay between human activity and planetary behavior has led some analysts to rethink our relationship with the natural world. They have reconceptualized the Earth as a complex matrix of living and inorganic systems, all (under normal conditions) interacting to maintain a stable balance. When one component of the larger matrix is damaged or destroyed, the others respond in their unique ways in attempting to restore the natural order of things. Originally propounded by the environmental scientist James Lovelock in the 1960s, this notion has often been described as "the Gaia Hypothesis," after the ancient Greek goddess Gaia, the ancestral mother of all life.
• New Data On New York Coronavirus Deaths: Most Had These Underlying Illnesses; 61% Were Men (USAToday)
Of the 4,758 deaths in New York since the first on March 14, 61% were men and 39% were women, the state Department of Health reported on its new data portal. In addition, 63% of the deaths were among those age 70 and older, while 7% of the cases were those 49 and younger. And 4,089 of those who died had at least one other chronic disease.
• Japan Declares State Of Emergency, Nearly $1 Trillion Stimulus For Coronavirus (Reuters)
Japanese Prime Minister Shinzo Abe on Tuesday declared a state of emergency to fight coronavirus infections in major population centres and rolled out a nearly $1 trillion stimulus package to soften the economic blow. The state of emergency, giving authorities more power to press people to stay at home and businesses to close, will last a month and be imposed in the capital, Tokyo, and six other prefectures, accounting for about 44% of Japan's population.
• China Ends Wuhan Lockdown, But Normal Life Is A Distant Dream (NYT)
• New Zealand Isn't Just Flattening The Curve. It's Squashing It. (Washington Post)
People have been walking and biking strictly in their neighborhoods, lining up six feet apart while waiting to go one-in-one-out into grocery stores, and joining swaths of the world in discovering the vagaries of home schooling. It took only 10 days for signs that the approach here — "elimination" rather than the "containment" goal of the United States and other Western countries — is working… New Zealand's next challenge: Once the virus is eliminated, how to keep it that way.
• A 'Liberty' Rebellion in Idaho Threatens to Undermine Coronavirus Orders (DNYUZ)
• Couple With NY License Plate Given Note In Fl: 'We Don't (Want) Your Virus, Go Back' (PIX11)
• Investors Should Prepare For A Coronavirus-Induced 'Vicious Spiral' More Than Twice As Bad As The Financial Crisis (MarketWatch)
• Market Bounce Is An 'Aftershock' With 'Pretty Horrific' Earnings To Come, Citi Analyst Says (CNBC)
• The CEO Who Built Cisco Into A Powerhouse Has A Sobering Coronavirus Diagnosis: At Least Nine Months Of Economic Pain (MarketWatch)
• Congress, White House Reach High For Next Virus Bill (AP)
House Speaker Nancy Pelosi said another $1 trillion is needed, beyond the just-passed $2.2 trillion effort. She wants another round of direct payments to Americans and more money for companies to keep making payroll. Senate Majority Leader Mitch McConnell has said in recent days that health care should top the list, signaling his intent to get to work on a new bill.
• Donald Trump Has Stake In Hydroxychloroquine Drugmaker (HuffPost)
• Airbnb Hosts Struggle To Pay The Bills As The Pandemic Sparks Mass Cancellations (CNN)
…………
Monday, April 6, 2020
…………
• JK Rowling And Huw Edwards Reveal They Have Beaten Coronavirus (The Telegraph)
Related Link: The Wim Hof Method
• Piers Morgan: The Queen & Her Coronavirus Speech (Daily Mail)
• Thousands Of Workers Apply To Pick Fruit And Veg Amid Coronavirus Shutdown (CornwallLive)
• Fears Coronavirus Can Hide In Cells And Reactivate Later After 51 Recovered Patients Test Positive Again (The Sun)
• Grocery Workers Are Beginning To Die Of Coronavirus (Washington Post)
• Scotland's Top Medical Official Resigns After Being Caught Breaking Her Own Coronavirus Lockdown Advice (FoxNews)
• Florida Food Bank: Demand Surges By 600 Per Cent (Daily Mail)
• Tourist Towns Say, 'Please Stay Away,' During Coronavirus Lockdowns (WSJ)
• You Could Get 18 Months In Jail For Visiting Colorado County In Coronavirus Pandemic (Idaho Statesman)
It's not the first time Gunnison County has shut itself off to visitors, though. During the 1918 flu epidemic, the county acted similarly… "For four months, residents were forbidden to leave, and travelers were turned away. Police erected barricades on the highway at Monarch Pass outside of town." At that time, people were arrested and put in jail, according to the news outlet. It was effective, though. Gunnison had no deaths, and neighboring towns lost 10% of their populations, NPR reported.
• Nearly 10,000 NYPD & FDNY Members Call In Sick Amid Rise In Burglaries (Daily Mail)
• New York City Plans To Temporarily Bury Coronavirus Victims In A Park (The Week)
• Hidden Suffering Of Coronavirus: Stigma, Blaming, Shaming (AP)
The spreading global pandemic has tested the competing interests of public health and privacy, with thousands of individuals experiencing both physical illness and the less-visible stigma that can come with it. While there are many stories about good deeds and people coming together, the coronavirus is also bringing out another, darker side of some people: Fear, anger, resentment and shaming.
• Janet Yellen Says Second-Quarter GDP Could Decline By 30% And Unemployment Is Already At 12%-13% (CNBC)
• Almost a Third of Young People Have Lost Their Jobs So Far (VICE)
An Axios-Harris survey conducted through March 30 showed that 31 percent of respondents ages 18 to 34 had either been laid off or put on temporary leave because of the outbreak, compared with 22 percent of those 35 to 49 and 15 percent of those 50 to 64.
• Americans Are Underestimating How Long Coronavirus Disruptions Will Last, Health Experts Say (STAT+)
Public health experts are increasingly worried that Americans are underestimating how long the coronavirus pandemic will disrupt everyday life in the country, warning that the Trump administration's timelines are offering many a false sense of comfort. Coronavirus cases are expected to peak in mid-April in many parts of the country, but quickly reopening businesses or loosening shelter-in-place rules would inevitably lead to a new surge of infections, they said.
• Fauci Says It's Likely Coronavirus Will Be Seasonal (The Hill)
• Mysterious Heart Damage, Not Just Lung Troubles, Befalling COVID-19 Patients (KHN)
While the focus of the COVID-19 pandemic has been on respiratory problems and securing enough ventilators, doctors on the front lines are grappling with a new medical mystery. In addition to lung damage, many COVID-19 patients are also developing heart problems — and dying of cardiac arrest.
• What Happens If You're Seriously Ill And It's Not From Covid-19? (Bloomberg)
With the Covid-19 pandemic demanding an unprecedented amount of medical resources and personnel, care for other conditions, even life-threatening ones, is being put on hold. In many places across North America, everything except emergency surgeries have been canceled, and in-person care has been delayed for all but the most worrisome cases.
• Spanish Government Aims to Roll Out Basic Income 'Soon' (Bloomberg)
Social Security Minister Jose Luis Escriva is coordinating the project and plans to put some sort of basic income "in place as soon as possible," with the main focus on assisting families, Calvino, who also serves as deputy prime minister, said in an interview Sunday night with Spanish broadcaster La Sexta. But the government's broader ambition is that basic income becomes an instrument "that stays forever, that becomes a structural instrument, a permanent instrument," she said.
• Tens Of Thousands Of Chinese Tourists Are Stuck At A Jam-Packed Tourist Attraction After It Reopened Amid Coronavirus Pandemic (Daily Mail)
Tens of thousands of Chinese tourists have flocked to a popular mountain range over the weekend after it reopened during the coronavirus pandemic. Huangshan was forced to shut down yesterday after its trails were swamped by more than 20,000 visitors… Visitors are asked to show their health status on their phones, wear face masks and have their temperatures taken upon their arrival.
…………
Sunday, April 5, 2020
…………
• Brothers Andrew Cuomo And Chris Cuomo Can't Stop Cracking Jokes About Each Other On Live TV, And It's Glorious (BuzzFeed)
• Inside The Epic White House Fight Over Hydroxychloroquine (Axios)
• Tesla Releases First Video Of Its Ventilator Made Out Of Car Parts (Electrek)
• Tim Cook: Apple Shipping Custom Face Shields To Medical Workers As Mask Donations Cross 20M (9To5Mac)
• Fed's Bullard Says There Is 'Good News' For Those Worried About The Economy's Future: Universal COVID-19 Testing (MarketWatch)
• Does My County Have an Epidemic? Estimates Show Hidden Transmission (NYT)
• U.K. Prime Minister Boris Johnson Hospitalized Due to Coronavirus (Hollywood Reporter)
• COVID-19: What You Need To Know About The Coronavirus Pandemic On 5 April (World Economic Forum)
There are currently more than 1,213,000 confirmed cases of COVID-19 infection around the world, with 65,652 confirmed deaths, according to Johns Hopkins University. Almost 250,000 people are known to have recovered from coronavirus.
The US remains the worst-affected country in the world, with over 312,000 confirmed cases.
Meanwhile, in the city where the coronavirus pandemic began — Wuhan in China's Hubei province – parts of the city are showing tentative signs of reopening. Residents have slowly been returning to the streets to buy street food — with some allowed to leave their homes for the first time since 23 January.
However, on a more cautious note, mainland China reported 30 new coronavirus cases on Saturday, up from 19 a day earlier. Most of these were cases involving travellers from abroad, but five new locally transmitted cases were reported in Guangdong, highlighting the difficulty in stamping out the outbreak.
• Global Death Toll Mounts As Coronavirus Pandemic Spreads (CNN)
• Surgeon General: This Week Will Be Like A 'Pearl Harbor' And '9/11' Moment (CNN)
• Trump Warns 'One Of The Toughest Weeks' Is Ahead, Says To Brace For 'A Lot Of Death' (NPR)
• Coronavirus: Spain's Daily Number Of New Infections Falls Again – For A Third Day In A Row (EuroNews)
• Mainland China Sees Rise In New Coronavirus Cases (Reuters)
• South Korea's Return To Normal Interrupted By Uptick In Coronavirus Cases (NBCNews)
• South Korea's Foreign Minister Explains How The Country Contained COVID-19 (World Economic Forum)
"We took an all-government approach. The Prime Minister created a task force of all government ministries and, crucially, all regional and city governments, too — we are a very devolved democracy."
"When one region ran out of hospital beds we asked other provinces to open up beds in their hospitals. When it ran out of doctors we asked doctors in other regions to help."
"The key to our success has been absolute transparency with the public — sharing every detail of how this virus is evolving, how it is spreading and what the government is doing about it, warts and all."
"Testing is absolutely critical with a fast-travelling virus like this," says Kang. "We have tested over 350,000 cases so far — some patients are tested many times before they are released, so we can say they are fully cured. Altogether, we're talking about one out of 145 or one out of 150 people having been tested so far."
Unlike Italy, China, the UK and parts of the US, there was no lockdown in South Korea. It did, however, close its schools.
• Taiwan's Coronavirus Response Is Among The Best Globally (CNN)
• Sweden Prepares For Possible Tighter Coronavirus Measures As Deaths Rise (The Guardian)
Sweden's government is drawing up new legislation to allow it to take "extraordinary steps" to combat Covid-19, local media have reported, amid concern that its relatively soft approach may be leading to a higher death rate than in other Nordic countries. On Sunday Sweden reported a total of 401 deaths so far from Covid-19, up 8% from Saturday and greater than the totals of its three Nordic neighbours combined. Sweden's toll per million inhabitants is 37, compared with 28 in Denmark, 12 in Norway and 4.5 in Finland.
Although Sweden has closed senior high schools and banned gatherings of more than 50 people, the prime minister, Stefan Löfven, has preferred to rely on Swedes' sense of civic responsibility, asking rather than ordering them to avoid non-essential travel, to work from home and to stay indoors if they are over 70 or are feeling ill. "Everyone is responsible for their own wellbeing, for their neighbours' and for their own local community," the foreign minister, Ann Linde, said last week. "This applies in a normal situation and it applies in a crisis situation."
• Blame The Chinese Communist Party For The Coronavirus Crisis (USAToday)
• Bill Gates Calls Coronavirus Pandemic A 'Nightmare Scenario,' But Predicts Lower Death Toll Than Trump (CNBC)
• We Could Be Vastly Overestimating The Death Rate For COVID-19. Here's Why (World Economic Forum)
A lack of adequate testing means many of those who have been infected with the coronavirus will not appear in official statistics. This suggests that many estimates for its mortality rate are much too high. We need to build better systems for sharing and reporting data.
• State Coronavirus Shutdowns Have Taken 29% of U.S. Economy Offline (WSJ)
• These 7 Charts Show COVID-19's Effect On The Us Job Market In March (World Economic Forum)
The March jobs report showed that the early impact of the coronavirus pandemic was much worse than economists expected, signaling further damage to the US economy ahead. The US economy lost 701,000 jobs in March, according to the Labor Department's report out Friday. That was much steeper than the 100,000 loss consensus estimate from economists. The unemployment rate jumped to 4.4% from 3.5% in February.
• U.S. Allies Express Dismay Over Us Handling Of Global Medical Supply Chain (VOX)
As countries across the globe face a shortage of medical supplies needed to combat the spread of Covid-19, some US allies have begun expressing dismay over President Donald Trump's efforts to secure personal protective equipment (PPE) for the United States. A German official has accused the US of "modern piracy," calling the country's efforts to obtain PPE overly aggressive, and officials in Brazil, Spain, and Canada have expressed a frustration shared by numerous US governors — that the Trump administration is aggressively outbidding them, leaving them unable to buy badly needed PPE.
In response, Canadian and German leaders have expressed dismay, but say they will not formally retaliate against the United States. "We are not looking at retaliatory measures or measures that are punitive," Canadian Prime Minister Justin Trudeau said during his daily address in Ottawa, while warning there may be some unintended negative consequences nevertheless. "We know it is in both of our interests to work collaboratively and cooperatively to keep our citizens safe."
• Police Warn Chief Medical Officer Of 'Future Conduct' (Edinburgh & East)
"I wish to apologise unreservedly for the issue reported in the media today. While there are reasons for what I did, they do not justify it and they were not legitimate reasons to be out of my home. While I and my family followed the guidance on social distancing at all times, I understand that I did not follow the advice I am giving to others, and that I am truly sorry for that. I know how important this advice is and I do not want my mistake to detract from that. I have a job to do as chief medical officer to provide advice to ministers on the path of the virus and to support the medical profession as they work night and day to save lives, and having spoken with the First Minister this morning I will continue to focus entirely on that job."
• Millions Of Dads Are Stuck At Home – Which Could Be A Game Changer For Working Moms (CNN)
• If You Have Anxiety And Depression But Feel Better During Coronavirus, You're Not Alone (Daily Beast)
• Amazon Shows How To Be A Business During A Crisis (INC)
It isn't an exaggeration to say that Amazon is one of the most important companies on the planet right now. With as many as 90 percent of Americans under 'stay at home' orders, Amazon has become more a part of our daily lives than ever before.
It's hiring 100,000 workers at a time when 10 million people filed for unemployment in just two weeks. It's prioritizing the products that people need at a time when online shopping has surged. And its cloud computing platform is more important than ever as millions of people are working from home. That's not even to mention the scientists and researchers who are using Amazon Web Services (AWS) to find therapies and — hopefully — a vaccine for Covid-19.
It may also provide some escape from the chaos and anxiety of the world around us through good books on our Kindles or by renting a movie to watch with our kids. Sure, it isn't the only place you can find either of those, but right now, every little bit helps.
Oh, and Jeff Bezos is donating $100 million to food banks to help people who just lost their jobs and can't afford to feed their kids…
• Big Oil Is Using The Coronavirus Pandemic To Push Through The Keystone XL Pipeline (The Guardian)
I'm going to tell you the single worst story I've heard in these past few horrid months, a story that combines naked greed, political influence peddling, a willingness to endanger innocent human beings, utter blindness to one of the greatest calamities in human history and a complete disregard for the next crisis aiming for our planet…
• Coronavirus: Tech Firms Summoned Over 'Crackpot' 5G Conspiracies (BBC)
• Coronavirus Phone Tracking Now Impacts Us All – And This Is Just The Start (Forbes)
• People Living In Vans And RVs Are Getting Squeezed During Pandemic (CNN)
Related Link: Campervan Living & Resources
…………
Saturday, April 4, 2020
…………
• Italy Cheers First Drop In Critical Virus Patients (AFP)
• Small Rural Towns Have Been Hit With Some Of The Most Deadly U.S. Coronavirus Outbreaks (The Sun)
• New York City Sees 75% More Burglaries Of Businesses Under Coronavirus Emergency Measures (Wall Street Journal)
The NYPD has seen a 75% increase in reports of burglaries of commercial establishments from March 12, when New York City Mayor Bill de Blasio declared a state of emergency, to March 31, police officials said. The NYPD recorded 254 burglaries of businesses during that time period this year compared with 145 for the same period last year, the officials said. All boroughs of the city have seen increases, the officials said.
• Store Owners Boarding Up Buildings Across Manhattan (Fox5NewYork)
• Media Censoring Medical Doctors Saving Lives With Vitamin C For Covid19 – Reduces Need For Ventilators (Health Impact News)
"If you can administer Vitamin C intravenously starting in the Emergency Room and every 6 hours thereafter, while in the hospital, the mortality rate of this disease and the need for mechanical ventilators will likely be greatly reduced," says Dr. Pierre Kory, the Medical Director of the Trauma and Life Support Center and Chief of the Critical Care Service at the University of Wisconsin in Madison. He explains that it's the inflammation sparked by the Coronavirus, not the virus itself, that kills patients. Inflammation causes a condition called Acute Respiratory Distress Syndrome (ARDS), which damages the lungs so that patients, suffering fever, fatigue, and the sense that their inner chest is on fire, eventually cannot breathe without the help of a ventilator. 
Related Link: NHNE Vitamin C Resource Page
• Texas City Mandates People Wear Masks In Public Or Face $1,000 Fines (TIME)
• Canada's Big Banks Cut Credit Card Rates To Give Relief To Customers Amid Covid-19 Pandemic (National Post)
• Small-Business Owners Express Confusion, Fear Over Federal Bailout Fund (MarketWatch)
• COVID-19: What You Need To Know About The Coronavirus Pandemic On 4 April (World Economic Forum)
"This is a crisis like no other," said Kristalina Georgieva, Managing Director of the International Monetary Fund (IMF), at a conference organized by the World Health Organization yesterday. "Never in the history of the IMF have we witnessed the world economy coming to a standstill," she said. "It is way worse than the global financial crisis."
The public is currently coping with two pandemics, says economist Shiller: a viral pandemic, brought on by a contagion; and a pandemic of financial anxiety brought on by the economic impact of shut businesses and cratering stock prices. This financial anxiety is not logical, is highly reactive and often has a life of its own. To predict the stock market now, said Shiller, requires both understanding the economic effects of the pandemic as well as the real and psychological effects of financial anxiety. Said Shiller: "The two are different, but inseparable."
• The "Sledgehammer" Approach To Containment Will Result in "Phenomenal" Economic Costs (The Street)
"The sledgehammer approach being used in most European countries and the United States is turning out into a very costly mistake. And what I mean by sledgehammer is they haven't planned anything, they just have a blanket program where we're all locked in our condos or houses and can't move, and the economy shuts down," he said. Instead, governments should take the model that Sweden has set, Hanke said. "If you look at some place like Sweden, Sweden has a very laissez-faire, very targeted approach, and they're doing very well. The kindergartens are still open, the grade schools are still open, most factories are still open in Sweden. They are not imposing this sledgehammer and essentially wiping out the economy," he said.
• No Lockdowns In Sweden As Stockholm Remains Open—Parks And Open-Air Museums Operating (Forbes)
Sweden has taken an early approach to tackle COVID-19 similar to that seen in Taiwan and Hong Kong. There are no enforced lockdowns, the economy remains open, and citizens are free to travel and enjoy the attractions that do remain open. The country has implemented what it calls "common sense" measures, that prevent large gathering of over 50 people, but most importantly, aims to protect the elderly and anyone with weak immune systems of pre-existing medical conditions. The elderly and vulnerable have been told to stay at home.
• On Sweden's Dangerous Management Of Coronavirus Crisis (The Indicter)
The epidemic development of the corona virus in Sweden is not special. The virus behaves and spreads under the same predictable procedures elsewhere. What makes the situation of Sweden so particular in regards to others countries, is partly the premature and naïve conclusions of the authorities, and partly their strategy adopted in dealing with this catastrophe.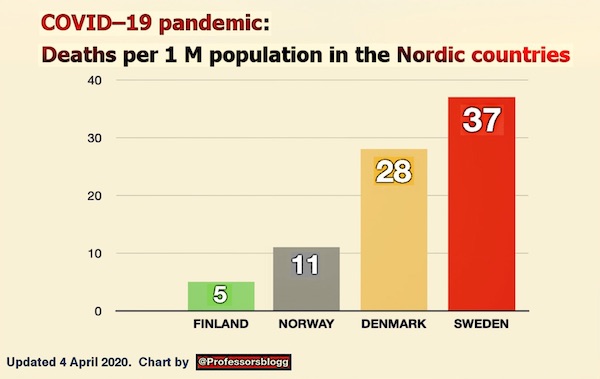 • Coronavirus: Big Brother Widens His Embrace (MoneyWeek)
• A German Exception? Why the Country's Coronavirus Death Rate Is Low (NYT)
• Coronavirus World Map: Which Countries Have The Most Cases And Deaths? (The Guardian)
• Some Cities See Jumps In Domestic Violence During The Pandemic (CNN)
• Barr Orders Broadened Use Of Home Confinement As Coronavirus Hits Prisons (AXIOS)
• A Woman Flying To See Her Dying Mother Was The Plane's Only Passenger (CNN)
• How To Make Your Own Face Mask (CNN)
…………
Friday, April 3, 2020
…………
• Face Coverings Recommended, But Trump Says He Won't Wear One (AP)
• Canada's Handling Of The Pandemic So Far Is Putting The U.S. To Shame (The Globe & Mail)
• When Will You Get Your Federal Stimulus Check? (CBSNews)
Millions of Americans will have a federal stimulus payment directly deposited in their bank account by April 15, the Treasury Department says. But some people without direct deposit information may not get checks until mid-August or later, according to a memo obtained by The Associated Press.
• A Widening Toll On Jobs: 'This Thing Is Going To Come For Us All' (NYT)
A staggering 6.6 million people applied for unemployment benefits last week as the coronavirus outbreak ravaged nearly every corner of the American economy, the Labor Department reported Thursday. The speed and scale of the job losses are without precedent. In just two weeks, the pandemic has left nearly 10 million Americans out of work, more than in the worst months of the last recession. Until last month, the worst week for unemployment filings was 695,000 in 1982.
• Coronavirus Stimulus Will Take National Debt To Wartime Levels (CNN)
In most countries, political opposition to spending increases funded by borrowing has vanished in the face of a potential global depression. But the trillions of dollars in support promised to households and businesses will push up budget deficits to their highest levels since the global financial crisis. And the borrowing binge could result in national debt mountains to rival those last seen in the late 1940s. The amount of stimulus already committed ranges as high as 20% of GDP in some countries, but economists warn that even more will likely be needed to support workers and companies harmed by the pandemic. At the same time, tax revenue will decline along with economic activity, blowing out deficits even further.
• The Soaring U.S. Unemployment Rate Could Approach Great Depression-Era Levels (Market Watch)
• 'Mom & Pop' Shops Worry They Will Be Squeezed Out Of Small Business Coronavirus Aid (Reuters)
• Food Shortages? Nope, Too Much Food In The Wrong Places (NPR)
• The 1,000-Bed Comfort Was Supposed to Aid New York. It Has 20 Patients. (NYT)
• The CDC Suggests Deep Breathing To Stay Calm (LATimes)
The Centers for Disease Control and Prevention recommends taking deep breaths to improve your emotional health during the coronavirus outbreak. But how? There's a technique to making the most of your deep, cleansing breaths — and it's pretty easy to learn…
Related Link: The Wim Hof Method
• No Small-Business Relief Yet: False Start On Paycheck Protection Program Loans (Forbes)
• CNN Anchor Brooke Baldwin Diagnosed With Coronavirus (Hollywood Reporter)
• Chris Cuomo Shares Covid-19 Experience: 'The Beast Comes At Night' (CNN)
• Sex Workers Stranded In Germany As Coronavirus Shuts Brothels (Reuters)
• Germany Has A Low Coronavirus Mortality Rate: Here's Why (CNBC)
• Women Are Using Code Words At Pharmacies To Escape Domestic Violence During Lockdown (CNN)
Multiple studies have found that emotionally stressful events can lead to an increase in aggressive behavior at home. Researchers identified such spikes during the 2008 economic crisis, when major natural disasters hit, and also during big football tournaments.
• Coronavirus: Cats Highly Susceptible To Infection, Study Finds (Independent)
• Coronavirus Could Trigger Biggest Fall In Carbon Emissions Since World War Two (Reuters)
• A Conspiracy Theory That 5G Is Causing The Coronavirus Is Spreading Alongside The Pandemic (BuzzFeedNews)
• 5G Masts Being Burned In The U.K. (The Sun)
• Stop Deployment Of 5G During Quarantine (Children's Defense Fund)
• Thousands Of Zoom Video Calls Left Exposed On Open Web (Washington Post)
• 'Zoombombing' Is A Federal Offense That Could Result In Imprisonment, Prosecutors Warn (The Verge)
…………
Thursday, April 2, 2020
…………
• Nurses And Doctors Stand On Hospital Rooftops To Pray Over Patients And Families (CBSNews)
• Unexpected Consequence of COVID-19 Crisis: Empty Emergency Rooms (InsideSources)
• Locked In Cages, Beaten And Shamed: Coronavirus Laws Lead To Abuses (Herald-Mail Media)
• Shivering, Hallucinating, Beaten 'Like A Piñata' – Chris Cuomo's 'Haunted' Night With Coronavirus (GreenwichTime)
"My dad was talking to me," a wide-eyed Cuomo said, referring to his late father, former New York governor and revered Democratic Party figure Mario Cuomo, who died in January 2015. "I was seeing people from college, people I haven't seen in forever. It was freaky what I lived through last night, and it may happen again tonight."
• Chris Cuomo Makes Surprise Appearance During Brother Gov. Andrew Cuomo's Coronavirus Briefing (USAToday)
[Chris Cuomo] shared another case of a wild fever dream with his brother [Governor Andrew Cuomo]Thursday: "You came to me in a dream. You had on a very interesting ballet outfit and you were dancing in the dream and waving a wand and saying, 'I wish I could wave my wand and make this go away.' "
The governor replied with a laugh: "Well there's a lot of metaphoric reality in that one. I thank you for sharing this one with us. Very kind of you. Obviously the fever has affected your mental capacity."
• Nobel Prize-Winning Economist Paul Krugman Says We Are Ignoring A 'Huge Fiscal Time Bomb' Set To Detonate When The Pandemic Subsides (Business Insider)
• U.S. Unemployment Claims Hit 6.6 Million, Another Record High, Amid Coronavirus (Chicago Tribune)
• 'A Perfect Storm' – US Facing Hunger Crisis As Demand For Food Banks Soars (The Guardian)
• For Homeless People, Covid-19 Is Horror On Top Of Horror (Wired)
"THERE IS NOTHING," a desperate poster writes, and a dozen others agree. Online communities dedicated to homelessness, like Reddit's r/homeless, were already places to vent about unlivable living situations, but as the Covid-19 outbreak continues, the challenges they face have only gotten more extreme. Shelters are full, or closed, or too fraught with coronavirus risk to consider sleeping in. They have no access to toilets, much less toilet paper. They've been laid off, and there's nobody on the street so they can't even panhandle. Common places to find shelter and a bathroom — libraries, gyms, fast food restaurants — are closed. Soup kitchens are closing, out of food, out of workers. The forums have become literal survival guides: How to set up a safe shelter in the forest; where to find an electrical outlet; how to clean yourself with dry leaves, newspaper, and isopropyl alcohol. "For everyone else this is 'quarantine and chill,'" Reddit user UNTGaryOaks tells WIRED. "When you're homeless there is no quarantine, or chill. Unless you're the type that is comfortable laying on the ground in public."
"The shelters themselves are losing staff. Their staff are getting sick or their kids are home from school. Volunteers who provide staff overnight or food, they're not coming," Roman says. "They're having a difficult time supplying food to people, and we're starting to see some of them close."
• Best-Case And Worst-Case Coronavirus Forecasts Are Very Far Apart (FiveThirtyEight)
"This week's survey, taken on March 30 and 31, shows that experts expect an average of 263,000 COVID-19-related deaths in 2020, but anywhere between 71,000 and 1.7 million deaths is a reasonable estimate…"
• Amazon Faces Unprecedented Challenges As Dozens Of Its Warehouses Grapple With Covid-19 Outbreaks (GeekWire)
• Social Security Recipients Will Automatically Receive Stimulus Pay (CNN)
• Some In U.S. May Not Get Stimulus Checks Until August (AP)
• Map Reveals Hidden U.S. Hotspots of Coronavirus Infection (Scientific American)
• Coronavirus: Strategic National Stockpile Was Ready, But Not For This (The Conversation)
• China's Shenzhen Bans The Eating Of Cats And Dogs After Coronavirus (Reuters)
• Australia Starts Putting Time Limits On 'Draconian' Virus Measures (Reuters)
• Navy Relieves Captain Who Raised Alarm About Coronavirus Outbreak On Aircraft Carrier (NBCNews)
• A New Coronavirus Test Can Accurately Diagnose People Without Symptoms (Refinery29)
• Los Angeles Mayor Says All Residents Should Wear Masks (The Hill)
• Why Are So Many More Men Dying From Coronavirus? (DNYUZ)
• People Are Visiting Graveyards During Coronavirus Lockdown Because Parks Are Too Crowded (NYPost)
• Amid Coronavirus Scare, Americans Flock To Remote Land, Survival Retreats (Thomas Reuters Foundation)
• The Pandemic Is Turning the Natural World Upside Down (The Atlantic)
"Air pollution can seriously damage human health, and the World Health Organization estimates that conditions stemming from exposure to ambient pollution — including stroke, heart disease, and respiratory illnesses — kill about 4.2 million people a year…"
…………
Wednesday, April 1, 2020
…………
• Stimulus May Come Too Late for U.S. Businesses Already Stretched (Bloomberg)
• Why The Global Recession Could Last A Long Time (NYT)
• Private Sector Sheds 27,000 Jobs In March As Coronavirus Ripples Through US Economy (Fox Business)
• Protective Gear In National Stockpile Is Nearly Depleted, DHS Officials Say (Washington Post)
• Asia May Have Been Right About Coronavirus And Face Masks (CNN)
• White House Issues Stark Coronavirus Death Toll Estimate (NBC News)
• Iceland Lab's Testing Suggests 50% Of Coronavirus Cases Have No Symptoms (CNN)
• How Does Exercise Affect Your Immune System And Your Ability To Fight Off Coronavirus? (220Triathlon)
• 3 Obsolete Business Strategies That the Pandemic Has Revived (INC.com)
• Don't Nag Your Husband During Lockdown, Malaysia's Government Advises Women (NPR)
• Discovery By UF Doctor May Have Solved Face Mask Shortage (Mainstreet Daily News)
• China Intentionally Under-Reported Total Coronavirus Cases And Deaths, U.S. Intelligence Says (Fortune)
• Europe Turned To China (& Russia) For Coronavirus Testing Help. Why Some Are Now Regretting It (Fortune)
• A Pandemic Expert Tells Us Why She Was So Wrong About Coronavirus (VICE)
• The Coronavirus Outbreak Is Bad News For Electric Car Companies Like Tesla (Inverse)
• 'We Are The Verge Of A Massive Collapse': Ex-Energy Secretary Perry Says Covid-19 Will Ravage Oil Industry (USAToday)
• China Seizes Covid-19 Advantage In South China Sea (Asia Times)
• Coronavirus: How Sick Will You Get? (The Mercury News)
"It's well known that death rates are higher among older people. Only 0.2% of people younger than 19 die. But for people between the ages of 60 and 69, the death rate is 3.6%. It jumps to 8% to 12.5% for those between ages 70 and 79 and 14.8% to 20% percent for those older than 80…
"Emerging U.S. data confirms trends seen in China and Italy: Rates of serious COVID-related symptoms are higher in those with other medical problems and risk factors, such as diabetes, hypertension, chronic obstructive pulmonary disease, coronary artery disease, cerebrovascular disease, chronic renal disease and smoking. In a U.S. Centers for Disease Control report released on Tuesday, higher percentages of patients with underlying conditions were admitted to the hospital and to an ICU than patients without other health issues."
…………
Early News Stories
…………
• AI Tool Predicts Which Coronavirus Patients Get Deadly 'Wet Lung' (AFP)
• Models Predicting Expected Spread Of The Virus In The U.S. Paint A Grim Picture (NYT)
• USS Theodore Roosevelt Commander Says Entire Crew Needs To Be Isolated After 200 Positive Coronavirus Tests (FoxNews)
• Coronavirus: Middle-Aged People At Greater Risk Of Dying From Covid-19 Just Like Elderly, Study Finds
• South Korea's Foreign Minister Explains How The Country Contained COVID-19 (World Economic Forum)
• CNN Anchor Chris Cuomo Diagnosed With Coronavirus (CNN)
• As Coronavirus Hits Hard, Amazon Starts Licensing Cashier-Free Technology To Retailers (MarketWatch)
• Colorado Ski Town Will Test Everyone For Coronavirus (LifeScience)
• A Choir Decided To Go Ahead With Rehearsal. Now Dozens Of Members Have COVID-19 And Two Are Dead (LA Times)
• WHO Official Defends Guidance: 'We're Not Seeing' Airborne Transmission (NPR)
• Restrictions Are Slowing Coronavirus Infections, New Data Suggest (NYT)
• As The Rest Of The World Locks Down, China Tries To Get Shoppers Out (Bloomberg)
• Why Are So Few Germans Dying From The Coronavirus? Experts Wonder (NBCNews)
• When Will The Money Arrive? Here Are Answers To Your Questions About The Coronavirus Stimulus Checks (CNBC)
• 2020 Coronavirus Pandemic In Sweden (Wikipedia)
• Inside Sweden's Radically Different Approach to the Coronavirus (WSJ)
• Life Is Carrying On As Normal In Sweden – Scientists Explain The Controversial Approach
• What Happens To Our Food Supply If American Farmers Can't Farm? (CNN)
• Rent's Due. What Now? Experts Warn A Housing Crisis Shadows The Health Crisis (NBCNews)
• Rent Strike Idea Gaining Steam During Coronavirus Crisis (AP)
• Social Distancing Is A Privilege Of The Middle Class. For India's Slum Dwellers, It Will Be Impossible (CNN)
• These Gut-Wrenching Photos Show What Happens When A Coronavirus Lockdown Backfires
• Italy Risks Losing Grip in South With Fear of Looting, Riots (MSN)
• A Food Crisis Looms As Coronavirus Forces Farms To Stay Idle And Countries Hoard Supplies (CNBC)
• Farmworkers Key To Keeping US Fed Are Wary Of Virus Spread (AP)
• Unprecedented Response to COVID-19 by Governments Prohibits Physical Contact and Cripples World Economy
• Coronavirus Measures Could Cause Global Food Shortage, UN Warns (Guardian)
• Is This Really The Best Way To Fight Coronavirus? (NYT)
• Coronavirus' Looming Psychological Crisis(The Week)
• An Aging America Faces Another Epidemic: Isolation (Politico)
• Coping With Coronavirus Anxiety, Isolation And Loneliness (Mercola)
• Road Accidents Are Likely To Kill More People Than Coronavirus. The World Needs To Keep Perspective
• Will The Coronavirus Make Permanent Our Diminishing Need For Human Contact?
• What Is The Best Disinfectant For Surfaces? (Mercola)
• Inside The Military's Top Secret Plans If Coronavirus Cripples The Government (Newsweek)
• How Isaac Newton Turned Isolation From The Great Plague Into A "Year of Wonders"
…………
>> Back To Current News Stories & Main COVID-19 Resource Page <<
…………
You can support this website by using the amazing, super-fast, crypto-friendly Brave Web Browser