…………….
Return To Main COVID-19 Resource Page
…………….
COVID-19 Dubious Data
……………….
• Covid Deaths Audit (Covid19 Assembly)
In January 2020, the SARS-CoV-2 virus took the world by surprise, leading to many deaths and much disruption to our lives. Now, more than a year on, we need to take stock of our response and ask if all emergency actions taken were necessary, whether they are still necessary and if any mistakes were made.
Normally in England and Wales if a death is caused by a Notifiable Disease like Covid-19, an inquest must be held. However, with the introduction of the Coronavirus Act 2020 last March, this requirement was suspended in cases where Covid-19 was suspected as a cause of death. This remains the case for the duration of the "Emergency Period" defined in the act.
The act also radically changed the established procedures for registering deaths. Previously, an attending doctor would complete and submit a death certificate to the local medical examiner who would scrutinise it and discuss the death with a family representative. Once it was confirmed they had no concerns, the examiner and the representative would sign the death certificate and the death would be officially registered. This was also changed under the Coronavirus Act, allowing any doctor to complete and sign the death certificate even if they have never seen the deceased.
The removal of these independent oversight measures has increased the likelihood of mistakes being made. Over the last year, there have been many cases where families have been surprised to find Covid-19 listed as cause of death for a loved one. Anecdotal evidence indicates that this has sometimes been successfully overturned but in the vast majority of cases, the certificates haven't been challenged.
Querying Covid-19 as a cause of death has been further complicated due to the current definition of an official Covid death. Any person who dies within 28 days of testing positive for Covid-19 – or having the disease mentioned anywhere on their death certificate even if not as primary cause – is counted as an official Covid death.
This is misleading because it leads to instances where, for example, a person died of Cancer but because their doctor thinks they may also have had some symptoms of Covid he or she lists it on the person's death certificate (even though it did not contribute significantly to their death). This is then counted as a Covid death. In addition, only a small number of post mortems have been carried out for Covid deaths, further confusing the issue.
As a result, more families are coming forward with stories of suspected misattributed causes of death. Recent stories in the British press have highlighted numerous cases and there is increasing speculation that the official number of Covid deaths may be incorrect. This growing concern has led to calls for an official enquiry into the misattribution of Covid as a cause of death.
All actions to mitigate the harm caused by Covid-19 were taken due to the perceived death rate of the disease. However, with so much confusion around these deaths, in scientific terms the death rate is effectively unknown and as such, it is impossible to judge the proportionality of these measures.
The Covid-19 Assembly was formed because of its members' concern that scientific methods are being abandoned in the approach to tackling Covid-19. It is dedicated to evidence-based research in this area in order to establish correct facts and figures.
Our position is that every official Covid death must be properly investigated as it would be if an inquest was still required. As such, in the absence of official programmes to do so, our first major project in the Covid-19 arena will be to catalogue and audit these deaths. Appropriate evidence will be presented to the relevant coroners pending the time when inquests for Covid-19 deaths are reinstated. We will also be making our findings available to any future enquiry into the handling of the Covid-19 pandemic.
• CDC Skewed CCP Virus Fatalities Higher, Peer-Reviewed Study Claims (The Epoch Times – 03/22/21)
• PCR Testing Saga: Were We Duped? (The Defender – 02/23/21)
• China's Chief Epidemiologist Admits Covid-19 Was Never Proven To Exist (Red Pill University – 02/14/21)
• 'German Ministry Hired Scientists To Induce Corona Fear' (Netherlands News Live – 02/09/21)
• Inflated COVID-19 Death Counts Could Cause Vaccine Trepidation (The Hill – 12/23/20)
According to the Centers for Disease Control and Prevention (CDC), more than 318,000 Americans have died from COVID-19. The pandemic has wrought pain and suffering on a massive scale. But reports are coming to light that suggest state COVID-19 death counts may be inflated, which sows public doubt, confusion and less trust in government.
For example, in Colorado, a county coroner is disputing the state's official COVID-19 death count, after the state counted two victims of a murder-suicide as fatalities of COVID-19. According to Grand County Coroner Brenda Brock, "These two people had tested positive for COVID, but that's not what killed them. The gunshot wound killed them and it's very misleading for you to put numbers out there saying these people died from COVID when that's not what they died from." Brock added, "I realize yes, you're trying to keep count of the numbers, but you need to do it right, and these people did not die of COVID, they died of gunshot wounds and that's how it needs to be listed." What's more, Brock says this problem is a statewide issue. "I got replies back from 80 percent of the coroners in the state all stating the same thing. They've all had the same problems, and these are in small counties, so it's easy for us to keep track of our numbers," said Brock.
Unsurprisingly, the problem of overestimating COVID-19 deaths is not limited to Colorado. According to a new report from the Freedom Foundation, the same thing is occurring in Washington state . . . Although it is difficult to determine the size and scope of the inflated death count on a national level, we can assume that the actual number of Americans who have died from COVID-19 is less than the government tally says.
• U.S. Deaths In 2020 Top 3 Million, By Far Most Ever Counted (Associated Press – 12/21/20)
Final mortality data for this year will not be available for months. But preliminary numbers suggest that the United States is on track to see more than 3.2 million deaths this year, or at least 400,000 more than in 2019. U.S. deaths increase most years, so some annual rise in fatalities is expected. But the 2020 numbers amount to a jump of about 15%, and could go higher once all the deaths from this month are counted. That would mark the largest single-year percentage leap since 1918, when tens of thousands of U.S. soldiers died in World War I and hundreds of thousands of Americans died in a flu pandemic. Deaths rose 46% that year, compared with 1917.
• Published Papers and Data on Lockdown Weak Efficacy – and Lockdown Huge Harms (Ivor Cummins)
• How the CDC Juices Its Numbers to Create Massive COVID-19 Death Counts (Mercola – 12/04/20)
As the reported numbers of COVID-19 deaths swell across the U.S., one thing media is omitting in their reports is an explanation of how the CDC is tabulating these deaths. For example, even if COVID-19 wasn't THE underlying cause of death, or even the proximate cause of death, CDC guidelines require that it be coded as a COVID-19 death. This means as long as it's listed as a contributor, COVID-19 becomes THE cause of death on a death certificate. This applies even if the person had comorbidities or chronic conditions that contributed to their death. More specifically, the CDC itself admits that only 6% of COVID-19 deaths are due solely to COVID-19. The rest all had comorbidities and/or chronic conditions that together or individually also contributed to their deaths. But, even if these comorbidities were severe enough to be a person's major cause of death, if the health care provider filling out the death certificate reports that COVID-19 played a part in it, then the CDC states that COVID-19 must be listed as a "DUE to COVID-19." VOILA! Massive deaths DUE to COVID-19 are thus reported.
• CDC Did Not 'Admit Only 6%' of Recorded Deaths from COVID-19 (FactCheck.org)
• CDC Comorbidity Reference Page
• COVID OVERCOUNTING – Third Of 'Coronavirus Victims' In July And August Really Died From Other Causes, Oxford UNI Scientists Reveal (The Sun – 09/19/20)
• COVID-19 Death Rates Are Lower Worldwide, But No One Is Sure Whether That's A Blip Or A Trend (Washington Post – 10/09/20)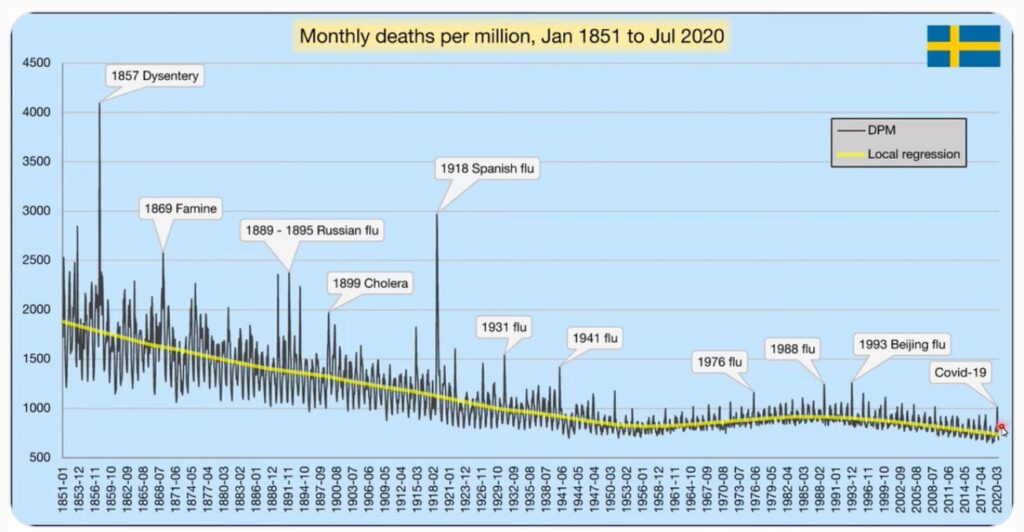 Who is Ivor Cummins?
Ivor Cummins completed a Chemical Engineering degree at UCD in 1990. He has since spent over 25 years in corporate technical leadership and management positions and was shortlisted in 2015 as one of the top 6 of 500 applicants for "Irish Chartered Engineer of the Year". Ivor's focus and specialty is leading teams in complex problem-solving scenarios. He has often led worldwide teams with over 60-70 engineers working on major technical issues; the largest of these involved product issues where hundreds of millions of dollars were in the balance.
Several years ago, Ivor encountered a complex technical challenge in his personal life. Receiving poor blood test results, he was unable to get solutions via the doctors consulted. He thus embarked on an intense period of biochemical research into the science of human metabolism. Within eight weeks he had resolved and optimized all of his blood test metrics. Also, he had shed over 15Kg of bodyfat with relative ease. In the following years he continued his research on the many "root causes" of modern disease, from "cholesterol" through to insulin resistance.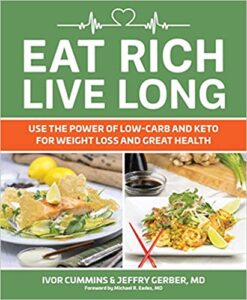 He has become a professional speaker of note, giving many public lectures and chairing interviews with worldwide health experts. Most notably he was invited by the President of the British Association for Cardiovascular Prevention and Rehabilitation (BACPR) to give a keynote talk on heart disease root causes, at their annual conference in London last October. All of Ivor's public lectures and interviews are available on his YouTube channel, where nearly a million views have been recorded to date.
His book on chronic disease root causes and resolution strategies (co-authored with Denver doctor Jeffry Gerber MD, FAAFP) released by a major US publisher on February 27th 2018.
His blog and other content is available at www.thefatemperor.com. Ivor's popular podcast series is available here.
Ivor lives in Dublin, Ireland, with his wife and five children.
…………….
Return To Main COVID-19 Resource Page
…………….