…………….
Return To Main COVID-19 Resource Page
…………….
COVID-19 Menstrual & Breast Milk Disruptions, Miscarriages, Infertility, Transmission (Shedding)
…………….
"We Made a Big Mistake!" – COVID Vaccine Spike Protein Can Cause Organ Damage
Host Alex Pierson talks with Dr. Byram Bridle, an Associate Professor on Viral Immunology at the University of Guelph about new peer-reviewed studies that suggests there may be terrifying reasons side effects such as heart inflammation, VITT, and other serious issues may occur in those who have been vaccinated.
Original Link • Who Is Dr. Byram W. Bridle?
COVID-19 and Children: A Scientist's Guide for Parents (pdf)
……………….
Serious Short & Long Term Health Issues Associated With COVID-19 Vaccinations
See also: Should You Get Vaccinated? by Steve Kirsch
Watch The Full 3-Hour Discussion
……………..
Dire Warning From Dr. Charles Hoffe About COVID-19 Vaccinations
……………
FDA Adds Black Box Warning To COVID Vaccines Because Of Myocarditis Issues
…………….
The Zelenko COVID-19 Protocol
Z Pack – Dr. Zelenko's All-In-One Immune Boosting Formula
…………….
Abnormal Menstrual Bleeding After Vaccine – The Highwire
………………..
Something Strange Is Happening To Women After The Vaxx
………………..
This Is Really Happening
………………..
Massive Bleeding In Women – Erectile Problems In Men. What Is The Injection Doing To Humanity?
………………..
German Midwife Warns Pregnant & Breastfeeding Moms About COVID-19 Vaccinations
………………..
UNCONTROLLABLE: Shaking, Passing Out & Seizures After Vaccines. VAERS/ Yellow Card
70+ Miscarriages In US & UK After Vaccines; Also Numerous Pregnancy & Breastfeeding Complications [VAERS]
500+ Reported Cases of Numbness, Paralysis, or Bell's Palsy After Covid Vacx; VAERS Data Walkthrough
WARNING TO WOMEN! Many Are Experiencing Menstrual Changes & Issues After Vaccine: Heavier/ Longer Periods & More
………………..
• 8 Ways mRNA COVID Vaccines Can Kill You (Dr. Sherri Tenpenny)
1. Can directly attack lungs
2. Can inhibit anti-inflammatory macrophages, which produces cytokine storms
3. Can cause spike proteins to replicate uncontrollably
4. Can attack motor neurons causing uncontrollable tremors and shaking
5. Can cause debilitating fatigue (the number one symptom)
6. Can cause stiff-person syndrome where people are unable to walk
7. Can attack other tissues and organs in the body
8. Can cause anaphylactic reaction
• 20 Mechanisms Of Injury (Dr. Sherri Tenpenny – pdf)
• 20 Mechanisms Of Injury (Dr. Sherri Tenpenny – more complete web version)
• Sars-Cov-2 Vaccines And Neurodegenerative Disease (Stephanie Seneff)
There are many reasons to be wary of the COVID-19 vaccines, which have been rushed to market with grossly inadequate evaluation and aggressively promoted to an uninformed public, with the potential for huge, irreversible, negative consequences. One potential consequence is to exhaust the finite supply of progenitor B cells in the bone marrow early in life, causing an inability to mount new antibodies to infectious agents. An even more worrisome possibility is that these vaccines, both the mRNA vaccines and the DNA vector vaccines, may be a pathway to crippling disease sometime in the future. Through the prion-like action of the spike protein, we will likely see an alarming increase in several major neurodegenerative diseases, including Parkinson's disease, CKD, ALS and Alzheimer's, and these diseases will show up with increasing prevalence among younger and younger populations, in years to come. Unfortunately, we won't know whether the vaccines caused this increase, because there will usually be a long time separation between the vaccination event and the disease diagnosis. Very convenient for the vaccine manufacturers, who stand to make huge profits off of our misfortunes — both from the sale of the vaccines themselves and from the large medical cost of treating all these debilitating diseases.
Identified Issues:
• The Spike Protein Is Toxic
• Bell's Palsy, Autism And Parkinson's Disease
• Prion Diseases
• The Spleen
• Germinal Centers And Parkinson's Disease
• Impaired Immune Response Due To Over-Vaccination
……………..
— Dr. Peter McCullough, Awareness Foundation COVID-19 Roundtable
……………..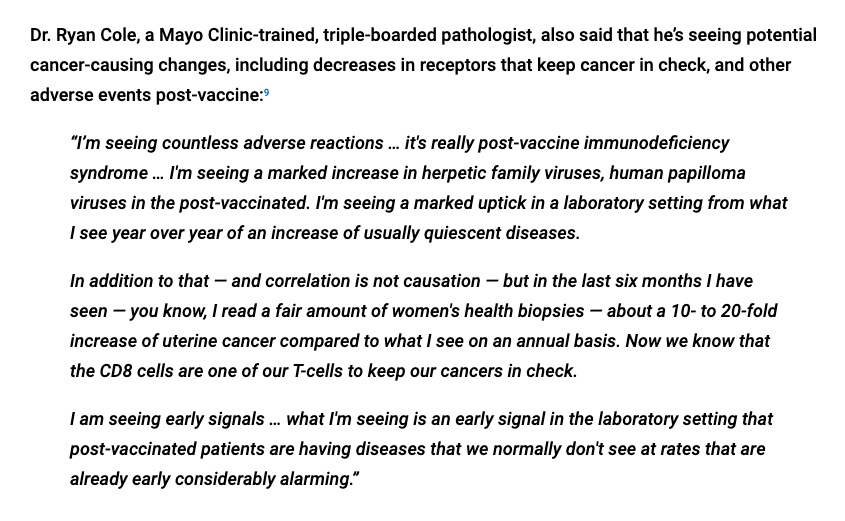 — Dr. Ryan Cole, Awareness Foundation COVID-19 Roundtable
……………..
Current News & Reports:
………………..
• 'Lymphocyte Riot': Pathologists Investigate Deaths After Corona Vaccination (Free West Media – 09/22/21)
• Thousands Of Fetal Deaths And Injuries Now Reported Following Covid-19 Injections Of Pregnant Women (Vaccine Impact – 09/21/21)
• What? New England Journal Of Medicine Backtracks – Now Admits Covid Vax May Not Be Safe For Pregnant Women (Gateway Pundit – 09/20/21)
• Link Between Menstrual Changes And COVID Vaccine Is Plausible, Should Be Investigated (The Defender – 09/20/21)
• COVID Vaccines Cause Miscarriages, Menstrual Disorders, Testicular Pain/Swelling, Erectile Dysfunction, Vaginal/Uterine Hemorrhage (TrialSiteNews – 09/16/21)
• 30,000 Women In Britain Report Irregular Menstrual Cycles Or Period Pain After Getting A Jab (Daily Mail – 09/15/21)
• Newborn Suffers 'Adverse Event' Via Mother's Vaccination When Pregnant (Not On The BEEB – 09/13/21)
• Do COVID Vaccines Cause Menstrual Changes? NIH Awards $1.67 Million In Grants To Study Possible Link. (The Defender – 09/08/21)
• Women Said The Covid Vaccine Affected Their Periods. Now More Than $1.6 Million Will Go Into Researching It. (Washington Post – 09/07/21)
• Besides Fetal Deaths, Breastfeeding Babies Are Dying And Becoming Sick Following Mothers' COVID Shots (Health Impact News – 09/06/21)
• Second Breastfeeding Baby Dies Of Blood Clots And Inflamed Arteries After Mother's Pfizer Shot As Per VAERS (GreatGameIndia – 09/07/21)
• Case Study Links Covid-19 Vaccines To Acute Central Nervous System Demyelination And Multiple Sclerosis (Sharyl Attkisson – 09/06/21)
​• Did A Baby Die Due To His Mother's Vaccine-Contaminated Breastmilk? (Not On The BEEB – 08/27/21)
• Hundreds Of Scandinavian Women Report Menstrual Disorders After Vaccination (Free West Media – 08/03/21)
• Pfizer Boob Job – Women Are Claiming Their Breasts Got Bigger After Having Pfizer COVID Vaccine (greatgameindia.com – 07/26/21)
• Scientist Sounds Alarm: COVID Vaccines Producing Symptoms of Parkinson's, Other Neurodegenerative Disorders (The Defender – 07/21/21)
• Experts Warn Of 'Huge Risk' As Moderna Launches Covid Vaccine Trials For Pregnant Women (The Defender – 07/15/21)
• Data Reveals Increased Miscarriages After COVID Vaccination In First Trimester (Circle Of Mamas – 06/25/21)
• Pfizer Confirms Covid-Vaccinated People Can 'Shed' Spike Proteins And Harm The Unvaccinated (Christians For Truth – 05/04/21)
• Thousands Of Reports Of Menstrual Irregularities, Reproductive Dysfunction Following Covid Vaccines (LifeSite – 04/19/21)
• Exposure Risk To Babies Being Fed By Vaccinated Mothers (HART – 06/10/21)
We are supposed to always err on the side of caution: 'First, Do No Harm'. Experimental interventions should not be made that do not have robust evidence of safety as well as efficacy. This is exactly why 'whole of life' animal studies, including pregnancy and lactation animal studies must be completed BEFORE implementing human trials of any sorts, as per point 3 of the Nuremberg Code. This has not been done: the human trials have not even reached a full year yet, did not include pregnant or lactating women, nor nursing infants. As a result, no safety can be ascertained, and therefore should not be claimed.
• Palm Beach County Urologist Seeing False PSA Levels In Men Due To Covid Vaccines (CBS12 News – 06/08/21)
• Hong Kong: 12 Dead Four Miscarriages In One Week Following Covid-19 Injections (Health Impact News – 06/02/21)
• 'Self-Spreading' Vaccines Pose Multiple Risks To Society — Including The End Of Informed Consent (The Defender – 06/02/21)
• Exclusive Interview With Dr. Roger Hodkinson (The Daily Expose – 05/23/21)
Dr. Roger Hodkinson says there is "sufficient evidence in the literature" to show the spike protein expresses in the placenta and the testes — and could kill unborn babies in current pregnancies and permanently stop men having children.
• Worse Than The Disease? Reviewing Some Possible Unintended Consequences Of The mRNA Vaccines Against COVID-19 (International Journal of Vaccine Theory, Practice, and Research – 05/14/21)
• Covid-19 Can Infect Penis Tissue And Could Lead To Erectile Dysfunction – Study (SkyNews – 05/13/21)
• Are Covid Vaccines Sexist? (Luke Yamaguchi – 05/13/21)
Research out of King's College found that women were twice as likely as men to suffer side effects from Pfizer's Covid vaccine and around 50% more likely to suffer from side effects from AstraZeneca's Covid vaccine. This is a curious finding given that men are more likely to suffer a poor outcome from COVID-19 itself, and yet Covid vaccines are disproportionately harming women?
• The Israeli People's Committee Report Of Adverse Events Related To The Corona Vaccine, April 2021 (Doctors for Covid Ethics – 05/11/21)
• Women Report Menstrual Irregularities After COVID-19 Vaccination (The Vaccine Reaction – 05/10/21)
• Chinese Scientists Propose Viral Shedding Passively Inhaled COVID-19 mRNA Vaccines For The Unvaccinated (greatgameindia.com – 05/09/21)
• Citing Fertility, Blood-Clotting & Immune Escape Concerns, Molecular Biologist & Toxicologist Calls For Immediate Covid Vaccine Halt (Rights & Freedoms – 05/06/21)
• Pfizer Documents: Unvaccinated People Can Be Exposed To Experimental mRNA From Vaccinated People; Frightening Adverse Reactions (The COVID Blog – 05/07/21)
• Pfizer Document Confirms 'Covid Vaccine Shedding' Leading To 'Menstrual Cycle Disruption' And 'Miscarriage' Is Possible Via 'Skin-To-Skin Contact' And 'Breathing The Same Air' (Daily Expose – 05/04/21)
• Israeli People Committee's Report Find Catastrophic Side Effects Of Pfizer Vaccine To Every System In Human Body (greatgameindia.com – 05/03/21)
• Women Sell Breast Milk Online Claiming It Contains Antibodies After COVID-19 Vaccination (The Vaccine Reaction – 05/03/21)
• 3 Reasons Miami School Might Be Right About Asking Teachers Not To Get COVID Vaccine (The Defender – 04/30/21)
Fact #1: Vaccines make some sick. Sick people are more likely to compromise the health of others
Fact #2: The Pfizer mRNA vaccine clinical trial study design warns against proximity (shared air inhalation or skin contact) between vaccine participants and the unvaccinated as a possible vectors of harm
Fact #3: There is a plausible epigenetic molecular mechanism in biology whereby the vaccinated may affect the health status of the unvaccinated
• 'Insane And Dangerous': Inside The Miami School That Told Teachers Not To Get Vaccinated (Miami Herald – 04/30/21)
• Miami Private School Won't Hire Teachers, Staff Who Have Been Vaccinated Against Covid (NY Daily News – 04/27/21)
• Do COVID Vaccines Disrupt Women's Menstrual Cycles? (The Defender – 04/28/21)
• Shocking Study Reveals mRNA COVID-19 Vaccines May Progressively Degenerate Your Brain From Prion Disease (greatgameindia.com – 04/20/21)
• No, We Don't Know If Vaccines Change Your Period (New York Times – 04/20/21)
• CDC Walks Back Director's Comments On Covid Vaccines For Pregnant Women (National Review – 04/27/21)
• Identifying Post-Vaccination Complications & Their Causes: An Analysis Of Covid-19 Patient Data (America's Frontline Doctors – 04/26/21)
3. Can the unvaccinated get sick from contact with the vaccinated?‍
The vaccine produces many trillions of particles of spike proteins in the recipient. Patients who are vaccinated can shed some of these (spike protein) particles to close contacts. The particles have the ability to create inflammation and disease in these contacts. In other words, the spike proteins are pathogenic ("disease causing") just like the full virus. What is most worrisome is that a person's body is being suddenly flooded with 13 trillion of these particles and the spike proteins bind more tightly than the fully intact virus. Because of the biomimicry (similarity) on the spike, shedding appears to be causing wide variety of autoimmune disease (where the body attacks its own tissue) in some persons. Worldwide cases of pericarditis, shingles, pneumonia, blood clots in the extremities and brain, Bell's Palsy, vaginal bleeding and miscarriages have been reported in persons who are near persons who have been vaccinated. In addition, we know the spike proteins can cross the blood brain barrier, unlike traditional vaccines.
4. What about interaction between unvaccinated children and vaccinated adults?
AFLDS is concerned that some children will become COVID symptomatic after their parents and teachers get vaccinated. This concern does not relate to risk from infection. Indeed, according to the American Academy of Pediatrics and the Children's Hospital Association, approximately "1.6% of children with a known case of COVID-19 have been hospitalized and 0.01% have died." Rather, public health bureaucrats might use these cases of breakthrough transmission or symptoms to speculate that a child's illness is related to a SARS-CoV-2 "variant," when in reality it is a reaction to the vaccine. Our other concern is that children could develop long-term chronic autoimmune disease including neurological problems due to the fact that children have decades ahead of them and trillions of the spike proteins mentioned above.
5. Is there a post-vaccination menstrual bleeding risk?
AFLDS is aware of thousands of reports involving vaginal bleeding, post-menopausal vaginal bleeding, and miscarriages following COVID-19 vaccination as well as anecdotal reports of similar adverse events among those in close contact with the vaccinated. We cannot comment definitively on the close contacts yet, other than to say we have heard reports of this worldwide. But there is so much reporting of vaginal bleeding post-vaccination that it is clear a connection between the vaccine and irregular bleeding exists. Despite this clear-cut evidence, menstrual-cycle changes were not listed among the FDA's common side effects in its phase-three clinical participants. Women's reproductive health needs to be taken seriously rather than waved away by agenda-driven public health officials.
• Miami Private School Won't Hire Teachers, Staff Who Have Been Vaccinated Against Covid (NY Daily News – 04/27/21)
• Nursing Mothers Experiencing Their Milk Supply Stop After Receiving A COVID Injection (Vaccine Impact – 04/25/21)
• Videos & Information Concerning Menstrual Disruptions, Miscarriages, Bruising & Related Issues (Truth Unmasked)
• Scientists Launch Study To Find Out If Covid-19 Vaccines Are Causing Period Changes After Hundreds Of Women Notice Irregularities (Daily Mail – 04/21/21)
• Women Complaining Of Severe Menstrual Disorders Post Covid Injections – Even If They Did Not Get The Shots! (Health Impact News – 04/19/21)
• Can The Vaccine Make Your Period Worse? These Women Say Yes. (The Lily – 04/07/21)
• Women Say They Are Having Heavier And More Painful Periods Since Getting Their Covid-19 Vaccines (Daily Mail – 04/07/21)
• Experts Study Covid-19 Vaccines' Impact On Menstruation (Penn Live – 04/14/21)
• Dr. Sherri Tenpenny, Dr. Larry Palevsky, Dr. Carrie Madej, Dr. Lee Merritt, Dr. Christiane Northrup (Critical Thinking – 04/22/21)
• COVID Vaccine Reaction Can Mimic Breast Cancer Symptoms, But Doctors Say 'Don't Panic' (Health Day – 02/11/21)
• Newer Side Effect Of Covid Vaccine Mimics Cancer, Doctors Say Don't Panic (FOX29 – 02/10/21)
• The Covid-19 Vaccine Can Have A Scary Side Effect For Some (SpectrumNews1 – 02/09/21)
• A COVID-19 Vaccine Side Effect Mirrors Breast Cancer Symptom, Doctors Say Don't Panic (News5Cleveland – 01/30/21)
• MIT & Harvard Study Suggests mRNA Vaccine Might Permanently Alter DNA After All (Science With Dr. Doug – 03/16/21)
………………..
• Researchers Looking Into Link Between COVID Vaccine and Menstruation (5 Chicago – 04/26/21)
"I had spotting when I normally don't have any sort of menstrual symptoms, because I have the Mirena IUD," said Katherine Lee, a postdoctoral research scholar in the Division of Public Health Sciences at the Washington University School of Medicine in St. Louis. Lee reached out to Kate Clancy, an associate professor of Anthropology at the University of Illinois, who then tweeted about it. "That tweet was sent February 24th, and I'm still getting, like, every minute an additional 20 notifications, that have some kind of engagement with that thread two months later," Clancy said. The overwhelming response prompted the researchers to create a survey, which they posted on social media. In all, 59,000 people have started the survey, describing varying experiences.
Menstrual Experiences With Covid-19 Vaccines (Survey)
Be sure to read all the comments from women who noticed changes in their menstrual cycles after receiving a COVID-19 vaccination!
………………..
………………
………………..
………………..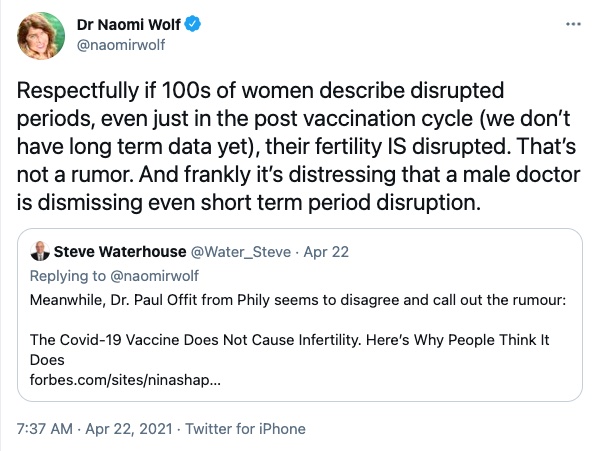 ………………..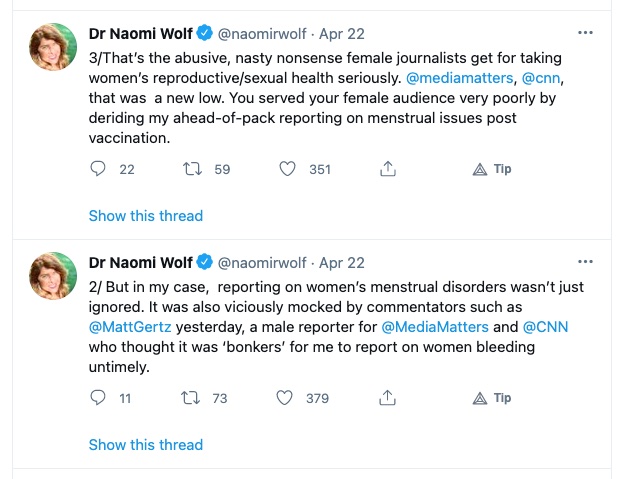 ……………….
……………….
• Magnets Sticking To Vaccinated People's Arms: #MagnetChallenge + Covid19 Vaccine
• Superparamagnetic Nanoparticle Delivery Of DNA Vaccine (National Library Of Medicine – 03/14/19)
• Learn more about "Magnetite Nanoparticles"
……………….
………………..
Rocky Business Bans COVID Vaccine Recipients From Entering Premises (RDNewsNow – 04/21/21)
………………..
Cyrus Patrick Of CP Fitness Won't Accept Vaccinated Clients (Facebook – 03/25/21)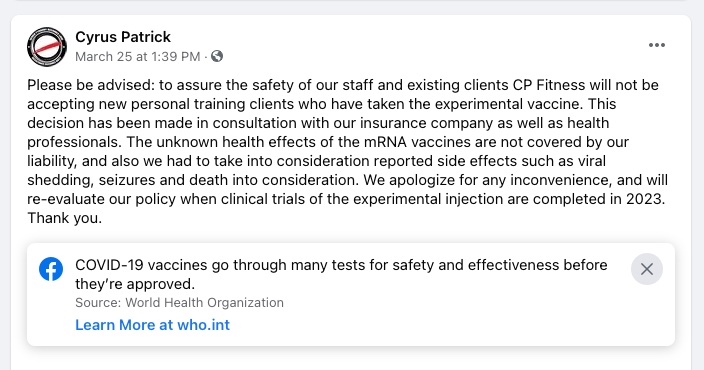 ………………..
More Related Videos:
………………..
You Must Listen
………………..
More Women Experiencing COVID-19 Vaccine Side Effects
……………….
Or maybe our bodies are telling us that they don't like toxic substances injected into them:
COVID-19 Vaccine Ingredients And Their Purpose
……………….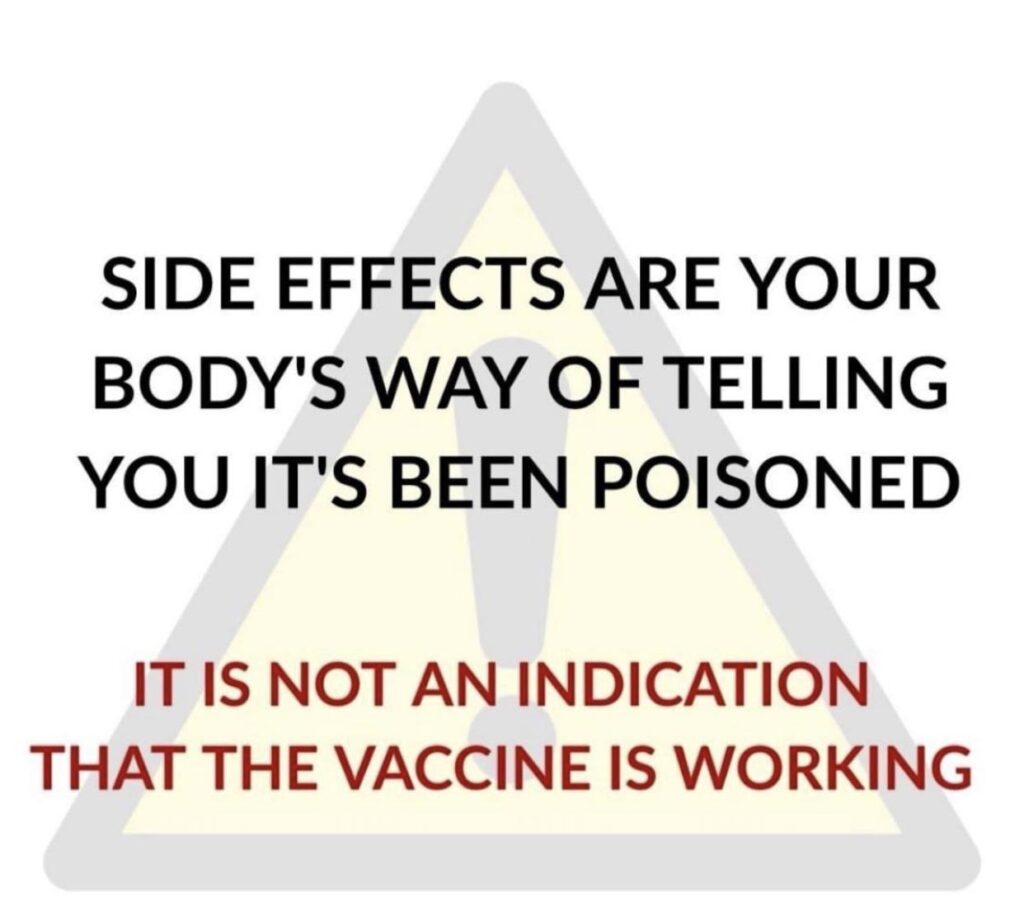 ……………….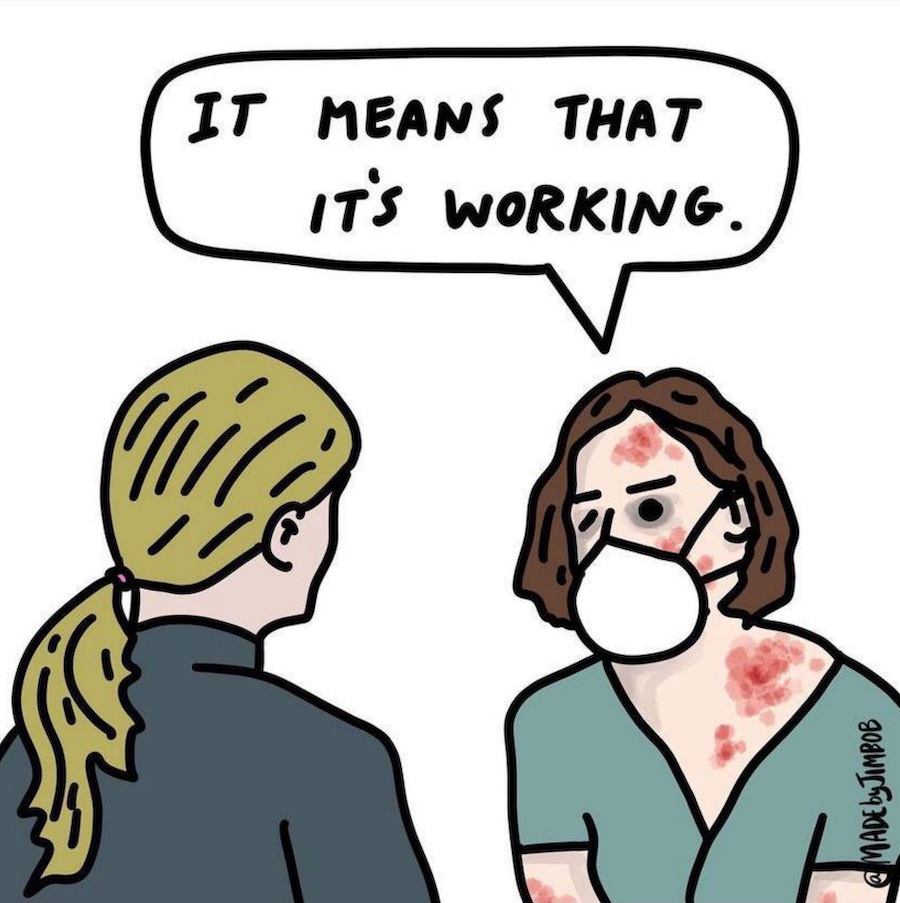 ……………….
Dr. Peter McCullough – Excerpts – COVID-19 Vaccines: Something Is Very Wrong!
Watch Dr. Peter McCullough's Full Interview Here
……………….
CDC Myths And Facts About COVID-19 Vaccines Reference Page
CDC Myths And Facts About COVID-19 Vaccines Reference Page • PDF Backup Copy
…………….
Return To Main COVID-19 Resource Page
…………….