…………
Monday, May 4, 2020
…………
• Study Estimates CA COVID-19 Mortality Rate Under One Percent (The Vaccine Reaction)
Using antibody tests to determine infection incidence provides a more accurate picture of how many of those infected have complications resulting in death. The mortality rate is based on the number of confirmed infections and confirmed deaths; the higher the number of infections, the lower the fatality rate. Both the USC and the Stanford University studies estimated a mortality rate of 0.1 to 0.2 percent, which is closer to the death rate associated with the seasonal influenza.
• The Coronavirus Pandemic Is Pushing America Into A Mental Health Crisis (Washington Post)
Three months into the coronavirus pandemic, America is on the verge of another health crisis, with daily doses of death, isolation and fear generating widespread psychological trauma. Federal agencies and experts warn that a historic wave of mental health problems is approaching: depression, substance abuse, post-traumatic stress disorder and suicide. Just as the initial coronavirus outbreak caught hospitals unprepared, the country's mental health system — vastly underfunded, fragmented and difficult to access before the pandemic — is even less prepared to handle this coming surge.
• Nigeria Taps The Power Of Music To Try To Beat Coronavirus (Reuters)
Lagos was under lockdown, mass gatherings were banned and Banjoko and his musicians were under special orders from the state to play their gospel tunes to try to speed the recovery from a virus that has killed hundreds of thousands worldwide. "The purpose was to lift the spirits – to deliver spiritual healing," Banjoko said. "That was greatly achieved."
• An Indian-American Doctor Has Begun A Study To See If Prayers Can Heal Coronavirus (VICE)
Lakkireddy, who describes himself as being born a Hindu who later attended a Catholic school and also spent time at synagogues, monasteries and mosques, said that the purpose of the study is to question: "If there is a supernatural power, which a lot of us believe, would that power of prayer and divine intervention change the outcomes in a concerted fashion?" Stressing that the study anyway wouldn't harm anyone since it wouldn't interfere with the patients' treatment, he admits that he has received "mixed reactions" from his colleagues.
• Iceland Tested 13% of Its Population. Here's What It Found (Time)
High schools, hair salons, dentists and other businesses across Iceland are reopening Monday after six weeks of lockdown, after this North Atlantic nation managed to tame its coronavirus outbreak. Iceland has confirmed 1,799 cases of the virus, but just 10 people have died. The number of new COVID-19 cases each day has fallen from 106 at the peak of the outbreak to single digits — even, on some days, zero. "I didn't expect the recovery to be this fast," said Iceland's chief epidemiologist, Thorolfur Gudnason.
• Coronavirus Is Revealing Uncomfortable Truths About Japan (Spectator)
…………
Saturday, May 2, 2020
…………
• Smerconish: Virus Is Far More Widespread & Far Less Lethal (CNN)
Recent data suggests the virus is far more widespread than initially believed, meaning it is far less lethal. That should impact our public policy response.
• Many Field Hospitals Went Largely Unused, Will Be Shut Down (AP)
Gleaming new tent hospitals sit empty on two suburban New York college campuses, never having treated a single coronavirus patient. Convention centers that were turned into temporary hospitals in other cities went mostly unused. And a Navy hospital ship that offered help in Manhattan is soon to depart. When virus infections slowed down or fell short of worst-case predictions, the globe was left dotted with dozens of barely used or unused field hospitals. Some public officials say that's a good problem to have — despite spending potentially billions of dollars to erect the care centers — because it's a sign the deadly disease was not nearly as cataclysmic as it might have been…"
• The Underground Doctors' Movement Questioning The Use Of Ventilators (Spectator)
As I previously reported in the Spectator, these has never been a randomized control trial to show that sedating people with severe pneumonia in order to put a breathing tube down their throat (the process known as intubation), in order to hook them up to a mechanical ventilator is lifesaving at any particular point in their illness. Neither has there been such a trial in chimps, dogs, sheep or rats. Yet it is a firmly entrenched belief that intubation and ventilation are necessary once a patient requires a high level of supplemental oxygen. Or it was. While most Western governments were in a mad dash to manufacture ventilators for COVID-19 pneumonia in March, a burgeoning movement within the medical community was starting to question their use. This movement largely operated outside of the traditional networks of academic journals and conferences. Rather, it used Twitter, YouTube, and even podcasts…
• The Last Time The Government Sought A 'Warp Speed' Vaccine, It Was A Fiasco (Washington Post)
There were reports of sporadic deaths possibly connected to the vaccine. Cases of Guillain-Barre syndrome also emerged, and are still cited today by the anti-vaccine movement. Panic emerged, with dozens of states pausing vaccinations. By December, following 94 reports of paralysis, the entire program was shut down…
• How Does Covid-19 Compare To The Spanish Flu? (Mercola)
While COVID-19 meets the technical definition of a pandemic, the death toll is nowhere near that of earlier serious pandemics that would legitimately justify the extraordinary measures being deployed by the U.S. government. An estimated 75 million to 200 million people in Eurasia and as much as 60% of the European population in rural areas were wiped out by the Black Death (bubonic plague) between 1347 and 1351. The Spanish flu (swine flu), which hit during World War I in 1918, infected 500 million people worldwide, killing an estimated 50 million, or 2.7% of the global population…
• These Charts Show How Covid-19 Has Changed Consumer Spending Around The World (World Economic Forum)
Generally, spending is down across all industries, as lockdown measures have restricted what we can spend money on, due to restaurants and shops being shut and air travel suspended. Equally, the economic consequences of the coronavirus pandemic have meant consumers are less inclined to spend more, with many expecting their household income to continue to fall in the coming months. Time spent indoors however, has caused us to spend more on home entertainment and groceries.
…………
Friday, May 1, 2020
…………
• Chinese Lab Conducted Extensive Research On Deadly Bat Viruses, But There Is No Evidence Of Accidental Release (Washington Post)
On Thursday, the U.S. intelligence community released an assessment formally concluding that the virus behind the coronavirus pandemic originated in China. While asserting that the pathogen was not man-made or genetically altered, the statement pointedly declined to rule out the possibility that the virus had escaped from the complex of laboratories in Wuhan that has been at the forefront of global research into bat-borne viruses linked to multiple epidemics over the past decade.
• Danes And Czechs Say Easing Lockdowns Has Produced No Covid-19 Surge (The Guardian)
…………
Thursday, April 30, 2020
…………
• The Data Is In — Stop The Panic And End The Total Isolation (The Hill)
The tragedy of the COVID-19 pandemic appears to be entering the containment phase. Tens of thousands of Americans have died, and Americans are now desperate for sensible policymakers who have the courage to ignore the panic and rely on facts. Leaders must examine accumulated data to see what has actually happened, rather than keep emphasizing hypothetical projections; combine that empirical evidence with fundamental principles of biology established for decades; and then thoughtfully restore the country to function. Five key facts are being ignored by those calling for continuing the near-total lockdown:
Fact 1: The overwhelming majority of people do not have any significant risk of dying from COVID-19.
Fact 2: Protecting older, at-risk people eliminates hospital overcrowding.
Fact 3: Vital population immunity is prevented by total isolation policies, prolonging the problem.
Fact 4: People are dying because other medical care is not getting done due to hypothetical projections.
Fact 5: We have a clearly defined population at risk who can be protected with targeted measures.
• Coronavirus In The U.S.: Latest Map And Case Count (NYT)
• Do Lockdowns Save Many Lives? In Most Places, The Data Say No (Wall Street Journal)
• Hospitals Across The Country Begin To Close Due To Lack Of Patients — Nurses And Doctors Being Laid Off (Health Impact News)
• Hospitals In California Have Been Half Empty This Whole Time (@ElonMusk)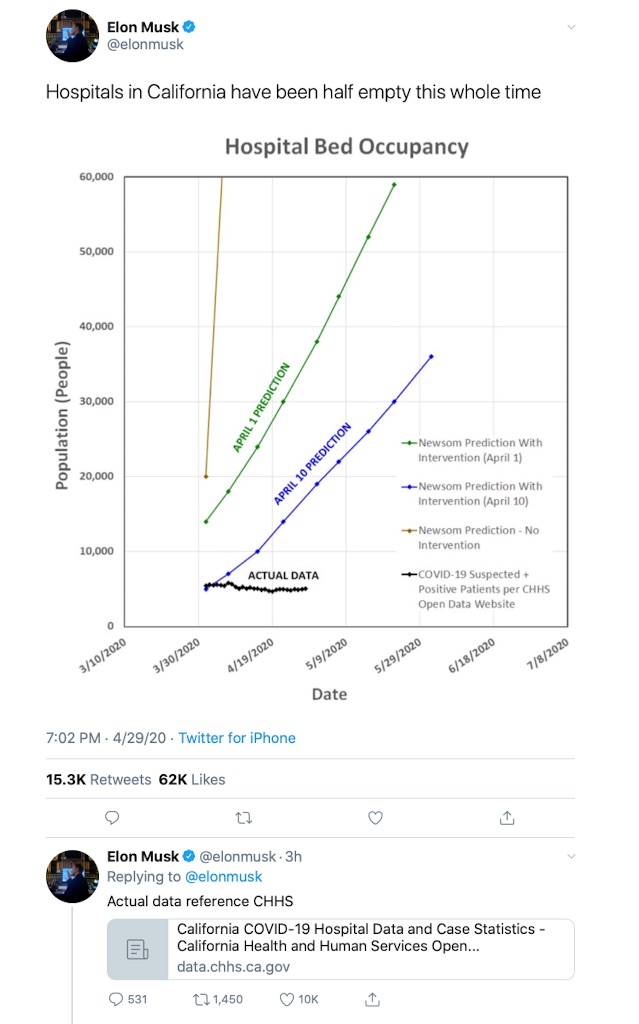 • Michigan Doctor Charged With Felonies For Treating Coronavirus Patients With Vitamin C (Health Impact News)
Related Links: Vitamin C and Vitamin D
• Another 3.8 Million File Unemployment Claims, Overwhelming The States (NYT)
The American economy continues to stagger under the weight of the coronavirus pandemic, with another 3.8 million workers filing for unemployment benefits last week.The figures announced Thursday by the Labor Department bring the number of workers joining the official jobless ranks in the last six weeks to more than 30 million, and underscore just how dire economic conditions remain. Many state agencies still find themselves overwhelmed by the flood of claims, leaving perhaps millions with dwindling resources to pay the rent or put food on the table.
• Sweden Had No Lockdown But Its Economy Is Expected To Suffer Just As Badly As Its European Neighbors (CNBC)
…………
Wednesday, April 29, 2020
…………
• Covid-19 Severity And Vitamin D Levels (GrassrootsHealth)
86% of all cases among patients with normal vitamin D levels were mild, while 73% of cases among patients with vitamin D deficiency were severe or critical. For each standard deviation increase in vitamin D level, the odds of having a mild case compared to a severe case were 7.94 times more, and the odds of having a mild case compared to a critical case were 19.61 times more.
Related Links: Vitamin C and Vitamin D
• 'Second-Week Crash' Is Time Of Peril For Some Covid-19 Patients (Washington Post)
• Dogs Are Being Trained To Sniff Out Coronavirus Cases (Washington Post)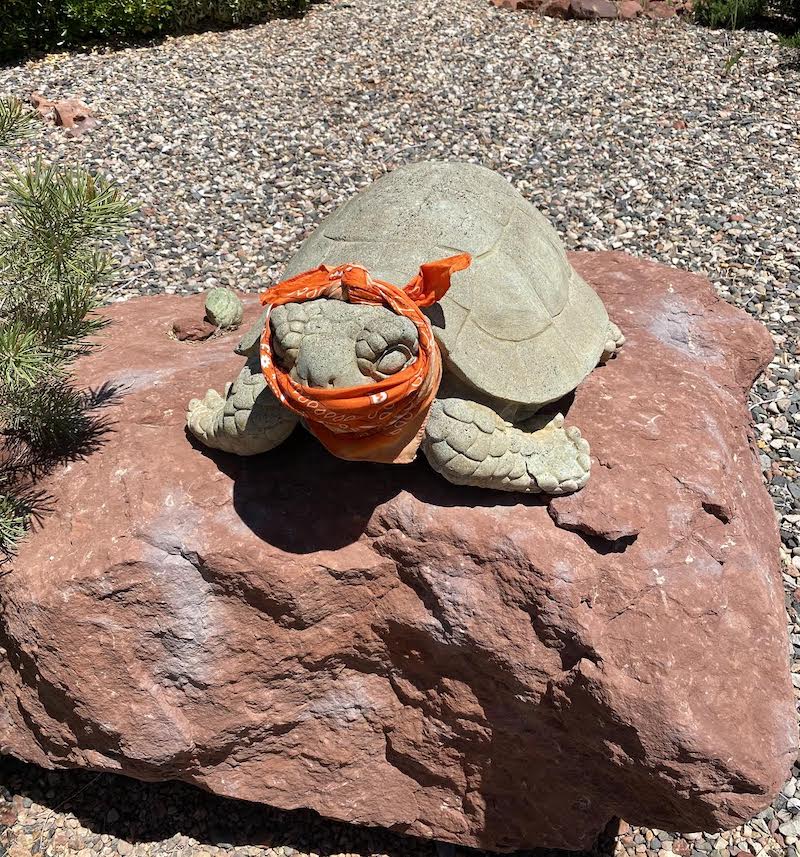 …………
Tuesday, April 28, 2020
…………
• 'Life Has To Go On': How Sweden Has Faced The Virus Without A Lockdown (NYT)
Swedes, they said, could be trusted to stay home, follow social distancing protocols and wash their hands to slow the spread of the virus — without any mandatory orders. And, to a large extent, Sweden does seem to have been as successful in controlling the virus as most other nations. Sweden's death rate of 22 per 100,000 people is the same as that of Ireland, which has earned accolades for its handling of the pandemic, and far better than in Britain or France.
• Update On Sweden's Coronavirus Approach (CNN)
Sweden has not had as many deaths as Italy or Spain, which have recorded around 45 and 51 deaths per 100,000 people respectively, or even the UK, where there have been about 32 deaths per 100,000 of the population. But there are various complex differences between Sweden and these countries that make direct comparisons harder, such as Italy having an older population, more smokers, and a larger number of close-knit multigenerational households.
Asked whether the death toll would have been lower if Sweden had followed the same path as other European countries in introducing strict restrictions, Tegnell replied: "That's a very difficult question to answer at this stage. At least 50% of our death toll is within the elderly homes and we have a hard time understanding how a lockdown would stop the introduction of the disease into the elderly homes."
• Can You Boost Your Resistance To COVID-19? (The People's Pharmacy)
• Vitamin C
• Vitamin D
• Quercetin
• N-Acetylcysteine
• Zinc
• Sleep
• Probiotics
Related Links: Vitamin C and Vitamin D
• CDC Confirms Six Coronavirus Symptoms Showing Up In Patients Over And Over (Washington Post)
The symptoms, which the CDC reports could appear two to 14 days after exposure to the virus, are:
• Chills
• Repeated shaking with chills
• Muscle pain
• Headache
• Sore throat
• New loss of taste or smell
Previously, the CDC listed just three known symptoms: shortness of breath, cough and fever.
• YouTube Removes Viral Video Of Frontline Doctors Calling For An End To Quarantine (TheBlaze)
In the video briefing, Erickson and Massihi pushed back against the conventional narrative regarding the dangers of COVID-19 and the effectiveness of social distancing measures. "Do we need to still shelter in place? Our answer is emphatically no," Erickson said. "Do we need businesses to be shut down? Emphatically no. Do we need to test them and get them back to work? Absolutely."
"If you study the numbers in 2017 and 2018, we had 50 to 60 million with the flu," Erickson said. "And we had a similar death rate in the deaths the United States were 43,545 — similar to the flu of 2017-2018. We always have between 37,000 and 60,000 deaths in the United States, every single year. No pandemic talk. No shelter in place. No shutting down businesses."
"Sheltering in place decreases your immune system. And then as we all come out of shelter in place with a lower immune system and start trading viruses, bacteria — what do you think is going to happen? Disease is going to spike," Erickson explained.
• 72% Of Locked-Down Americans Say They'll Reach 'Breaking Point' By Mid-June (Study Finds)
In all, 1,895 U.S. citizens over the age of 18 were surveyed earlier this month, and 72% said they expect to reach a "breaking point" by mid-June if stay-at-home orders aren't lifted. In fact, 100% of respondents said they would snap if this all lasts for longer than six months. The survey was conducted between April 3rd and 6th, and at that time, 16% said they had already hit their breaking point, with that number rising to 25% within the next two weeks. That would indicate that one in four Americans have likely reached wits' end by now.
The top "breaking point drivers" cited by respondents were loneliness, constant arguments with one's spouse or family, extreme worry over mundane activities like visiting the grocery store, and constant anxiety.
• The Coming Greater Depression Of The 2020s (MarketWatch)
• Exasperation Grows Over Delays Trying To Sign Up For Unemployment, 'People Have No Food, People Are Talking About Suicide' (CBS New York)
• Pelosi: A Minimum Guaranteed Income May Now Be 'Worthy of Our Attention' (Breitbart)
• CDC Recommends Social Distancing For Pets After Some Test Positive For Coronavirus (The Hill)
The Centers for Disease Control and Prevention (CDC) is recommending people follow the same social distancing guidelines with their pets as they would human family members after a small number of animals, including dogs and cats, were reportedly infected with the virus that causes COVID-19. CDC guidelines recommend people restrict their pets from interacting with other animals when outside their house and urge people to keep cats indoors when possible and to walk dogs on a leash while maintaining at least six feet from other people and animals. The CDC also calls for people to avoid dog parks or public places where a large number of people and dogs gather.
• What Rome Learned From The Deadly Antonine Plague Of 165 A.D. (Smithsonian)
…………
Monday, April 27, 2020
…………
…………
Saturday, April 25, 2020
…………
• Van Jones: I'm Someone Covid-19 Could Easily Kill. Here Is What I'm Doing About It (CNN)
If the African American community is going to beat this virus — and create a pandemic-resistant black community — we are going to have to make big changes in both our public systems and our personal lives. This virus is especially lethal to African Americans because it is — in effect — a pandemic jumping on top of multiple, pre-existing epidemics that were already ravaging the black community. Diseases like hypertension, diabetes, asthma and obesity make the virus far more deadly. And African American communities have those illnesses in numbers that are way out of proportion…
For example, we can all vow to eat healthier. Drink more water. Move our bodies. Process emotional pain through therapy, rather than comfort eating or substance abuse. Commit to a spiritual or religious practice. Meditate. Rest. Get more sleep. And let's not forget to practice gratitude. In the midst of this plague, every unlabored, unaided breath is more precious than ever. Black influencers set the agenda for global culture. We can make the quest for personal health as cool as we have made the quest for personal wealth. Imagine if rap videos and black TV shows started showcasing push-ups, Peloton and healthy green drinks, in the same way that they often showcase fashion and foreign cars.
• Coronavirus: Has Sweden Got Its Science Right? (BBC)
• As Food Supply Chains Fail, Small Businesses Step Up to Fill in the Gaps (Health Impact News)
We need a return to the "old fashion" way of conducting business, where there is a town butcher, a town baker, local grain mills, and local dairy farms and other kinds of farms producing and selling meats, produce, dairy, and other food staples to the consumer directly through local businesses. Those in the metropolitan areas need to find like-minded neighbors and fellow city residents to band together and form co-ops and buying clubs to support farmers that may be located further out in the rural areas, to more efficiently bring that food from the farm to the tables of those in the cities.
• Healthy People In Their 30S And 40S, Barely Sick With Covid-19, Are Dying From Strokes (Washington Post)
Reports of strokes in the young and middle-aged – not just at Mount Sinai but in many other hospitals in hard-hit communities – are the latest twist in our evolving understanding of the mysteries of covid-19. Even as the virus has infected nearly 2.8 million people worldwide and killed 195,000 as of Friday, its origins, biological mechanisms and weaknesses continue to elude top scientific minds. Once thought to be a pathogen that primarily attacks the lungs, it has turned out to be a much more formidable foe – affecting nearly every major organ system in the body… Now three large U.S. medical centers are preparing to publish data on the stroke phenomenon for the first time. The numbers are small, only a few dozen per location, but they provide new insights into what the virus does to our bodies.
• As Working From Home Becomes More Widespread, Many Say They Don't Want To Go Back (CNBC)
• To Get Around Stay-At-Home Orders, Spaniards Have Been Walking Some Unusual 'Pets' (CNN)
• Man Wearing N95 Mask Passes Out While Driving Car, Crashing into Pole (People)
• Tiny Houses Could Be The Covid-19 Solution For An Exposed American Population (Inverse)
Related Link: The Tiny House Movement
…………
Friday, April 24, 2020
…………
• UN Leader Says The World Could Face 'Famines Of Biblical Proportions' Amid Coronavirus Crisis (People)
As the world continues to battle the coronavirus pandemic, the United Nations is warning that without action, the world is at risk of numerous famines "of biblical proportions" in the near future. On Tuesday, David Beasley, the director of the United Nations World Food Program, addressed the UN Security Council via video where he expressed concerns that the world is on "the brink of a hunger pandemic." He explained that famines could be seen "in about three dozen countries," ten of which already have more than 1 million people on the verge of starvation. "There is also a real danger that more people could potentially die from the economic impact of COVID-19 than from the virus itself," he warned.
• U.S. Coronavirus Death Toll Tops 50,000 (Daily Mail)
The U.S. has both the highest number of confirmed cases in the world and the highest death toll. A predictive model relied on by the White House this week increased its projection of expected deaths by August by 10 per cent to 66,000. The University of Washington's Institute for Health Metrics and Evaluation now expects the national death toll to hit 65,976 by August — 5,561 more than previously forecast.
• The Coronavirus Has Caused A Wave Of Early Retirement (Yahoo Finance)
• He Was a Doctor Who Never Got Sick. Then the Coronavirus Nearly Killed Him. (NYT)
• Emergency Room Doctor, Near Death With Coronavirus, Saved After Experimental Treatment (LATimes)
The doctors tried a drug called Actemra, which was designed to treat rheumatoid arthritis but also approved in 2017 to treat cytokine storms in cancer patients. Dr. Matt Hartman, a cardiologist, said that after four days on the immunosuppressive drug, supplemented by high-dose vitamin C and other therapies, the level of oxygen in Padgett's blood improved dramatically. On March 23, doctors were able to take him off life support.
• Sunlight And Humidity Kill Coronavirus The Fastest: U.S. Scientists (Aljazeera)
• The Makers Of Lysol Had To Issue A Warning Against Drinking Bleach After Trump Said It Might Cure Coronavirus (Vice)
U.S. President Donald Trump suggested Thursday evening that injecting disinfectants could cure coronavirus, and now people all over the world are trying to find out how to do it. Google searches and social media trending topics have seen a huge spike in associated terms in the hours since Trump made the off-the-wall claims — which, in case you were in any doubt, are completely bogus and potentially life-threatening.
• FDA Issues Warnings On Chloroquine And Hydroxychloroquine After 'Serious Poisoning And Death' Reported (CNBC)
• 'We're Getting Flat Out Hammered Right Now.' UPS Employees On Working During The Pandemic (CNN)
• Germans Aren't Shopping Despite Stores Being Open (CNBC)
• Post-Lockdown Life In Wuhan Is A Warning To The World (Wired)
• Hospitals Play 'Songs Of Hope' As Virus Patients Go Home (NYT)
• 'I Like It, Actually': Why So Many Older People Thrive In Lockdown (NYT)
• Why Your Pet Is Acting Like A Weirdo During Quarantine (Vox)
…………
Thursday, April 23, 2020
…………
• Pandemic Causes Highest Unemployment Since Great Depression (Mercola)
• Credit Cards Start Offering Lower Limits Amid U.S. Outbreak (Bloomberg)
• In New York's Largest Hospital System, 88 Percent Of Coronavirus Patients On Ventilators Didn't Make It (Washington Post)
• How Industrial Food Makes Us More Vulnerable To Covid-19 (Organic Consumers Association)
Our highly processed and nutrient-poor foods are causing unprecedented numbers of people to develop diet-related chronic diseases. Six in 10 adults have one chronic disease and four in 10 have two or more — overall, more than 40 percent of the entire U.S. population has a chronic disease, and many of those diseases are directly related to our food: diabetes, cardiovascular disease, stroke, kidney disease, and various cancers. These underlying conditions correlate with increased morbidity and mortality for those who contract the virus. Preliminary findings show that metabolic dysfunction is causing devastating complications from COVID-19 and, shockingly, only 12 percent of the entire U.S. adult population is considered metabolically healthy. Metabolic dysfunction has one primary source: our highly processed, sugar-laden, nutrient-poor food supply.
• Universal School Library (Internet Archive)
With schools closing around the world, many students have lost access to physical school libraries. Luckily, there are ways to fill that gap. The Universal School Library is a collection of fiction and nonfiction books curated by a national advisory group of school librarians, librarian educators, and researchers. With more than 2,000 books available, the collection is meant to promote academic, cultural, and career literacy.
…………
Wednesday, April 22, 2020
…………
• 'Instead of Coronavirus, the Hunger Will Kill Us.' A Global Food Crisis Looms. (NYT)
The world has never faced a hunger emergency like this, experts say. It could double the number of people facing acute hunger to 265 million by the end of this year.
• Battered States, Cities Struggling To Pay Bills As Congress Puts Off Bailout (Politico)
The $484 billion coronavirus relief package that's expected to pass Congress on Thursday only offers assistance to small businesses, hospitals and money to ramp up testing. The chances of getting that funding in the next federal stimulus bill — buoyed Tuesday by supportive comments from President Donald Trump — plummeted on Wednesday as Senate Majority Leader Mitch McConnell said state and local governments should "use the bankruptcy route."
New Jersey Gov. Phil Murphy, the chairman of the Democratic Governors Association, said his breath was "taken away" by McConnell's remarks on the Hugh Hewitt Show. He pleaded with Congress to send direct cash relief to states. "You have my word we won't go bankrupt. But you know what will happen? We will gut the living daylights, in every state of America, out of the services — the exact services — that our citizens need right now," Murphy said Wednesday at a press conference in Trenton. "We will just cut, cut, cut and cut. We won't go bankrupt, senator, but we will leave our citizens in the lurch in their most profound hour of need."
"I get small businesses. I get airlines. How about police?" New York Gov. Andrew Cuomo said on Tuesday, pointing to other recipients of the stimulus funding. "How about fire? How about health care workers? How about teachers? We're not going to fund schools? I don't get it. I don't get it. That's why I'm not in Washington."
• Secrets of Lockdown Lifestyle Laid Bare in Electricity Data (Bloomberg)
Life in lockdown means getting up late, staying up till midnight and slacking off in the afternoons.
• As People Stay Home, Earth Turns Wilder And Cleaner (AP)
• Earth Day 2020: National Parks To Reopen Amid Coronavirus, President Donald Trump Says (MassLive)
• It's Ok To Find Humor In Some Of This (NYT)
• Author Tours The 'End Of The World,' From Prairie Bunkers To Apocalypse Mansions (NPR)
• Charlie Morley & Lucid Dreaming (The Formula)
• Lucid Dreaming Notes & Quotes (Sunfellow)
• Dream Basics (The Formula)
…………
Tuesday, April 21, 2020
…………
• Oil Prices Turned Negative. Hundreds Of Us Oil Companies Could Go Bankrupt (CNN)
The coronavirus pandemic has caused oil demand to drop so rapidly that the world is running out of room to store barrels. At the same time, Russia and Saudi Arabia flooded the world with excess supply. That double black swan has caused oil prices to collapse to levels that make it impossible for US shale oil companies to make money. US crude for May delivery turned negative on Monday — something that has never happened since NYMEX oil futures began trading in 1983. It was easily the oil market's worst day on record… demand continues to vanish because jets, cars and factories are sidelined by the coronavirus pandemic.
• Conspiracy Theorists Burn 5G Towers Claiming Link To Virus (AP)
…………
Monday, April 20, 2020
…………
• New Zealand's Prime Minister May Be The Most Effective Leader On The Planet (The Atlantic)
"She doesn't peddle in misinformation; she doesn't blame-shift; she tries to manage everyone's expectations at the same time [as] she offers reassuring notes," Van Jackson, an international-relations scholar at Victoria University of Wellington and a former Defense Department official during the Obama administration, wrote to me in an email. "She uses the bully pulpit to cue society toward our better angels — 'Be kind to each other' and that kind of thing. I think that's more important than people realize and does trickle down into local attitudes."
• CNN Brooke Baldwin: How Fighting Coronavirus Taught Me About The Gift Of Connection (CNN)
• How Does Coronavirus Kill? Clinicians Trace A Ferocious Rampage Through The Body, From Brain To Toes (Science)
• Miscounting Deaths From Coronavirus? (The Vaccine Reaction)
• Dimension Of Virus 'Massacre' In Italy Nursing Homes Grows (AP)
• The Truth About Fauci — Featuring Dr. Judy Mikovits (Children's Health Defense)
• Treasury Dept. Attorneys Review Bank Seizures Of $1,200 Stimulus Checks (Washington Post)
The Treasury Department is reviewing whether it has the legal authority to prevent banks and private debt collectors from seizing $1,200 government stimulus payments, according to a person familiar with the internal deliberations, as blowback builds over private lenders clawing back parts of the emergency financial relief package.
• The End Of The Roll As We Know It: Getting To The Bottom Of A Toilet Paper Shortage (CBC)
They're producing toilet paper around the clock, but also have to cope with the added challenges of physical distancing. It could be weeks, it could be months before supply meets demand. Like so many other elements of life in the COVID-19 era, the future is uncertain.
…………
Saturday, April 18, 2020
…………
• Stimulus Checks And Other Coronavirus Relief Hindered By Dated Technology And Rocky Government Rollout (Washington Post)
Hampered by antiquated software, unfilled leadership positions and the sheer complexity of distributing hundreds of billions of dollars across the United States, the federal government is failing to get emergency stimulus money to millions of households and small businesses. The Post reported that three weeks after Congress passed a $2.2 trillion aid package, its small-business loan program has run out of money; self-employed and gig workers have received almost none of the unemployment aid they were promised; and many Americans have no idea where their stimulus payments went.
…………
Friday, April 17, 2020
…………
• Cuomo Mocks Trump In Friday Diatribe (Politico)
"If you want to point fingers — we built more beds than we needed — our only mistake was believing your numbers, believing your projections," Cuomo said, suggesting Trump use his reality TV catchphrase "You're fired" to can CDC and coronavirus task force officials for botching their own projections. "Whose projections were wrong? Head of the CDC, Peter Navarro and head of the White House coronavirus task force. Fire them all. That's what I say. Fire them," Cuomo said…
Cuomo insisted he's been complimentary of the president's quick responses to outfit the Javits Center and USNS Comfort with medical capacity, even though the two facilities have taken in fewer than expected patients due to both logistical issues and fewer hospitalizations than predicted. In late March, Cuomo said the state might need more than 100,000 hospital beds during the peak number of infections. That surge never came, and on Monday, there were 17,316 New Yorkers currently hospitalized.
• How To Plant A Victory Garden (The Old Farmer's Almanac)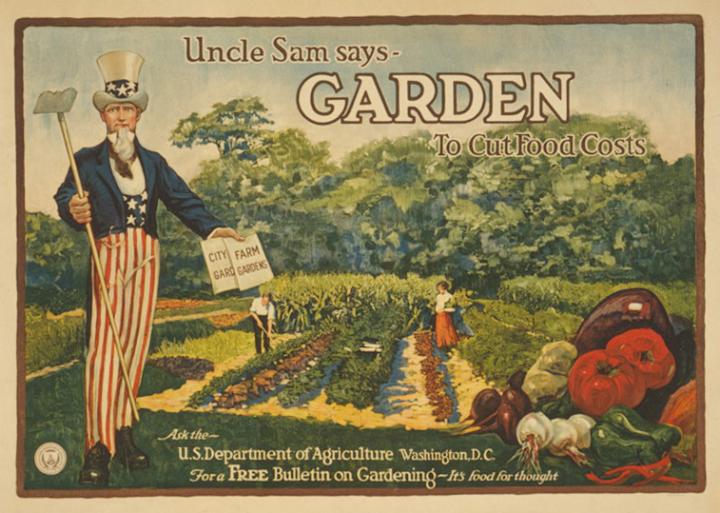 Related Links: Non-GMO Heirloom Vegetable Seeds and Mother Earth News Organic Gardening and Organic Garden Tips
• Is It Time to Start Growing Your Own Food? (Mercola)
• Copper Destroys Viruses And Bacteria. Why Isn't It Everywhere? (Vice)
If copper were more frequently used in hospitals, where 1 in 31 people get healthcare-acquired infections (HAI), or in high-traffic areas, where many people touch surfaces teeming with microbial life—it could play an invaluable role in public health, said Michael Schmidt, a professor of microbiology and immunology at the Medical University of South Carolina, who studies copper. And yet, it is woefully absent from our public spaces, healthcare settings, and homes. "What happened is our own arrogance and our love of plastic and other materials took over," Schmidt said of the cheaper products more frequently used. "We moved away from copper beds, copper railings, and copper door knobs to stainless steel, plastic, and aluminum."
• Where Is Your Stimulus Check? 4 Reasons You Didn't Get Your Payment Yet (Huffington Post)
• A Double Recession? Economies Risk Debt Crises After Stimulus Spending (CNBC)
The economic meltdown brought on by the coronavirus pandemic has governments deploying historically vast fiscal spending packages to support millions of their citizens and businesses. This spending is necessary to support economies — officials agree on that much. But the debt incurred over time could mean a deeper crisis and a doubled-down recession for some countries, according to recent reports.
• China's Economy Shrinks, Ending A Nearly Half-Century Of Growth (NYT)
The coronavirus outbreak has brought China's extraordinary, nearly half-century-long run of growth to an end — a stark reminder of the enormous task ahead for world leaders trying to restart the global economy. Chinese officials on Friday said that the world's second-largest economy shrank 6.8 percent in the first three months of the year compared with a year ago, ending a streak of untrammeled growth that survived the Tiananmen Square crackdown, the SARS epidemic and even the global financial crisis. The data reflects China's drastic efforts to stamp out the coronavirus, which included shutting down most factories and offices in January and February as the outbreak sickened tens of thousands of people.
• Dr. Phil Mcgraw And Dr. Mehmet Oz Are Both Under Fire For Controversial Covid-19 Comments (MarketWatch)
"The fact of the matter is, the longer this lockdown goes on, the more vulnerable people get," McGraw said. "And it's like there's a tipping point. There's a point at which people start having enough problems in lockdown that it will actually create more destruction and actually more deaths across time than the actual virus will itself."
…………
Thursday, April 16, 2020
…………
• Flu Misinformation And Coronavirus Fears: My Letter To Dr. Sanjay Gupta (Children's Health Defense, Robert F. Kennedy, Jr.)
"Last week, your CNN producer, Matthew Reynard, notified me that CNN is featuring me in a documentary about "vaccine misinformation". As usual, Mr. Reynard did not point out a single factual assertion by me that was incorrect (I carefully source all of my statements about vaccines to government databases or peer-reviewed publications). CNN uses the term "vaccine misinformation" as a euphemism for any statement that departs from the Government / Pharma orthodoxy that all vaccines are safe, necessary, and effective for all people.
"I have always admired you, Sanjay. Your obvious talents aside, you seem to be genuinely compassionate and to value integrity. Earlier in your career, you showed a courageous willingness to challenge Big Pharma's vaccine orthodoxies. However, I respectfully point out that CNN and particularly you, Sanjay, are today among the most prolific broadcasters of "vaccine misinformation". Over the last several years, I cannot recall seeing a single substantial CNN segment on vaccines that did not include easily verified factual misstatements. CNN's recent special, "Pandemic", was a showcase of erroneous assertions about the flu vaccine. Since I don't like to think that you deliberately mislead the public — particularly about critical public health choices — I have taken the time to point out some of your most frequent errors…"
Robert F. Kennedy Jr. ends his letter with this comment and video:
"Just as a reminder, here is a 60 Minutes program from over 30 years ago. This is what journalism looked like before Pharma purchased the media…"
Related Links: All About Vaccinations • Children's Health Defense
• SSI Recipients Will Now Get Coronavirus Payments Automatically (Huffington Post)
• Millions Of Americans Could Lose Stimulus Payments To Debt Collectors (CNN)
• Airlines On Skeletal Schedules; Dire Economic Signals Flash (AP)
• More Than 5.2 Million U.S. Workers Filed For Unemployment (NYT)
The coronavirus pandemic's devastation became more evident Thursday with more than 5.2 million workers added to the tally of the unemployed. The latest figure from the Labor Department, reflecting last week's initial unemployment claims, brings the four-week total to about 22 million, roughly the net number of jobs created in a nine-and-a-half-year stretch that began after the last recession and ended with the pandemic's arrival.
• Amazon To Suspend Operations In France Over Coronavirus Dispute (NYT)
• People Are Mass-Purchasing Plants During Quarantine (New York Post)
• Pandemic Bill Mandate Accelerated 5G Rollout (Mercola)
• All New Yorkers Must Wear Face Coverings When Social Distancing Is Not Possible (NYT)
• Pandemic Exhaustion: Coronavirus Affecting Sleep Habits For 77% Of Americans (StudyFinds)
• A German Zoo May Have To Start Feeding The Animals To Each Other (Insider)
• Religious Responses To The Black Death (Ancient History)
The Black Death of 1347-1352 CE is the most infamous plague outbreak of the medieval world, unprecedented and unequaled until the 1918-1919 CE flu pandemic in the modern age. The cause of the plague was unknown and, in accordance with the general understanding of the Middle Ages, was attributed to supernatural forces and, primarily, the will or wrath of God. Accordingly, people reacted with hopeful cures and responses based on religious belief, folklore and superstition, and medical knowledge, all of which were informed by Catholic Christianity in the West and Islam in the Near East. These responses took many forms but, overall, did nothing to stop the spread of the disease or save those who had been infected. The recorded responses to the outbreak come from Christian and Muslim writers primarily since many works by European Jews — and many of the people themselves — were burned by Christians who blamed them for the plague and among these works, may have been treatises on the plague.
…………
Wednesday, April 15, 2020
…………
• Chris Cuomo Says His Wife Cristina Tested Positive For Coronavirus (Hollywood Reporter)
• Ford Tests Buzzing Wristbands To Keep Workers At Safe Distances (Bloomberg)
• Protesters Clog Streets In Michigan Over Whitmer Coronavirus Stay-Home Order (New York Post)
"Operation Gridlock" was just one of many demonstrations planned across the country to push back on the stay-at-home orders, calling on state governments to focus on the economic toll the coronavirus pandemic has caused along with taking care of the sick. Nearly 17 million Americans have been laid off or furloughed in the past three weeks — or one out of every 10 workers. Echoing President Trump that "we cannot let the cure be worse than the disease," Maddock said the restrictions are wrecking people's lives and may have killed more than the virus.
• As Humans Stay Indoors, Wild Animals Take Back What Was Once Theirs (Washington Post)
• Small-Business Program Intended For Quick Grants Is Running Weeks Behind (Washington Post)
An emergency loan program intended to get money swiftly into the hands of small businesses has all but collapsed under an unprecedented crush of applications and a shortage of funds, overwhelming agency officials and prompting urgent calls for action on Capitol Hill.
• CDC Director Says 19-20 U.S. States May Be Ready To Reopen May 1 (Reuters)
The director of the federal Centers for Disease Control and Prevention said on Wednesday he believes 19 or 20 U.S. states have had limited impact from the new coronavirus and their governors believe they may be ready to reopen by President Donald Trump's May 1 target date.
• Banks Brace For Big Loan Defaults By US, Global Customers (AP)
The major banks in the U.S. are anticipating a flood of loan defaults as households and business customers take a big financial hit from the coronavirus pandemic. JPMorgan Chase, Wells Fargo, Bank of America, Citigroup and Goldman Sachs raised the funds set aside for bad loans by nearly $20 billion combined in the first quarter, earnings reports released over the past two days show. And Wall Street expects that figure may go even higher next quarter, a possibility bank executives acknowledged on earnings conference calls.
• U.K. Newspaper Headlines: 'Grim' Economic Forecast Shows 'Dark Days Ahead' (BBC)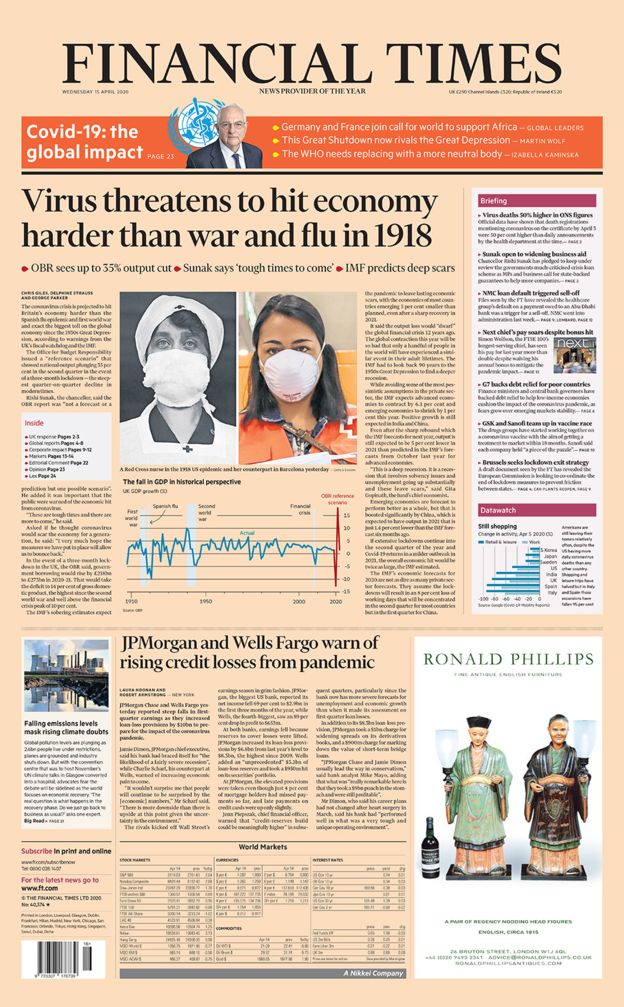 • Thousands Of Cars Line Up To Get Into A Los Angeles Food Bank (Daily Mail)
• Money Is Losing Its Meaning (Bloomberg)
It took a while, but it seems as though the U.S. government has decided that it has no constraints on its spending, as long as the Fed continues to monetize government borrowing by purchasing the debt issued to finance expenditures. It's not crazy to think government spending may reach $10 trillion — for just one year! And the numbers will go up from there. Nobody really knows how this is going to turn out. In smaller economies, runaway government spending has resulted in hyperinflation and social unrest, such as well-documented cases in Venezuela and Zimbabwe. Many think that wouldn't be possible in the U.S. given the dollar's role as the world's primary reserve currency. Perhaps, but it's not one of those questions we'd really want to experiment with.
• What Donald Trump's Funding Cuts To Who Mean For The World (The Conversation)
The US contributes more than $400 million to the WHO per year, though it is already $200 million in arrears. It is the organisation's largest donor and gives about 10 times what China does per year.
• China Data Shows Vast Majority Of Asymptomatic Coronavirus Carriers Never Get Sick (Fortune)
• Coronavirus: Chinese Whistle-Blowers Remain Missing And 'In The Hands' Of The Government (Mirror)
• Swedish Virus Deaths Top 1,000, Fueling Criticism Over Strategy (Bloomberg)
• Women Leaders Are Doing A Disproportionately Great Job At Handling The Pandemic (CNN)
• Trump's Name To Be On Stimulus Checks Going To Americans (Reuters)
The U.S. Treasury Department has ordered President Donald Trump's name to be printed on checks the Internal Revenue Service is planning to send to tens of millions of Americans, a decision that will slow their delivery by several days.
• The Pandemic Is Giving People Vivid, Unusual Dreams (National Geographic)
• Study Shows Americans Are Lonelier Than Ever Due To Coronavirus Lockdown (New York Post)
A survey of 1,055 Americans asked respondents to think about how the outbreak is affecting them and revealed it's caused loneliness to hit new heights for 44 percent of those surveyed. And these feelings of loneliness were found to be part of a wider effect: If social distancing and quarantining continues, a fifth of respondents (19 percent) said it will have major implications for their mental health.
Results revealed respondents' top concern to be their loved one's health (71 percent), followed by their own (61 percent). Other respondents were worried about experiencing increased anxiety (41 percent) and not being able to pay bills (33 percent) as a result of the pandemic. Three in 10 were concerned about missing out on celebrating milestones, while 27 percent were worried about feeling prolonged loneliness or depression. With so much unpredictability, 68 percent said they feel like everything is out of their control — and 53 percent of respondents wish they had tips on how to better take care of their mental health during this time.
…………
Tuesday, April 14, 2020
…………
• Governors On East And West Coasts Form Pacts To Decide When To Reopen Economies (CNN)
States on the country's East and West coasts are forming their own regional pacts to work together on how to reopen from the stay-at-home orders each has issued to limit the spread of the novel coronavirus. The first such group to be announced came Monday on the East Coast. Democratic New York Gov. Andrew Cuomo said his state, New Jersey, Connecticut, Pennsylvania, Delaware, Rhode Island and Massachusetts each plan to name a public health and economic official to a regional working group. The chief of staff of the governor of each state also will be a part of the group, which will begin work immediately to design a reopening plan. Later on Monday, the West Coast states of California, Washington and Oregon also announced they are joining forces in a plan to begin incremental release of stay-at-home orders. Governors of the three states will collaborate on their approach to getting back to business in "in a safe, strategic, responsible way," as announced by California Democratic Gov. Gavin Newsom.
The collaborative approach by governors on both coasts underscored the massive and complex calculations that the nation is facing as it looks at steps to reopen the economy at both the federal and state levels. Though the President has asserted that he has the authority to determine when the economy will reopen, governors and mayors around the country have moved swiftly in recent days to make it clear that they control the levers of power in their own states and cities with their ability to maintain closures of businesses and schools, and to enforce social distancing through their police departments.
• Cuomo Warns Of Constitutional Crisis 'Like You Haven't Seen In Decades' If Trump Tries To Reopen New York (NBCNews)
New York Gov. Andrew Cuomo warned Tuesday that President Donald Trump should not try to reopen the state against his wishes, saying it would create "a constitutional crisis like you haven't seen in decades" and could result in a dramatic increase in coronavirus cases. "The only ways this situation gets worse is if the president creates a constitutional crisis," Cuomo said on MSNBC's "Morning Joe."
"If he says to me, 'I declare it open,' and that is a public health risk or it's reckless with the welfare of the people of my state, I will oppose it," he said. "And then we will have a constitutional crisis like you haven't seen in decades, where states tell the federal government, 'We're not going to follow your order.' It would be terrible for this country. It would be terrible for this president."
• Here's What The Constitution's 10th Amendment Says About Trump's Claim To Have Total Authority Over States (USAToday)
"Our constitutional system was forged during a period of grave unease over executive authority. After all, the nation had just broken away from the control of a tyrant," Turley said. And if there is "one overriding principle" in the Constitution, it is to avoid the concentration of power, and it does so "in myriad ways," he said. The 10th Amendment was one instrument written to help ensure that the federal government would not be able to impose the kind of absolute authority the framers feared.
• It's Time To Talk More Seriously About The Food Supply (CNN)
Keeping the supply chain going while also keeping farmworkers and meat cutters, along with packers and truck drivers and warehouse workers and grocery stockers and checkout clerks, healthy is one priority. Another problem is finding ways to get food to consumers, now that restaurants, office canteens, school cafeterias and so many other places people used to go eat are closed. The current situation is this: Farmers are dumping food, including milk, even as people grow increasingly desperate and lines grow at food banks.
• Seed Companies Can't Keep Up As More Americans Turn To Growing Their Own Food (CBSNews)
As millions of Americans hunker down at home, the coronavirus outbreak has led to runs on everything from toilet paper to baker's yeast. Now people are reporting another shortage: seeds to start their "pandemic gardens." Some seed companies said they've temporarily stopped taking new orders after seeing an overwhelming surge in demand. The increase in orders is "just unbelievable," said George Ball, chairman of Burpee Seeds, a 144-year-old seed company in Pennsylvania. The company closed to new orders last week because it needed time to catch up, although it plans to start accepting them again on Wednesday.
• Amazon Was Already Powerful. The Coronavirus Pandemic Cleared The Way To Dominance. (VOX)
Covid-19 has transformed the world, killing nearly 100,000 people across the globe so far and sending the US economy into a tailspin. Along with the restaurant and travel sectors in the US, the retail industry has been hit especially hard. While grocery stores and online retailers have been deemed essential and continue to operate, department store chains and other "nonessential" retailers, big and small, have been forced to close up shop.
Those closures are dealing potentially catastrophic blows to cash reserves and accelerating trends in consumer behavior that could spell doom for large swaths of brick-and-mortar retail and the 16 million people the industry employs. Nearly 1 million retail workers were furloughed in a single week recently, according to the Washington Post, and more than 250,000 stores have been shuttered, according to GlobalData Retail. Some analysts predict 15,000 retail stores will close permanently this year, which would mark a 60 percent increase from last year's record closures.
But not every retailer is suffering. For Walmart and Amazon, which already dominated a significant percentage of brick-and-mortar retail and online commerce in the US, respectively, the pandemic has provided an exponential boost to their already substantial businesses and power. Google searches for Amazon are at near-holiday-season levels; in-store sales at Walmart skyrocketed in March; and together both companies are hiring 250,000 new workers. Meanwhile, more and more people are switching to online shopping and grocery delivery and pickup — and they may not revert to their old habits when the pandemic ends.
• Cartels, Gangs And Rebels Join Coronavirus Fight (GreenwichTime)
• The Washington Post Goes Rogue: China Lab In Focus Of Coronavirus Outbreak (Forbes)
• Chris Cuomo: I Can't Shake Off My Fever (CNN)
• Coronavirus-Stricken Chris Cuomo Trashes CNN Gig During Radio Show Meltdown (New York Post)
Cuomo said his battle with COVID-19 has made him rethink his values and question his position as a public figure. "I don't like what I do professionally," he said. "I don't think it's worth my time." Speaking about his job as the host of CNN's "Cuomo Prime Time," the Queens-born anchor said he doesn't want to spend his time "trafficking in things that I think are ridiculous." Such things include "talking to Democrats about things that I don't really believe they mean" and "talking to Republicans about them parroting things they feel they have to say." He also wants to stop analyzing the president, "who we all know is full of s–t by design."
• IBM Launches New COBOL Training Initiative, As Elderly Programmers Answer The Call For Help (ExtremeTech)
…………
Monday, April 13, 2020
…………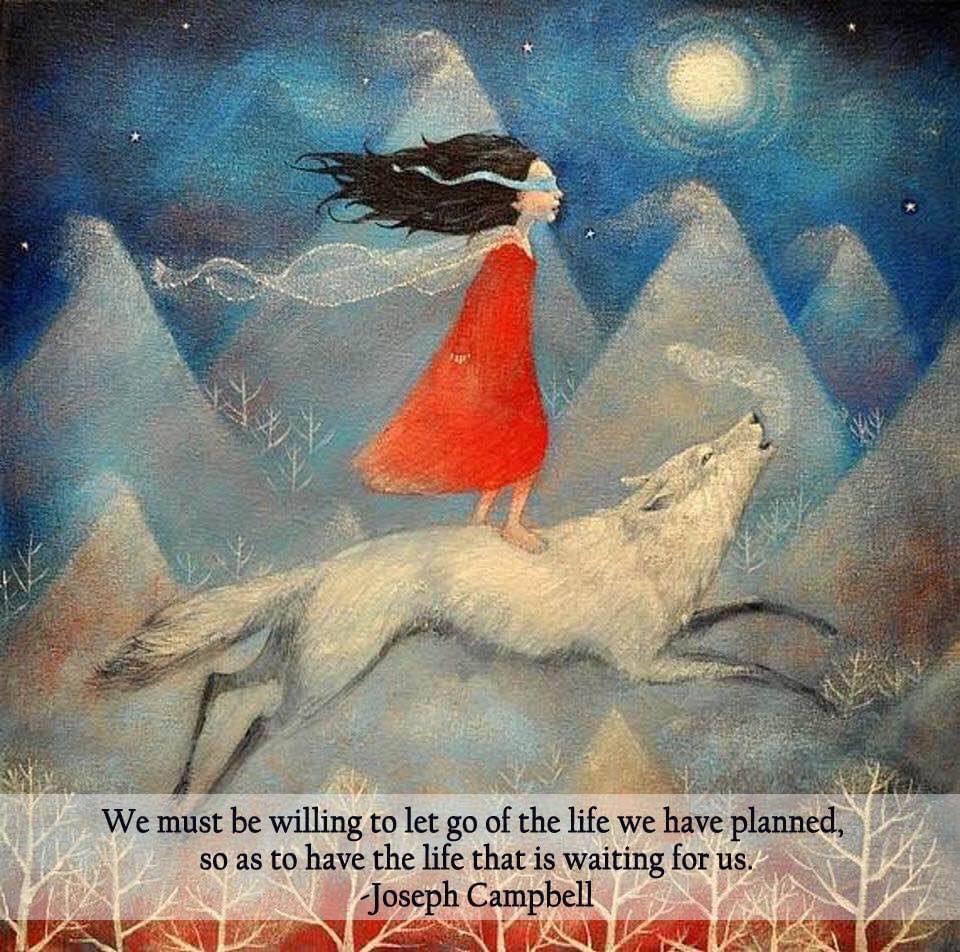 • The Food Expiration Dates You Should Actually Follow (NYT)
So long as there is no outward sign of spoilage (such as bulging or rust), or visible spoilage when you open it (such as cloudiness, moldiness or rotten smells), your canned fruits, vegetables and meats will remain as delicious and palatable as the day you bought them for years (or in the case of, say, Vienna sausages at least as good as they were to begin with). The little button on the top of jarred goods, which will bulge if there has been significant bacterial action inside the jar, is still the best way to tell if the contents are going to be all right to eat. Depending on storage, that could be a year or a decade…
• Scientists Reveal 2 Easy Steps To Lower Spread Of Coronavirus In Your Workplace (StudyFinds)
Scientists recommend opening up windows to improve air flow. The team from the University of California, Davis and University of Oregon also say letting more natural light into a room will help create a healthier environment… social distancing, regularly washing hands, and keeping your home well-lit and well-ventilated is the best advice researchers have to stay healthy during the pandemic…
• Open-Air Treatment During the "Spanish Flu" Pandemic (The Vaccine Reaction)
• Governors Form Regional Groups To Consider When And How To Reopen, But Trump Says He 'Calls The Shots' (NYT)
• U.S. May Face 18 Months Of Rolling Shutdowns (Bloomberg)
• Mexico President Faces Threats Of Tax Revolts In Some States (Bloomberg)
• China Restricts Research On The Origin Of The Coronavirus (HotAir)
• Virginia Pastor Who Defiantly Held Church Service Dies Of Coronavirus (New York Post)
• Amazon Fills 100K Warehouse Worker Jobs, Plans To Hire 75K More To Meet Pandemic-Driven Demand (GeekWire)
• IRS Says First Wave Of Coronavirus Stimulus Payments Have Been Deposited (CBS News)
• As Virus Deaths Rise, Sweden Sticks To 'Low-Scale' Lockdown (AP)
• Coronavirus Racism: Chinese City Bans Black People From Hotels, Apartments, Restaurants (Breitbart)
• Why We Can't Trust Warm Weather To Stop Coronavirus (Forbes)
Will warm weather and high humidity stop the coronavirus pandemic, or is this a false hope based on comparisons with common viruses like influenza? While research results haven't been consistent, a new report from the National Academies of Science, Engineering, and Medicine (NAS) suggests that the data is increasingly leaning toward a conclusion — warm weather won't stop the virus from spreading.
• Public Transit's Death Spiral (AXIOS)
Public transit systems across the country are experiencing a painful trifecta: Ridership has collapsed, funding streams are squeezed, and mass transit won't bounce back from the pandemic nearly as fast as other modes of transportation.
…………
Sunday, April 12, 2020 (Easter)
…………
• Michigan Holistic Physician Group Report: 85 COVID Patients Treated – ZERO Hospitalizations And NO Deaths (Health Impact News)
I first reported to you about COVID on January 26, 2020. That was the first time I presented our protocol of using vitamins A, C, D, and iodine not only to support the immune system but also to treat viral infections. In that post, I also pointed out how important eating a healthy diet is. The importance of using intravenous nutrient therapy, especially vitamin C, was mentioned. Finally, I suggested that, with coronavirus, it would be wise not to get a flu vaccine since the flu vaccine has been shown to significantly increase the risk of coronavirus and other flu-like viral infections.
• Can EMF (Including 5G) Make Us More Susceptible To Coronavirus Infection? (Mercola)
"The Invisible Rainbow" builds a case for the theory that increases in EMFs, natural or man-made, might make us more susceptible or sensitive to viral illnesses. If natural EMF exposures have the ability to influence our biology, man-made exposures might have an exponential impact.
• Largest U.S. Study Of Covid-19 Finds Obesity The Single Biggest Factor In New York's Hospitalizations (ZDNet)
For months, scientists have been poring over data about cases and deaths to understand why it is that COVID-19 manifests itself in different ways around the world, with certain factors such as the age of the population repeatedly popping up as among the most significant determinants. Now, one of the largest studies conducted of COVID-19 infection in the United States has found that obesity of patients was the single biggest factor in whether those with COVID-19 had to be admitted to a hospital.
• Trump Administration Has Many Task Forces — But Still No Plan For Beating Covid-19 (Washington Post)
The brain trust behind the federal government's war on the coronavirus is "a bureaucratic nesting doll" of oft-competing task forces that have produced no clear plan to end the crisis, The Washington Post reports. There is the official task force led by Vice President Pence; the "shadow task force" led by presidential son-in-law Jared Kushner; the new "Opening Our Country Council"; and a splinter group of medical professionals. And then there is President Trump, who often overrides and undermines whatever decisions these groups manage to make.
• Fauci Expresses 'Cautious Optimism' Coronavirus Outbreak Is Slowing, Us Could Start Reopening In May (CNBC)
• Teacher Turns Scuba Diving Masks Into Ventilators To Save Lives Across Merseyside (ECHO)
• The Pope Just Proposed A Universal Basic Income. Is The United States Ready For It? (America Magazine)
• Cuomo Rips Congress For Ignoring State Governments In Stimulus Bill (AXIOS)
• Amazon Is Acting Like An Independent Nation In Its Battle Against The Coronavirus (Quartz)
As pressure mounts on Amazon to keep its warehouses running smoothly and at maximum capacity while also addressing safety concerns from workers, the e-commerce giant has hatched plans to build its own Covid-19 testing facilities. Amazon announced this past week it has started assembling equipment for its first testing lab. The company said it hopes developing "incremental" testing capabilities will help it monitor the health of its hundreds of thousands of workers, including those displaying no symptoms of the virus.
• Snowden Warns Governments Are Using Coronavirus To Build The 'Architecture Of Oppression' (Vice)
• The Coronavirus Pandemic Has Cleaned Up The Air On The East Coast (BGR)
• Travel Virtually To U.S. National Parks (Forbes)
• The Guardian View On The Climate And Coronavirus: Global Warnings (The Guardian)
So far, discussions of a coronavirus exit strategy have mainly focused on the steps that could bring an end to the lockdown. In the short term, both in the UK and elsewhere, there is nothing more desirable than letting people resume their lives, once it is safe to do so. But the speed of the "return to normal" is not the only thing that matters. The manner in which the world's leaders manage the colossal economic and political shocks caused by the virus is also of the utmost importance. And at the top of their list of priorities, alongside human welfare, must be the biosphere and its future.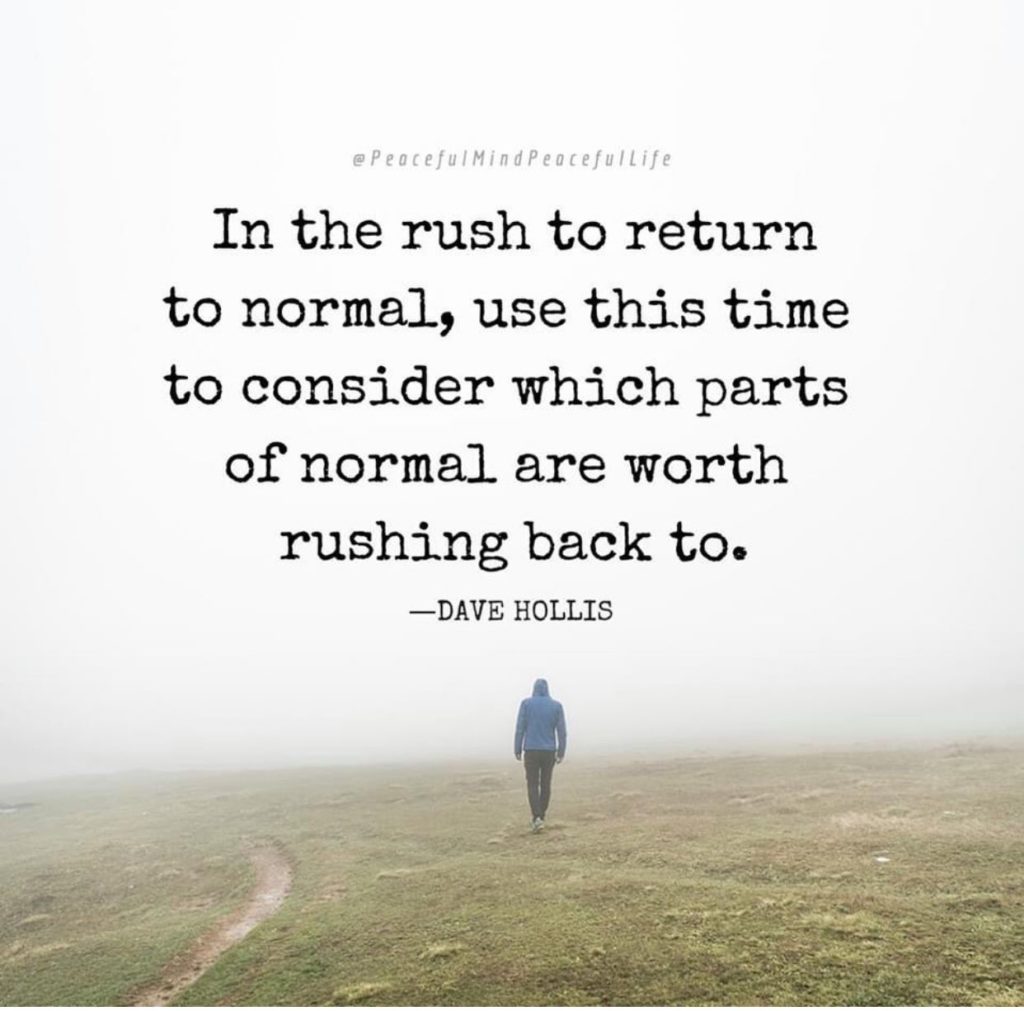 …………
Saturday, April 11, 2020
…………
• Nearly A Third Of Americans Didn't Pay Rent This Month, New Data Shows (CNN)
• Coronavirus: Trump Has Declared Major Disaster In All 50 States At Once, First Time In History (FoxNews)
The declarations make federal funding available for state and local governments, as well as some nonprofit organizations, according to the White House. They can also help state governments coordinate with federal resources like the Federal Emergency Management Agency (FEMA) and the Army Corps of Engineers.
• Terrified Atomic Workers Warn That The Covid-19 Pandemic May Threaten Nuclear Reactor Disaster (The Smirking Chimp)
The COVID Pandemic has thrown America's atomic reactor industry into lethal chaos, making a major disaster even more likely. Reports from "terrified" workers at a Pennsylvania reactor indicate vital precautions needed to protect them may not even be possible. Nationwide, with falling demand and soaring prices for nuke-generated electricity, the pandemic casts a dark shadow over reactor operations and whether frightened neighbors will allow them to be refueled and repaired. America's 96 remaining atomic reactors are run by a coveted pool of skilled technicians who manage the control rooms, conduct repairs, load/unload nuclear fuel. Because few young students have been entering the field, the corps of about 100,000 licensed technicians has been — like the reactors themselves — rapidly aging while declining in numbers. Work has stopped at the last two US reactors under construction (at Vogtle, Georgia) due to the pandemic's impact, which includes a shrinking supply of healthy workers. Every reactor control room requires five operators at all times. But the physical space is limited there and in plant hot spots that need frequent, often demanding repairs. Social distancing is virtually impossible. Long shifts in confined spaces undermine operator safety and performance.
• JPMorgan Predicts GDP Will Completely Crater, Forecasts A Staggering 40 Percent Second Quarter Drop (mediaITE)
JPMorgan economists are forecasting that the GDP will fall by 40 percent through the spring months. They also predict unemployment will reach 20 percent in April, with 25 million jobs lost overall. Such a drop would be, by far, the worst in U.S. history. For context, according to Credit Suisse, the worst quarterly drop of the 2008 crash was 8.4 percent.
• Farmworkers 'Can't Pick Strawberries Over Zoom' (Wired)
As strawberry-picking season kicks into high gear in April and May, farmworker advocates fear that a lack of worker safety protections, combined with a lack of access to health care and crowded living conditions, could lead to a major Covid-19 outbreak in farmworker communities across California. As other crops are harvested throughout the spring, much of the rest of the country faces a similar risk. For a working population particularly vulnerable due to economic insecurity, exposure to pesticides, higher incidence rates of respiratory illnesses such as asthma, and chronic conditions such as diabetes, Covid-19 could be devastating.
• Artists May Need A Depression-Era Jobs Program Today (CNN)
• World Cities Turn Their Streets Over To Walkers And Cyclists (The Guardian)
• Coronavirus: Jane Goodall Believes 'Disrespect For Animals' Caused Pandemic (South China Morning Post)
The primatologist said animal markets and farming create conditions where animals are crowded together and viruses jump the species barrier. She welcomed the closure of live wild animal markets in China, and said every individual can take steps to make a difference.
• Walmart CEO Says We're In The 'Hair Color' Phase Of Panic Buying (CNN)
First went the hand sanitizer, disinfectants and toilet paper. Now hair clippers and hair dye are flying off shelves… After stocking up on food and consumable products, shoppers turned to puzzles, games and other timeless forms of entertainment as well as education…
• Apple And Google Detail Bold And Ambitious Plan To Track Covid-19 At Scale (ARStechnica)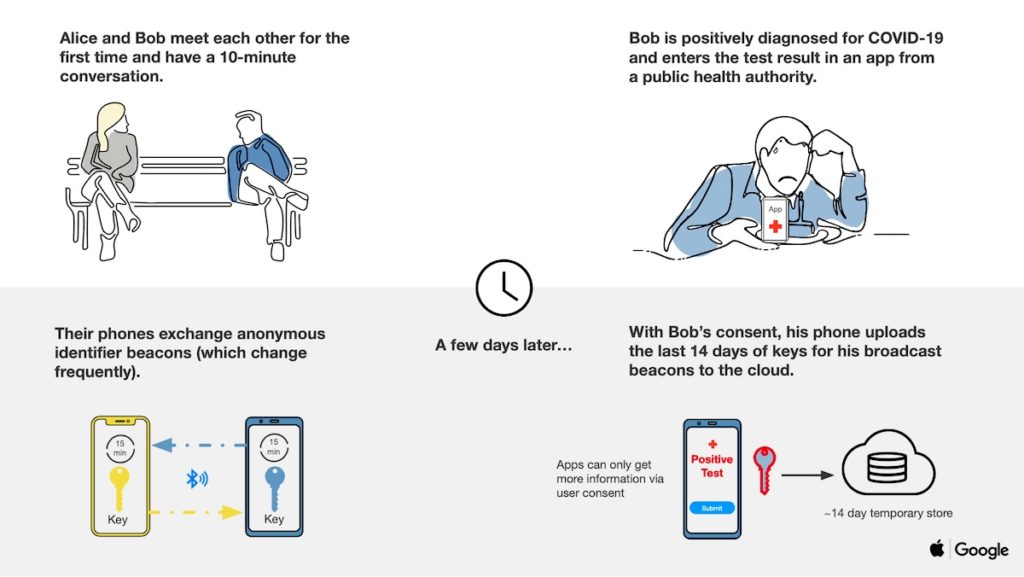 • Why Is South Korea Beating Coronavirus? Its Citizens Hold The State To Account (The Guardian)
South Korea is one of the few countries that has succeeded in flattening the coronavirus curve. Its policy of testing, tracing and treating without lockdowns has been widely lauded. Some attribute this to South Korea's experience of having dealt with previous epidemics such as Sars and Mers. Commentators in the US tend to stress the country's effective leadership, contrasting it with that of Donald Trump's. Others point to cultural factors, such as the willingness of the public to sacrifice privacy for the greater good.
• Singapore Had The Coronavirus Under Control. Now It's Locking Down The Country (CNET)
As the world scrambles to contain the coronavirus, Singapore has been held up as a role model for its early and decisive response to the threat. The city-state drew international praise for its ability to blunt the spread of COVID-19 while avoiding some of the drastic containment measures seen in countries like China, Italy and Spain. But Singapore's lauded response has come into question. This week, it enforced a partial lockdown as it struggles to contain a sharp rise in coronavirus cases.
As part of Singapore's stricter "circuit breaker" measures, it shuttered most workplaces on Tuesday. The following day, school closures went into effect for at least a month, shifting students to "full home-based learning." The government has also banned public and private social gatherings of any size, meaning residents who entertain guests face six months of jail time or a fine of up to $7,000.
• Business Owner Delivers Call To Action: 'Let Lubbock Open' (KCBD)
"Our small, non-essential businesses are shutting down and we're just asking the mayor and the city council to please offer us some guidelines and we will happily comply, that way we can open our small businesses back up," Allen said. "We are willing to have our employees wear masks, gloves, social distancing, a number of patrons per square foot, whatever it takes to be able to safely and responsibly open our businesses back up."
…………
>> Previous News Stories <<
…………
News Feeds
…………
• CDC
• Google
• CNN
• The New York Times
• The Guardian
• World Economic Forum
• Aljazeera
• NBC News
• MSNBC
• FoxNews
• Facebook
• CNBC
• LiveScience
…………
Statistics
…………
• Why It's So Freaking Hard To Make A Good COVID-19 Model
• Coronavirus: A Visual Guide To The Pandemic (BBC)
• Coronavirus Map: Tracking the Global Outbreak (NYT)
• ncov2019.live
• Coronavirus COVID-19 Global Cases by the Center for Systems Science and Engineering (CSSE) at Johns Hopkins University (JHU)
• Global Covid-19 Case Fatality Rates
• Worst-Case Estimates for U.S. Coronavirus Deaths (NYT)
• How Each State In The U.S. Is Handling The Coronavirus Crisis
• Best-Case And Worst-Case Coronavirus Forecasts Are Very Far Apart (FiveThirtyEight)
"This week's survey, taken on March 30 and 31, shows that experts expect an average of 263,000 COVID-19-related deaths in 2020, but anywhere between 71,000 and 1.7 million deaths is a reasonable estimate…"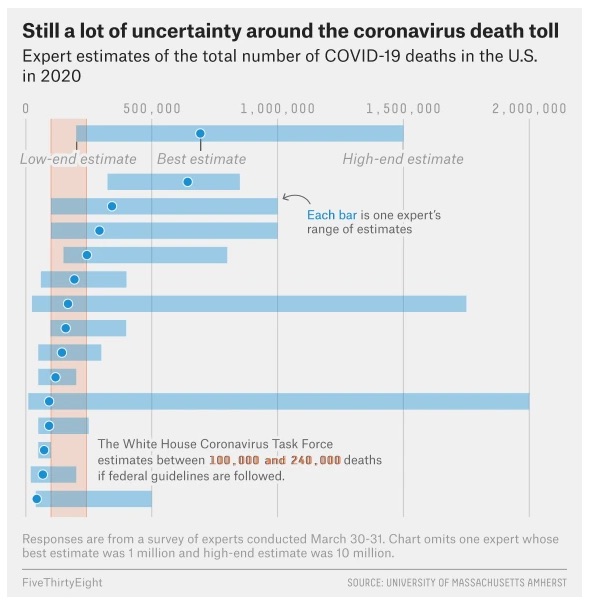 • Coronavirus Fatality Rate or Death Percentage: Puzzling Estimates
Diamond Princess data tell us that COVID-19's infection fatality rate should be around 0.5% whereas South Korean data tell us it should be around 1.8%. When we have divergent estimates from different sources and we are certain about the data integrity of each source, the best estimate is usually somewhere in between. That's what we are going to do in this case and calculate the average of both estimates. This gives us an infection fatality rate of approximately 1.2%. We will be able to calculate a more accurate estimate as more cases resolve over the next couple of weeks and we have access to more data.
Total COVID-19 deaths projected to August 4, 2020 in United States of America = 83,967 COVID-19 deaths
Source: covid19.healthdata.org
• White House Issues Stark Coronavirus Death Toll Estimate (NBC News)
"Modelling showed the disease could kill between 100,000 and 240,000 people if Americans stay at home and limit their contact with others, Dr. Deborah Birx, the White House coronavirus coordinator said on Tuesday."
…………
Lessons From History
…………
• What Rome Learned From The Deadly Antonine Plague Of 165 A.D. (Smithsonian)
• How Some Cities 'Flattened The Curve' During The 1918 Flu Pandemic
• More People Died in the 1918 Flu Pandemic Than in WWI
• How Epidemics of the Past Forced Americans to Promote Health — and Ended Up Improving Life in This Country (Smithsonian)
• Closed Movie Theaters and Infected Stars: How the 1918 Flu Halted Hollywood
• The Yellow-Fever Epidemic Of 1793 In Philadelphia
• The Spanish Flu (Wikipedia)
• The Black Plague (Wikipedia)
• What Social Distancing Looked Like in 1666
…………
Helpful Advice & Suggestions
…………
Dr. David Price of Weill Cornell Medical Center in New York City
Dr. David Price of Weill Cornell Medical Center in New York City discusses what he has learned about this virus from direct, hands-on experience and offers simple, effective practices for avoiding it, not passing it on to others, and handling it if you, or your family members and friends, contracts it. His suggestions (and overall demeanor) are very helpful at reducing the fear that is rampaging through the world right now.
Watch the complete, unedited video here.
……………….
Wim Hof's Take On Coronavirus (COVID-19)
Who is Wim Hoff? This resource page includes videos and links to Wim Hof Method websites, social media accounts, and The Wim Hof Method iPhone App.
……………….
• Dr. Mercola Coronavirus Resource Page
• 10 Tips To Help Combat Coronavirus
1. Wash your hands [and don't touch your face]
2. Vitamin C is vital
3. Boost immunity with nutrients
4. Increase Vitamin D intake
5. Try pre-, pro- and Sporebiotics
6. Use Quercetin
7. Get plenty of sleep
8. Get adequate sunshine
9. Exercise boosts immunity
10. Stay hydrated
…………
• NHNE Vitamin C Resource Page
• NHNE Vitamin D Resource Page
…………
Nature, Healing & Miracles
…………
• The Beautiful World Beside The Broken One
• In Times Of Uncertainty, Let Nature Be Your Refuge
• Your National Parks Are *Free* During Coronavirus
• Coronavirus Has Slashed Global Air Pollution. This Interactive Map Shows How.
• Near-Death Experiences on the Importance of Plants, Animals, and the Earth
• Near-Death Experiences & Miraculous Healings
• Radical Remissions, Mind Over Matter, The Power Of Placebos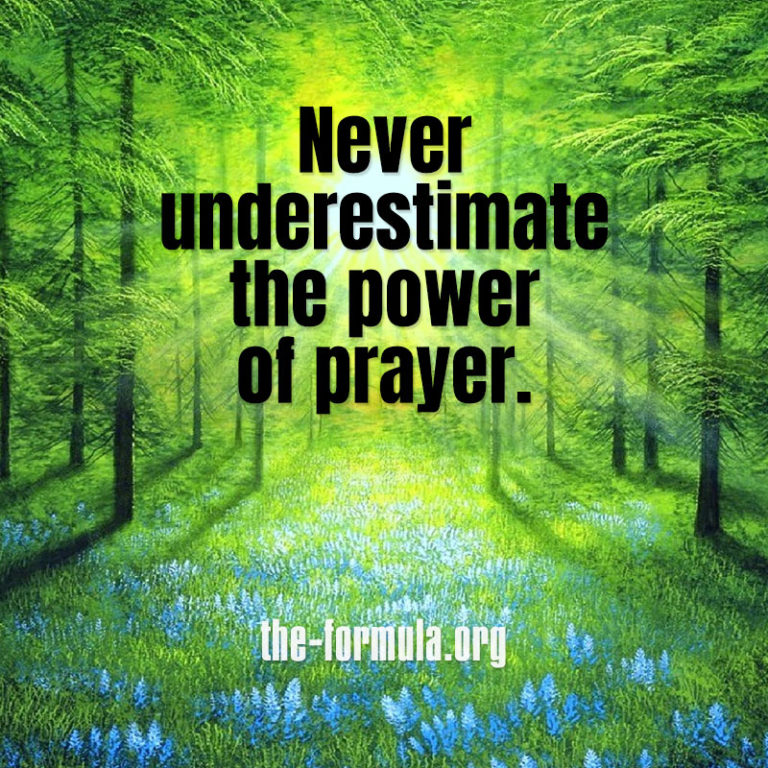 • Near-Death Experiences On The Power Of Prayer
…………
Poems
…………
• Letter From Covid-19 To Humans
• Lockdown – Fr. Richard Hendrick
…………
Lighter Side
…………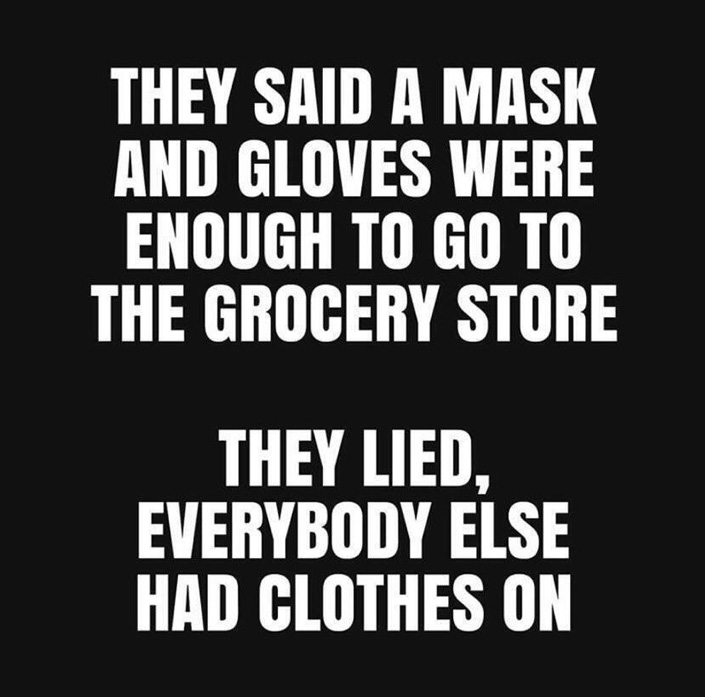 …………
Quilted Northern Rustic Weave – Artisanal Toilet Paper
…………
Quarantined With Your Dog
…………
Hello (from the Inside) An Adele Parody by Chris Mann
…………
…………
…………
Additional Notes & Quotes
…………
Spring Break
By Kenneth Ring, Ph.D.
March 30, 2020
Excerpt:
Of course, you don't have to be an NDEr to realize that listening to the news is bad ju-ju for the soul, but one of the interesting things about NDErs is that after their close encounter with death, many of them become psychic, often to an uncanny extent as my research and that of others have revealed. One of the ways their psychic gifts may manifest is in precognitive visions — apparently seeing an event before it actually occurs. For example, several NDErs reported that they had foreknowledge of the Space Shuttle Challenger before it exploded in 1986.
Which brings us to another NDEr, Sylvia Browne. But I never knew Sylvia, who died in 2013. Indeed, despite the fact that she wrote over forty books and was a very well known if controversial psychic, appearing on many television shows during her life, I had never even heard of her until this year, and you will soon understand why. The reason will, I'm afraid, bring us back to the corona virus and bring our brief spring break to an astonishing end.
You see, nearly twelve years ago, Sylvia foresaw the corona virus. You don't believe it? Neither did I at first, but read on.
In 2008, Sylvia Browne wrote a book called End of Days. In that book she predicted:
"In around 2020 a severe pneumonia-like illness will spread throughout the globe, attacking the lungs and the bronchial tubes, and resisting all known treatments."
Weird, eh?
She also made some other seemingly startlingly accurate or at least plausible predictions for this same time including the crash of the stock market and, most alarming of all, this one:
"The year 2020 will mark the end of the U.S. presidency and the executive branch of the government."
Not to get too political, but of course people have wondered how our pandemic might affect the election and whether if things should really spin out of control, President Trump might invoke martial law or other extreme measures that could imperil our government. At this point, the future is as uncertain as is the course of the corona pandemic itself.
But let's not get carried away on the wings of wild speculation. For one thing, like all psychics, Sylvia Browne's predictions were often wrong, sometimes spectacularly so. In her lifetime, she was a highly controversial figure. And even what she did have to say about the course of the pandemic itself should give us pause because she also added this to her prediction:
"Almost more baffling than the illness itself will be the fact that it will suddenly vanish as quickly as it arrived, attack again ten years later, and then disappear completely."
Alas, that doesn't seem to be the case at all as far as the course of this pandemic is concerned, but if, against all odds, Sylvia should prove right about this as well, what would we think then?
Read Ken's complete blog here.
End of Days: Predictions and Prophecies About the End of the World
By Sylvia Browne
Sylvia Browne's Near-Death Experience
Near-Death Experiences That Predict The End Of The World
Complied by David Sunfellow
…………
Excerpted from The Purpose of Life as Revealed by Near-Death Experiences from Around the World
Chapter 89
How To Still Storms & Walk On Water
By David Sunfellow
While few in number, some near-death experiencers are shown apocalyptic visions of the future. Earthquakes and tsunamis rage across the Earth. Governments and civilizations collapse. Vast numbers of plants, animals, and people die.
Other near-death experiencers are shown that the worst is behind us. We are now on a path where everything is going to get better and better.
While the specifics and severity of end-of-the-world predictions differ in NDEs, there is one thing they all agree on: a new world is coming; heavenly states of consciousness will eventually manifest in this world.
What can we do to help?
The deepest, most profound near-death experiences tend to be lighthearted and full of hope. There is a playfulness and sense of humor to these NDEs. Instead of raining down fire and brimstone, these NDEs are full of laughter, merriment, and gentle admonitions to lighten up and not take life so seriously.
How can these NDEs be so cheerful when so many apocalyptic possibilities are knocking on our collective door?
One answer is that the higher realms know the world is a dream, no one is really hurt or lost, and everything is unfolding as it should.
Higher states of consciousness also know that everything works out in the end, one way or another.
In other words, the challenges we face in this world are similar to the challenges we face in dreams. After a dream has run its course, we wake up, unscathed. And so do all of our dreaming friends. Even nightmares that are hyper-real and super scary come and go.
Here's the point: whether the world follows a rough path to higher states of consciousness, or a gentle one, we can help by staying connected to the parts of ourselves that know everything is OK.
Instead of getting caught up in the drama of life and injecting more fear, instability, and despair into the collective consciousness of the planet, we can train ourselves to stay calm and connected.
And one more thing.
It's the deep places that produce miracles. And healings. And solutions to complicated and bewitching problems. So staying calm and collected is not simply a way to maintain inner peace, it's also a way to find practical solutions to life's many challenges.
So whatever is happening in your personal life, or in the world at large, I encourage you to go deeper and higher. Engage life, full on, but don't take things too seriously. Be cheerful and light hearted. Joke and laugh. Be a force of nature that not only stops fear in its tracks, but turns the tide and lifts others to higher ground…
Near-Death Experiences That Predict The End Of The World
Complied by David Sunfellow
…………
You can support this website by using the amazing, super-fast, crypto-friendly Brave Web Browser