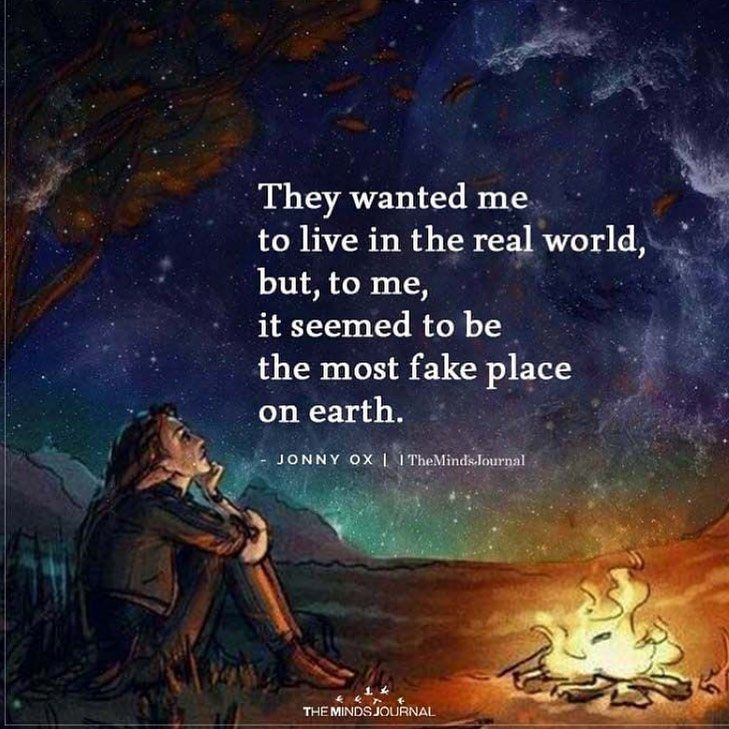 …………….
Major COVID-19 Resource Sections On This Website
…………….
• COVID-19 Healing Resources
• COVID-19 Vaccinations
• COVID-19 Menstrual & Breast Milk Disruptions, Miscarriages, Infertility, Transmission (Shedding)
• COVID-19 Dubious Data
• COVID-19 Tests
• COVID-19 Masks
• COVID-19 Lockdowns & Resistance
• COVID-19 Economic Fallout
• COVID-19 Other Important Topics
• Reiner Fuellmich: Suing The Powers That Be For "Crimes Against Humanity"
• Sounding The COVID-19 Vaccination Alarm
• #RemoveTheMask #RefuseTheJab #StopTheMadness
• COVID Lockdown: Harms Are 10 Times Greater Than Benefits
• COVID-19 & Antibody-Dependent Enhancement (ADE)
• Geert Vanden Bossche – Halt All Covid-19 Mass Vaccination Immediately!
• Big Brother
• Vaccination Resource Page
• Vitamin C & D Resource Page
……………….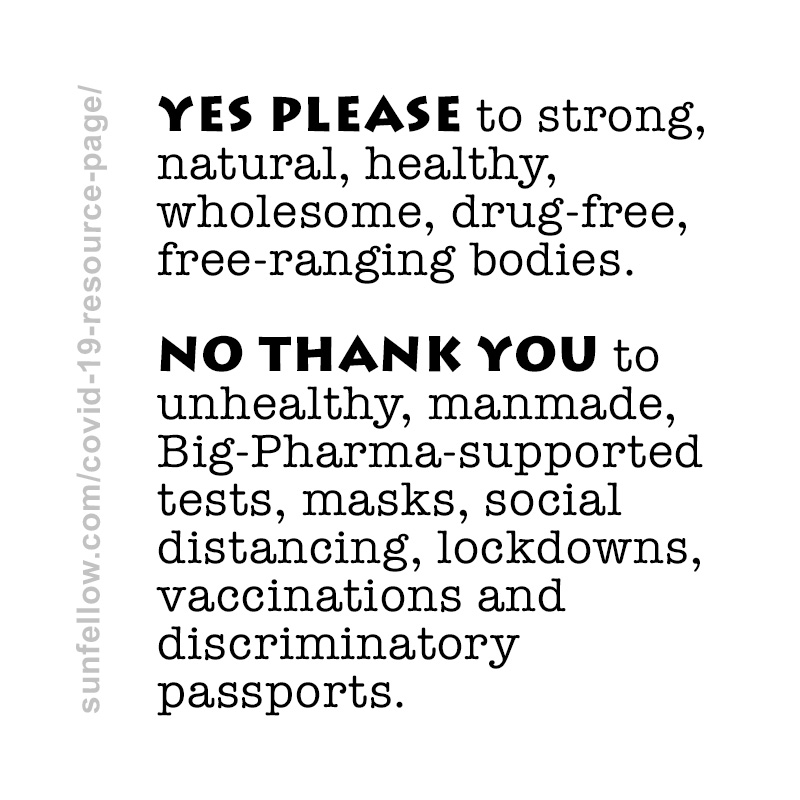 …………..
Uncensored Social Media Coverage
…………..
• MeWe
• Telegram
• Rumble
• BitChute
…………..
Most Important Videos, Information & Other COVID-19 Resources
……………….
Del Bigtree: "The Coronavirus Is Going To Get Us!"
……………….
Why Bill Gates Wants Indemnity From Coronavirus Vaccines…
……………….
COVID-19 Vaccine Injuries: Healthcare Workers Shawn Skelton, Kristi Simmonds, Angelia Desselle
………………..

COVID Vaccine Victims Website
COVID Vaccine Victims On Telegram (88,000 members and growing)
………………..
Original Article By Christian Elliot
Backup Article On The Defender
……………….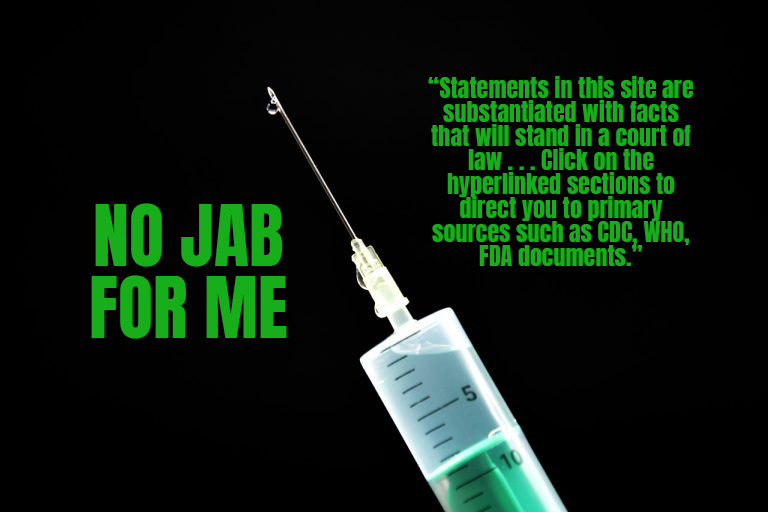 ……………….
The UGLY Truth About The Covid-19 Lockdowns – Nick Hudson, Co-Founder Of PANDA
Panda – Pandemics Data & Analytics Website
…………..
…………..
"The disease that has broken out is a form of madness; it's a form of derangement, and it's broken out all over the world."
— Nick Hudson, Co-Founder of 
Panda
, commenting on how the world has been responding to the so-called "COVID-19 pandemic" (Source: 
Jerm Warfare
)
…………..
PANDA's Nick Hudson: To Beat Covid Hysteria, We Must Ridicule & Laugh
Interview On Rumble
Original Source Page On Jerm Warfare
Panda – Pandemics Data & Analytics Website
…………..
Under The Wire – A Conversation With Del Bigtree Of ICAN And The Highwire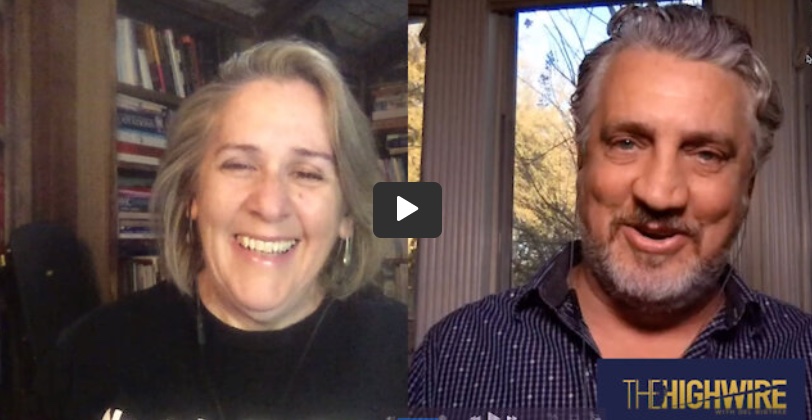 • Learn about COVID-19 and Antibody-Dependent Enhancement (ADE), also referred to as Immune Enhancement or Pathogenic Priming
• The Highwire
• ICAN
……………….
Peter McCullough, MD – COVID-19 Is Treatable. Why Haven't We Focused On That Instead Of Vaccines?
……………….
Dr. Ryan Cole: COVID-19, Vitamin D, Ivermectin, Vaccinations, Children, Immune System Boosting Tips
……………….
'TRUTH' With RFK, Jr. and Journalist Naomi Wolf: Fighting for Freedom
CHD Chairman Robert F. Kennedy, Jr. and author, journalist and former political advisor Naomi Wolf weigh in on the battle to maintain the rights put in place by our founding fathers. Listen to their eye-opening discussion here.
……………….
Reiner Fuellmich: Suing The Powers That Be For "Crimes Against Humanity"
Learn More About Reiner Fuellmich
……………….
Naomi Wolf: Once Passport Vaccines Are Accepted, There Is No More Choice
……………….
Vaccine Passports: New Start Or The End Of Freedom?
……………….
How Vaccine Makers Caused The Opioid Crisis
……………….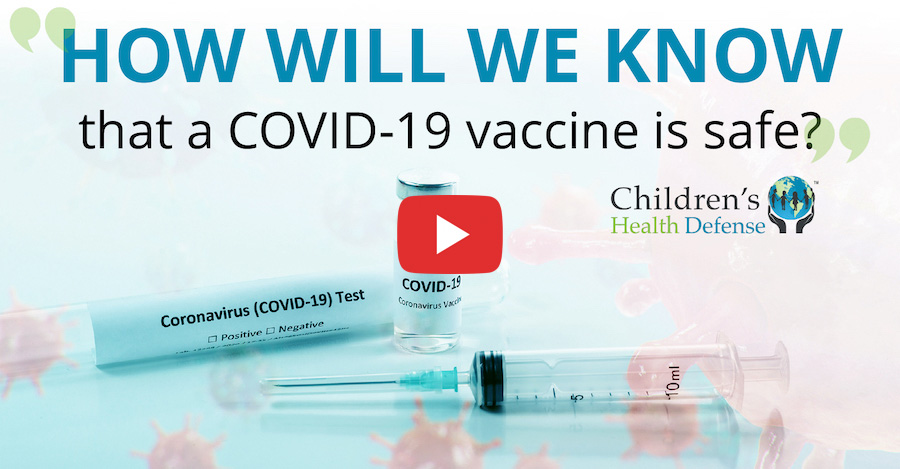 >> Click Here To Play The Above Video <<
Children's Health Defense has created a video of Dr. Liz Mumper's presentation titled "How Will We Know That a COVID-19 Vaccine is Safe?" This presentation is the result of a collaborative effort between Dr. Mumper and the team of doctors, scientists, and researchers affiliated with CHD. Dr. Mumper carefully provides detailed answers to two questions often expressed by the public: "What does a safe and effective vaccine look like?", and "How will we know that a COVID-19 vaccine is safe?" She reviews many of the reasons why vaccines, as they are currently produced, are not safe, and explains that every year there are tens of thousands of adverse events, many of them resulting in serious conditions or even death. Dr. Mumper reviews the scientific community's numerous concerns about the safety of a COVID vaccine and its ingredients, providing information about each of the top COVID vaccine candidates. Lastly, she discusses the legality of mandatory vaccination in a free republic which proclaims to defend the rights of "we the people."
Presentation Home Page: How Will We Know That a COVID-19 Vaccine is Safe?
……………….
• RFK, Jr. to NPR's Terry Gross: 'I Urge You to Correct the Record' (The Defender – 01/12/21)
Robert F. Kennedy, Jr. covers many of today's most controversial topics in this take-no-prisoners, heavily referenced challenge to NPR "turning 'Fresh Air' over to pharmaceutical industry insiders to promote shoddily tested mandatory medical products and broadcast unchallenged industry propaganda"
• COVID Has Caused Tens Of Thousands Of Medical Doctors And Scientists To Wake Up To Corruption In The Medical Industry (Health Impact News – 12/25/20)
Over 52,000 medical professionals representing some of the world's leading medical schools and research institutions have already signed the Great Barrington Declaration in protest against the official Covid-19 strategies and these policies' serious adverse effects on the physical and mental health of children, working class citizens and the poor. Moreover, they have nothing to gain. No financial interests jeopardize their judgments. And they are fully aware of the pushback and blacklisting that may follow and would injure their reputations.
• Scientists and Doctors Call for Return to Normal Life in The Great Barrington Declaration (The Vaccination Reaction)
On Oct. 6, 2020, an international coalition of scientists, doctors and medical professionals created and signed a document they titled The Great Barrington Declaration (GBD), which was named for the Massachusetts town where organizers gathered and in which the petition was signed. By the end of October, the Declaration had already secured signatures from 10,233 scientists, 27,860 medical professionals and 504,875 concerned citizens. In the document, infectious disease epidemiologists and public health scientists from all over the world expressed their deep concern about the potential negative repercussions of lockdown measures imposed by governments in the wake of COVID-19 and called for a global policy change to what they call "focused protection."
See also: American's Frontline Doctors and World Doctors Alliance
……………..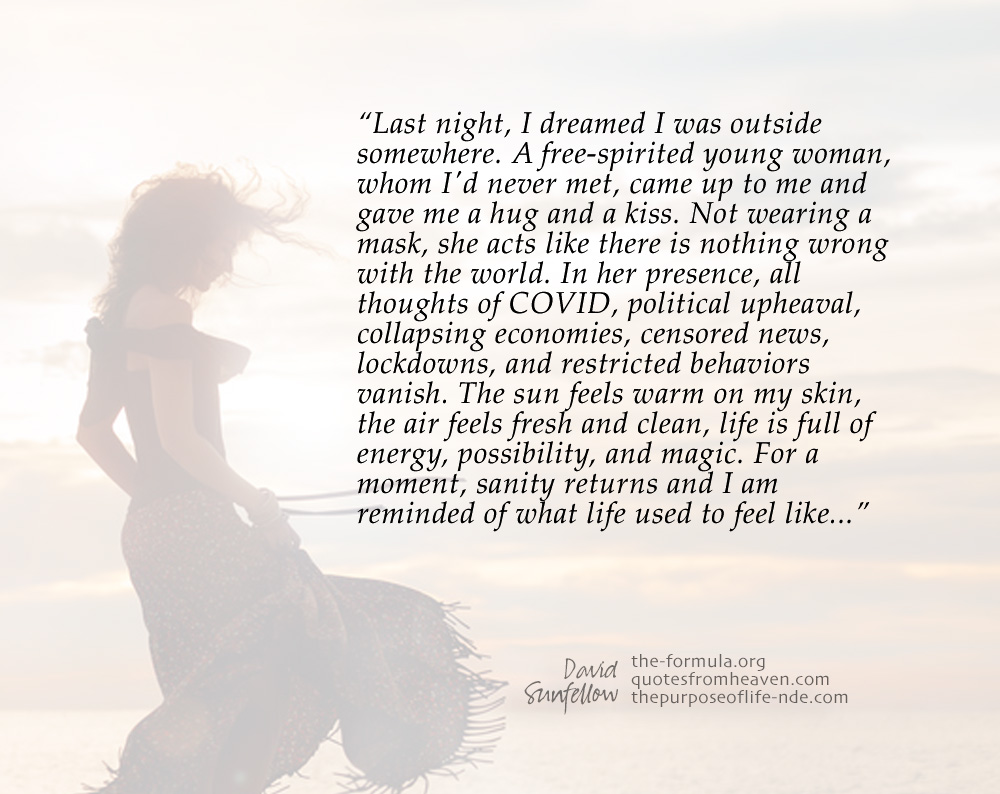 ……………..
……………….
……………….
……………….
……………….
Other Important News Sources
………………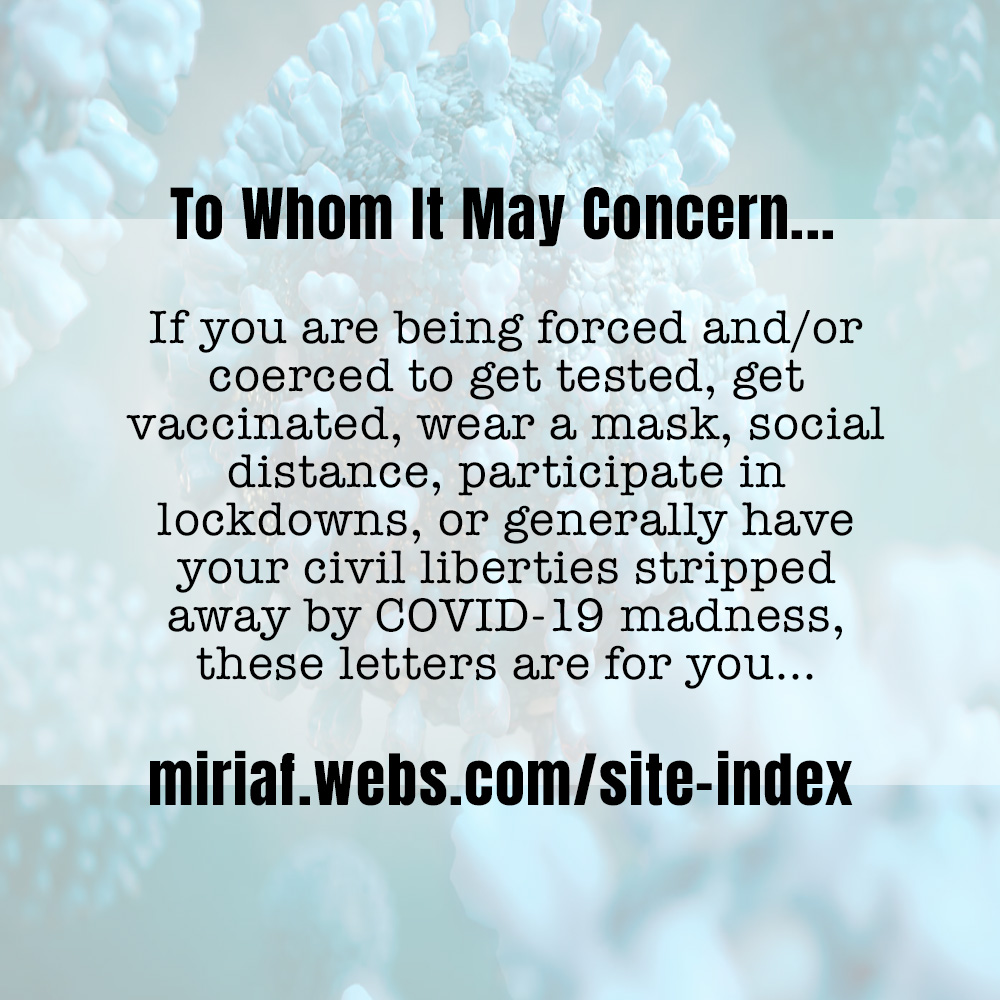 ………………
Letters Challenging Mask Mandates
https://miriaf.webs.com/employer-mask-challenge
https://miriaf.webs.com/mask-risk-assessment
https://miriaf.webs.com/pub-mask-refusal
https://miriaf.webs.com/airline-mask-refusal
https://miriaf.webs.com/masks-small-business
https://miriaf.webs.com/shopping-centre-mask
https://miriaf.webs.com/leisure-centre-masks
https://miriaf.webs.com/exercise-mask-children
https://miriaf.webs.com/council-shops-mask-exemption
https://miriaf.webs.com/doctor-smear-mask
Letters Declining Covid Testing
https://miriaf.webs.com/school-consent-coronavirus
https://miriaf.webs.com/covid-test-dangers
https://miriaf.webs.com/school-coronavirus-test
https://miriaf.webs.com/hospital-covid-test
https://miriaf.webs.com/hospital-worker-test-vaccine
Letters Declining Vaccines
https://miriaf.webs.com/school-consent-coronavirus
https://miriaf.webs.com/custody-consent-vaccines
https://miriaf.webs.com/hospital-worker-test-vaccine
All Other Letters
https://miriaf.webs.com/site-index
…………………
Do Vaccines Make Us Healthier?
Three independent studies released in 2020 compared the overall health of vaccinated and unvaccinated people and the results are striking. Everyone who is considering vaccination for themselves or their families should consider the results of these reports before making a fully informed decision.
…………………
'Vaccine Secrets': What Parents Should Know Before They Vaccinate Their Kids
Link to Vaccine Secrets Home Page
Link to backup copy of Vaccine Secrets video
……………….
Is History Repeating Itself?
………………
First, read this story from Wired:
A Lack of Transparency Is Undermining Pandemic Policy
Then consider the possibility that the same kind of egregious, almost incomprehensible ineptitude that was reported by 60 Minutes in this 1976 Swine Flu Report is running rampant again today.
……………….
Be Afraid. Be Very Afraid. Wait What? Maybe Fear Is The Real Enemy…
……………….
Who Is Anita Moorjani?
Anita Moorjani was born in Singapore of Indian parents. At the age of two, Anita moved to Hong Kong where she grew up speaking English, Cantonese and Sindhi, an Indian dialect. In April of 2002, Anita was diagnosed with cancer (Hodgkin's Lymphoma). After four years of struggling with cancer, Anita's body, riddled with tumors the size of lemons, began to fail.
In February of 2006, she slipped into a coma. Doctors gave her hours to live. As her body lay dying, Anita entered another dimension. In this otherworldly place, Anita experienced profound peace and love. She also learned many things about life, and the laws of life, including how she had caused her own cancer. Then she was given a choice: stay on the other side, or return to Earth. After being reassured that her body would heal itself if she returned, Anita chose to return and share with others what she learned. To the amazement of her doctors, Anita woke up from her coma and within weeks her body was fully healed. Anita's life is now filled with the depths and insights she gained while in the other realm. Her remarkable NDE and miraculous recovery has created enormous interest on an international scale.
• NDE Stories on Anita Moorjani
• Anita Moorjani Website
• Anita Moorjani on Facebook
• Anita Moorjani on Twitter
• Anita Moorjani on YouTube
• Anita Moorjani Describing Her NDE on NDERF
……………….
……………….
……………….
Health Tips
……………..
Wim Hof's Take On Coronavirus (COVID-19)
Who is Wim Hoff? This resource page includes videos and links to Wim Hof Method websites, social media accounts, and The Wim Hof Method iPhone App.
……………….
• Dr. Mercola Coronavirus Resource Page
• 10 Tips To Help Combat Coronavirus
1. Wash your hands [and don't touch your face]
2. Vitamin C is vital
3. Boost immunity with nutrients
4. Increase Vitamin D intake
5. Try pre-, pro- and Sporebiotics
6. Use Quercetin
7. Get plenty of sleep
8. Get adequate sunshine
9. Exercise boosts immunity
10. Stay hydrated
…………
…………
• Vitamin D Deficiency Pandemic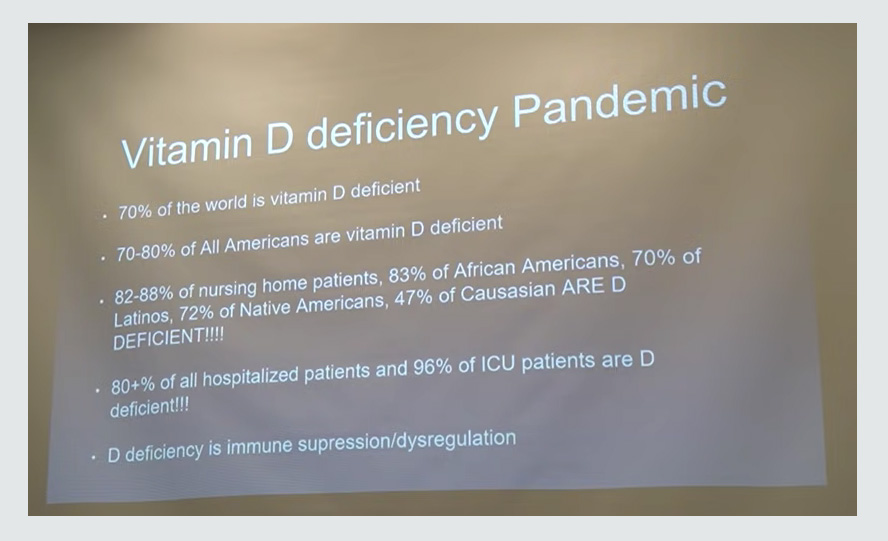 …………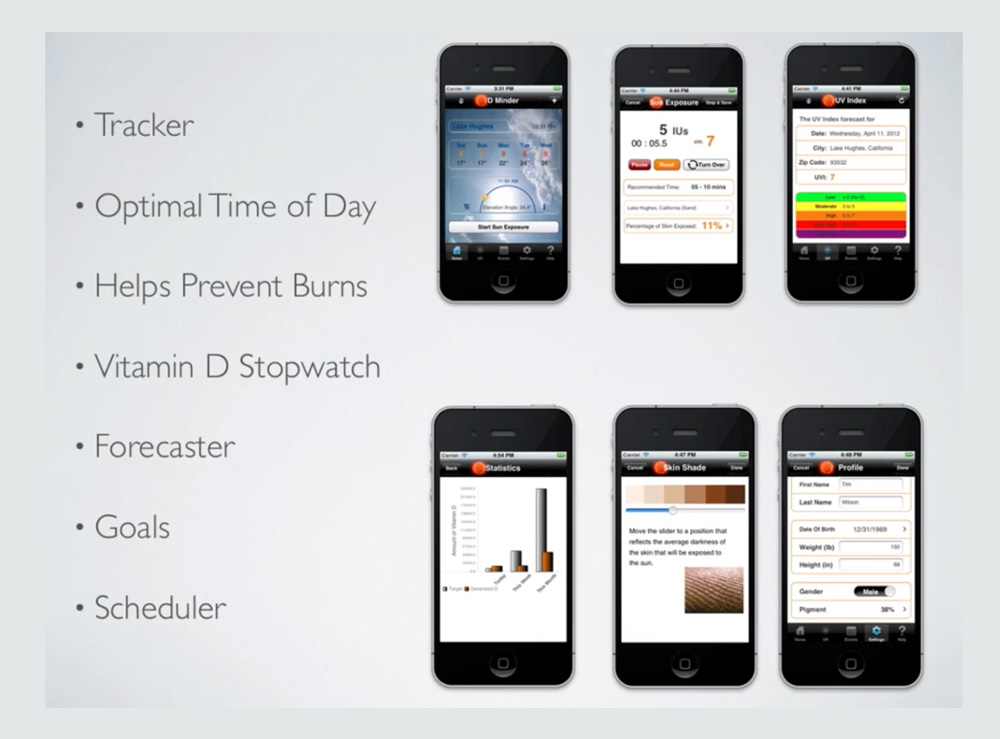 ……………
• Front Line COVID-19 Critical Care Alliance (Ivermectin Treatments)
• Why You Should Not Use Ivermectin to Treat or Prevent COVID-19 (FDA)
…………
Nature, Healing & Miracles
…………
• The Beautiful World Beside The Broken One
• In Times Of Uncertainty, Let Nature Be Your Refuge
• Your National Parks Are *Free* During Coronavirus
• Coronavirus Has Slashed Global Air Pollution. This Interactive Map Shows How.
• Near-Death Experiences on the Importance of Plants, Animals, and the Earth
• Near-Death Experiences & Miraculous Healings
• Radical Remissions, Mind Over Matter, The Power Of Placebos
• Near-Death Experiences On The Power Of Prayer
…………
Poems
…………
• Letter From Covid-19 To Humans
• Lockdown – Fr. Richard Hendrick
…………….
Additional Notes & Quotes
…………….
Excerpted from The Purpose of Life as Revealed by Near-Death Experiences from Around the World
Chapter 89
How To Still Storms & Walk On Water
By David Sunfellow
While few in number, some near-death experiencers are shown apocalyptic visions of the future. Earthquakes and tsunamis rage across the Earth. Governments and civilizations collapse. Vast numbers of plants, animals, and people die.
Other near-death experiencers are shown that the worst is behind us. We are now on a path where everything is going to get better and better.
While the specifics and severity of end-of-the-world predictions differ in NDEs, there is one thing they all agree on: a new world is coming; heavenly states of consciousness will eventually manifest in this world.
What can we do to help?
The deepest, most profound near-death experiences tend to be lighthearted and full of hope. There is a playfulness and sense of humor to these NDEs. Instead of raining down fire and brimstone, these NDEs are full of laughter, merriment, and gentle admonitions to lighten up and not take life so seriously.
How can these NDEs be so cheerful when so many apocalyptic possibilities are knocking on our collective door?
One answer is that the higher realms know the world is a dream, no one is really hurt or lost, and everything is unfolding as it should.
Higher states of consciousness also know that everything works out in the end, one way or another.
In other words, the challenges we face in this world are similar to the challenges we face in dreams. After a dream has run its course, we wake up, unscathed. And so do all of our dreaming friends. Even nightmares that are hyper-real and super scary come and go.
Here's the point: whether the world follows a rough path to higher states of consciousness, or a gentle one, we can help by staying connected to the parts of ourselves that know everything is OK.
Instead of getting caught up in the drama of life and injecting more fear, instability, and despair into the collective consciousness of the planet, we can train ourselves to stay calm and connected.
And one more thing.
It's the deep places that produce miracles. And healings. And solutions to complicated and bewitching problems. So staying calm and collected is not simply a way to maintain inner peace, it's also a way to find practical solutions to life's many challenges.
So whatever is happening in your personal life, or in the world at large, I encourage you to go deeper and higher. Engage life, full on, but don't take things too seriously. Be cheerful and light hearted. Joke and laugh. Be a force of nature that not only stops fear in its tracks, but turns the tide and lifts others to higher ground…
Near-Death Experiences That Predict The End Of The World
Complied by David Sunfellow
…………