…………….
Return To Main COVID-19 Resource Page
…………….
COVID-19 Vaccination Stories, Side Effects & Healing
…………….
Many reputable doctors, scientists, and researchers warned that COVID-19 vaccines would unleash tidal waves of serious, sometimes deadly, side effects. Their warnings have come true. Here is a quick list of the pages on this website that describe the side effects associated with COVID-19 vaccines, along with potential healing treatments.
…………….
• COVID-19 Vaccine Adverse Event Tracking System (VAERS)
• COVID-19 & Antibody-Dependent Enhancement (ADE)
• COVID-19 Menstrual & Breast Milk Disruptions, Miscarriages, Infertility, Transmission (Shedding)
• COVID-19 Magnetism, Graphene Oxide, UV Fluorescence
• Dr. Joseph Mercola Interviews Judy Mikovits & Stephanie Seneff
• Dr. Joseph Mercola Interviews Dr. Vladimir Zelenko
……………….
COVID-19 Vaccine Injuries: Healthcare Workers Shawn Skelton, Kristi Simmonds, Angelia Desselle
……………….
The Vaccine Injured Unite
………………..
Real Stories • Real Video Stories • The Statistics
Real Stories • Real Video Stories • The Statistics
………………..
……………….
Top 35 Most Suspicious Deaths In HHS's VAERS Vaccine Adverse Event Database
Hundreds Die Within Days Of Controversial mRNA Shot?! You Sure It's Safe, FDA?
VAERS Vax Exposé: 250+ Reports Of People Dying Within 1 Day Of The Covid19 Vaccine
UNCONTROLLABLE: Shaking, Passing Out & Seizures After Vaccines. VAERS/ Yellow Card
70+ Miscarriages In US & UK After Vaccines; Also Numerous Pregnancy & Breastfeeding Complications [VAERS]
500+ Reported Cases of Numbness, Paralysis, or Bell's Palsy After Covid Vacx; VAERS Data Walkthrough
VAERS: Hundreds Of Heart Attacks & Cardiac Arrests Soon After The Covid19 Vax. Looking For Patterns In Outcomes
Blindness, Blurry Vision, Tunnel Vision & More Eyesight Issues: 350+ Reports Of Sight Disturbances After Vaccine (VAERS)
WARNING TO WOMEN! Many Are Experiencing Menstrual Changes & Issues After Vaccine: Heavier/ Longer Periods & More
………………..

COVID Vaccine Victims Website
COVID Vaccine Victims On Telegram (125,000 members and growing)
……………….

Children's Health Defense: COVID-19 Vaccine Injuries
……………….

The COVID Blog: COVID Vaccine Death & Injuries
……………….
Military Vaccinations: COVID-19 & Anthrax
……………….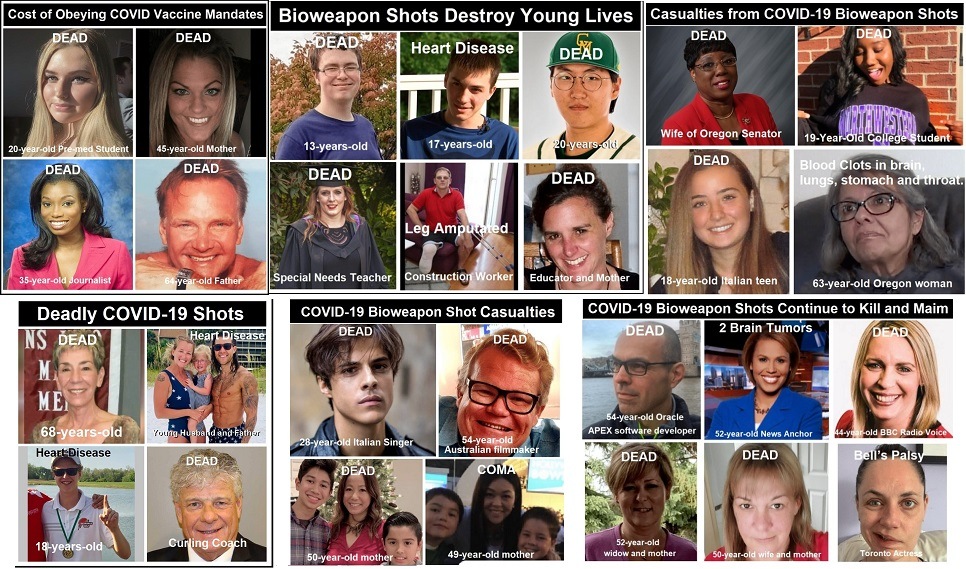 A Review Of The First 8 Months Of The Covid-19 Injections – A Memorial For Those Who Paid The Ultimate Price
……………….
……………….
MedScape: Medical Professionals Share Their Experiences (And Discuss Their Concerns) About COVID-19 Vaccines
……………….
Vaccine Adverse Event Reporting Systems
• United States Vaccine Adverse Event Reporting System (VAERS) – CDC Link • VAERS Link
• Vaccine Adverse Reaction Correspondence (c19vaxreactions.com)
• 23,252 Deaths 2,189,537 Injured Following Covid Shots Reported In European Union's Database Of Adverse Drug Reactions (Vaccine Impact – 09/03/21)
• The U.K. (Yellow Card)
• Public Health Agency of Canada
• Australia Government Department of Health
• Germany
• EudraVigilance (The European Economic Area – Austria, Belgium, Bulgaria, Croatia, Cyprus, Czech Republic/Czechia, Denmark, Estonia, Finland, France, Germany, Greece, Hungary, Iceland, Ireland, Italy, Latvia, Lithuania, Luxembourg, Malta, Netherlands, Norway, Poland, Portugal, Romania, Slovakia, Slovenia, Spain, and Sweden)
• Finnish Medicines Agency Fimea
• Switzerland
• Report A COVID-19 Vaccine Injury (ICAN)
• Injured By A Vaccine? Here's How To Report It (The Defender)
• VaxxTracker
• Experimental Covid Vaccines: Mounting Deaths Continue Worldwide (The Defender – 05/24/21)
Deaths, serious adverse events, and permanent disabilities following Covid vaccines continue to mount as 1.6 billion doses have been administered in 167 countries worldwide. Latest global data on deaths and adverse events following experimental Covid vaccines from US VAERS, UK Yellow Card system, European EudraVigilance System, Canada's Public Health Agency presented, and from the media for countries without governmental adverse event tracking/reporting systems. If all adverse events and deaths were reported after each experimental COVID vaccine, the US system shows: 1 person in 12 would report an adverse event; 1 in 144 to 1,864 would report a serious adverse event, and 1 in 668 to 8,670 would report a death…
……………….
Return To Main COVID-19 Resource Page
…………….