…………….
Return To Main COVID-19 Resource Page
…………….
Who Is Dr. Robert Malone?
Dr. Malone is the discoverer of in-vitro and in-vivo RNA transfection and the inventor of mRNA vaccines, while he was at the Salk Institute in 1988. His research was continued at Vical in 1989, where the first in-vivo mammalian experiments were designed by him. The mRNA, constructs, reagents were developed at the Salk institute and Vical by Dr. Malone. The initial patent disclosures were written by Dr. Malone in 1988-1989. Dr. Malone was also an inventor of DNA vaccines in 1988 and 1989. This work results in over 10 patents and numerous publications, yielding about 7,000 citations for this work. Dr. Malone was also an inventor of DNA vaccines in 1988 and 1989.
Dr. Malone has extensive research and development experience in the areas of pre-clinical discovery research, clinical trials, vaccines, gene therapy, bio-defense, and immunology. He has over twenty years of management and leadership experience in academia, pharmaceutical and biotechnology industries, as well as in governmental and non-governmental organizations.
Dr. Malone specializes in clinical research, medical affairs, regulatory affairs, project management, proposal management (large grants and contracts), vaccines and biodefense. This includes writing, developing, reviewing and managing vaccine, bio-threat and biologics clinical trials and clinical development strategies. He has been involved in developing, designing, and providing oversight of approximately forty phase 1 clinical trials and twenty phase 2 clinical trials, as well as five phase 3 clinical trials. He has served as medical director/medical monitor on approximately forty phase 1 clinical trials, and on twenty phase 2 clinical trials, including those run at vaccine-focused Clinical Research Organizations. His proposal development work has yielded clients billions of dollars.
Scientifically trained at UC Davis, UC San Diego, and at the Salk Institute Molecular Biology and Virology laboratories, Dr. Malone is an internationally recognized scientist (virology, immunology, molecular biology) and is known as one of the original inventors of mRNA vaccination and DNA Vaccination. His discoveries in mRNA non viral delivery systems are considered the key to the current COVID-19 vaccine strategies. Dr. Malone holds numerous fundamental domestic and foreign patents in the fields of gene delivery, delivery formulations, and vaccines.
He received his medical training at Northwestern University (MD) and Harvard University (Clinical Research Post Graduate) medical school, and in Pathology at UC Davis.
Dr. Malone has close to 100 peer-reviewed publications and published abstracts and has over 11,477 citations of his peer reviewed publications, as verified by Google Scholar. His google scholar ranking is "outstanding" for impact factors. He has been an invited speaker at over 50 conferences, has chaired numerous conferences and he has sat on or served as chairperson on numerous NIAID and DoD study sections.
— Source
…………….
Biotech Exec Mother Who Refuses To Vaccinate Her Child Has Custody Removed (August 7, 2021)
Excerpt:
For months, we've been warning people that Covid-19 "vaccine" totalitarianism would eventually lead to government taking our kids if we don't let them get the jab. Well, it's happening.
Dr. Robert Malone, the inventor of the very mRNA technology used in Pfizer and Moderna injections, was on with Steve Bannon on War Room today to explain the situation that's unfolding in Boston, MA. A 14-year-old child who wants to be vaccinated could not get her parents' permission, so the court has stepped in and revoked custody in order for her to get vaccinated without their consent.
"So, I've been called to testify as an expert witness in a court in Boston. The child who has been removed from their parents' custody, a 14-year-old," Malone said. "And the legal system is insisting on vaccinating this 14-year-old.
Not that it should matter, but the parents are not uninformed nincompoops. The mother is a high-level executive at a Biotech firm.
"The mother is objecting, and she's a very senior Biotech executive," Malone continued. "She's highly informed. She's made the decision not to vaccinate her child based upon the data. The courts have removed custody and are trying to force the child to accept vaccination. They're so worked up, the parents have the capital, they're going to fly me up to Boston to testify in court."
…………….
Dr. Robert Malone: CDC Purposely UNDER-REPORTING & EDITING Adverse Affects Of COVID-19 Vaccines
Excerpt:
Dr. Robert Malone:
"Every drug or vaccine is toxic at some level, in some percent of people. There's pretty clear evidence that the spike protein expressed from vaccines is causing toxicity in a small subset of patients. The question is how big is that subset and how bad and broad are those toxicities? And the honest truth is we don't know. And furthermore, there is a lot of signs that that information is being withheld from us.
"I have colleagues in the government who were fully aware months before . . . cardio toxicity was disclosed that cardio toxicity was an issue.
"What I am hearing now from multiple sources is that individuals are purchasing access, for instance, to the Medicare database — high-net-worth individuals are paying for bio statisticians to independently evaluate those and in some cases bio statisticians and data experts are doing this voluntarily because they are so concerned about what's going on.
"What they are finding is that the CDC is grossly underreporting these key adverse events in data that the US government produces that is readily available to the CDC. My senior colleagues at the FDA have known that this was the case for months and are very frustrated. This goes back to an interview that I did with Tucker [Carlson] and another bomb I dropped is that these databases are horrible! But despite all their limitations, people with skill are able to data mine those and identify things like the cardio toxicity that at the time the CDC denied existed. 
"We have multiple examples where the CDC appears to be editing data in the support of the noble lie . . . the core thesis is — and as I said, it is in the Federal Registry — any information that would cause vaccine hesitancy must be suppressed. Thats what's going on. Let's be clear about that. They believe it is OK to do so because it is in the best interest of the public. This is classic noble lie logic. It is also happening in Israel.
"This is a different time. People right or wrong, believe that they deserve to have access to all of these data, make their own choices, exercise their own free will, not be forced into decisions by the government about risks that they don't fully understand. And the government believes that it is still OK to treat us in this paternalistic manner like they did back in the 50s . . . That's no longer OK in the modern age.
"What's different now is that they have these enormously powerful mechanisms for controlling information that they never had before. And that's the intersection of new media, old media, and big tech. That's what is going on here. They have never had that level of power before."
……………….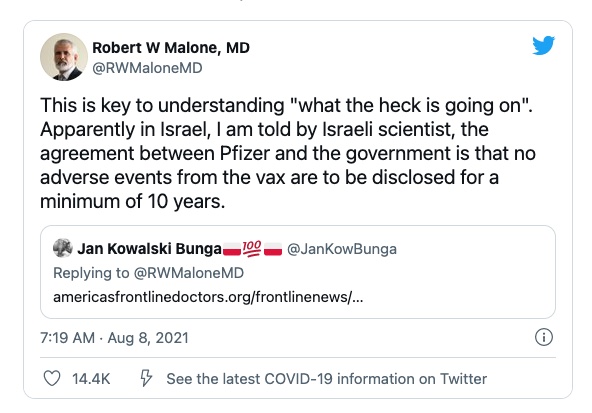 ……………….
Dr. Robert Malone: Effort Underway To Censor Negative Info About COVID-19 Vaccines
……………….
Serious Short & Long Term Health Issues Associated With COVID-19 Vaccinations
See also: Should You Get Vaccinated? by Steve Kirsch
Watch The Full 3-Hour Discussion
……………….
Return To Main COVID-19 Resource Page
…………….